Italian- Style Vegetable Soup
This low fat soup is rich in flavor, hearty and filling. It's a good healthy soup to start off the New Year or keep you warm on a winter's day:  Italian Vegetable Soup
Yield: 8 servings
Prep Time: 25 min
Cook Time: 35 min
Italian Vegetable Soup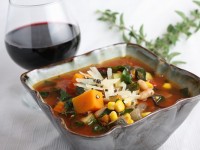 Ingredients:
2 teaspoons olive oil
1 medium sweet yellow onion, chopped
2 teaspoons chopped fresh oregano
4 cloves garlic, minced
3 cups peeled, seeded & chopped butternut or acorn squash
3 cups chopped zucchini (about 4 medium)
1 cup fresh or frozen corn kernels
Two 14.5-ounce cans petite diced tomatoes, drained
Three 14-ounce cans fat-free, low sodium chicken broth
One 15.5-ounce can white beans, rinsed and drained
1 bunch cleaned and chopped Swiss chard- leaves only- leave thick ribs out (about 5 ounces total)
1 teaspoon sea salt
1/2 teaspoon freshly ground black pepper
1/2 cup freshly grated Parmesan cheese
Directions:
1. Heat oil in large pot over medium-high heat. Add onion to pot & sauté for a couple of minutes, until softened a bit. Add oregano & garlic; sauté 1 minute. Stir in squash, zucchini, & corn and continue to sauté a few more minutes until veggies begin to get tender. Remove from heat.
2. Place 1 can of (drained) tomatoes and 1 can of broth in a blender and process until smooth. Pour into the pot with the vegetables and return to heat. Stir in second can of (drained) tomatoes and 2 cans of broth. Bring mixture to a boil; reduce heat and simmer for about 20 minutes.
3. Add beans and Swiss chard to the pot and stir until chard begins to wilt (about 5 minutes). Remove from heat and stir in salt and pepper.
4. Ladle soup into bowls and sprinkle Parmesan on top of each individual serving.
Tips:
*Substitution ideas... In the summer time, sub fresh yellow squash for the butternut and spinach for the Swiss chard. Add carrots and celery too if you'd like.
Nutrition Facts (Amount Per Serving)
Serving Size:  1/8th of the soup
Calories 211
Calories From Fat (16%) 34
Total Fat 3.82g
Saturated Fat 1.42g
Cholesterol 5.50mg
Sodium 870.69mg
Potassium 1095.04mg
Carbohydrates 36.32g
Dietary Fiber 7.42g
Sugar 8.67g
Net Carbohydrates 28.90g
Protein 11.70g
WW Points: Points Plus: 5    Old WW Program: 5.5
4 Responses to "Italian- Style Vegetable Soup"
Leave a Comment