This recipe has been featured in a post on The Recipe Girl blog: Greek Dinner Party Menu.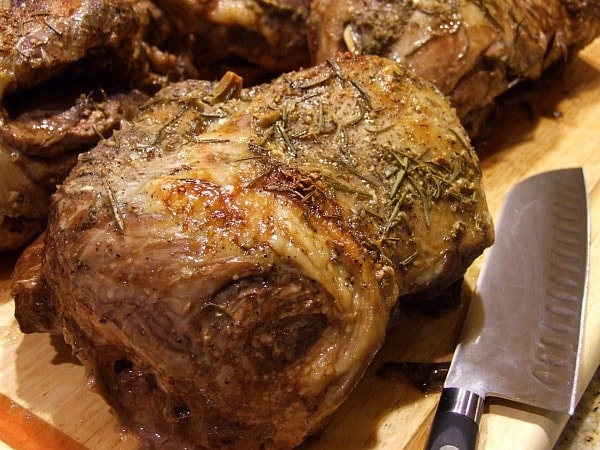 Leg of Lamb Roast w/ Garlic & Rosemary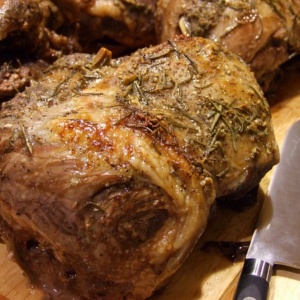 Amazing lamb recipe. Wonderful flavors, tender and perfectly roasted. We made four of these lamb roasts for a Greek Dinner party and they were just fabulous.
Yield:
6 servings
Prep Time:25 min + standing time
Cook Time:1 hr, 45 min
Ingredients:
4 to 5 pound boneless leg of lamb roast, fat trimmed to 1/4-inch thick
4 cloves garlic, cut into slivers
olive oil
4 cloves garlic, minced
1 Tablespoon fine sea salt
2 Tablespoons chopped fresh rosemary
1/2 teaspoon black pepper
1/4 cup dry red wine
1 Tablespoon butter
Tablespoon cornstarch
Directions:
1. Pat lamb dry. Score fat by making shallow cuts all over with tip of sharp, small knife. Tuck a sliver of garlic clove inside of each cut. Rub olive oil all over the outside of the roast.
2. In a small bowl, stir together minced garlic, sea salt, rosemary and black pepper. Mash it around a bit until it turns into somewhat of a paste.
3. Place lamb into lightly oiled roasting pan. Rub paste all over lamb. MAKE AHEAD TIP: At this point, you can wrap the lamb in plastic wrap and refrigerate for a few hours (or overnight).
4. Let stand at room temperature for 30 minutes before roasting. Place meat thermometer into thickest part of roast.
5. Preheat oven to 425 degrees F.
6. Roast at the high heat for 15 minutes (uncovered). Then turn temperature down to 375 and continue to roast for about another 1 hour or 1 1/2 hours. Watch meat thermometer closely. When it reaches 150 degrees F., pull the roast out of the oven. Remove roast to a cutting board and let it rest- the temperature should rise to about 160 degrees.
7. While lamb is resting, prepare sauce. Add wine to pan and de-glaze by boiling over moderately high heat, stirring and scraping up brown bits for about 1 minute. Take out a bit of the liquid and mix with the cornstarch. Add back to the pan along with the butter, season with salt and pepper, and serve with the lamb.
Source: RecipeGirl.com (Adapted from Gourmet)