These Lemon Crumb Bars are easy easy-to-make sweet treat to bake and share. Using fresh lemon juice, these Lemon Crumb Bars have the most delicious creamy filling and a sweet, crumbly oat topping.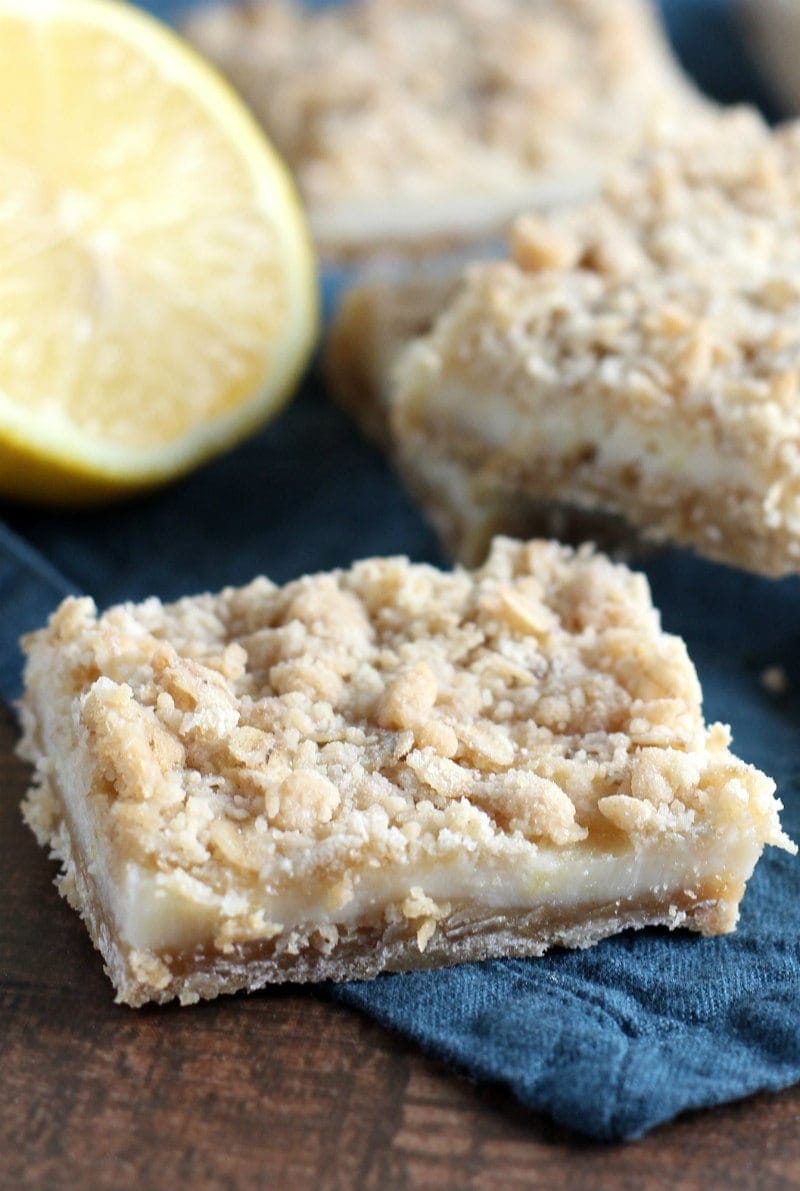 Lemon Bars are one of those classic, iconic desserts that people are drawn to at a party. Turning lemon bars into Lemon Crumb Bars is most definitely a nice twist. These bars have a crust that mirrors the crumb topping. Half of the crust mixture is patted into the bottom of the pan to create the crust, and then the lemon filling mixture is poured on top. The remaining crust mixture is crumbled on top before baking.
I love these Lemon Crumb Bars because they're more of a sturdy bar recipe than classic lemon bars. They're certainly easier to pick up and eat without getting your hands all gooey.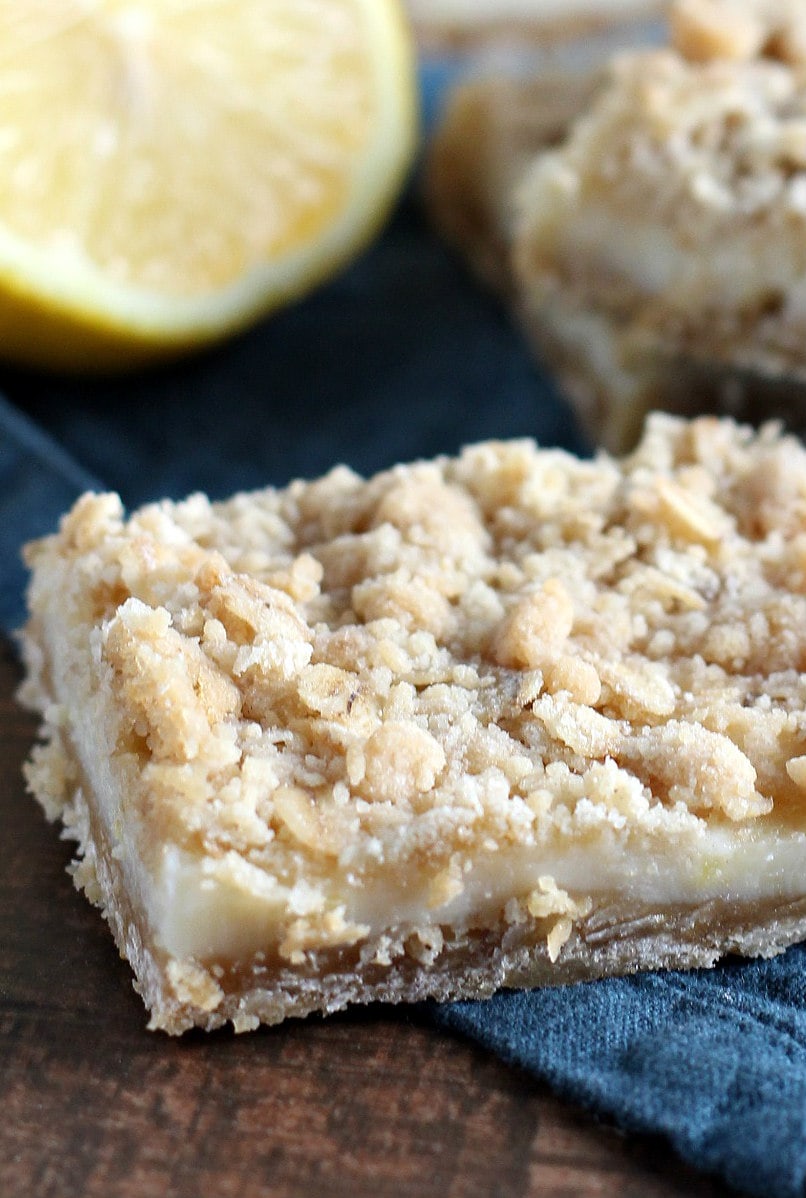 Is lemon juice the same as real lemons?
No! If you try to use bottled lemon juice for this recipe, it will not taste the same. Taste bottled lemon juice, and you'll find that the flavor is a little "off." Stick with using fresh lemons.
How much juice can you get from a lemon?
One fresh lemon yields about 2 tablespoons of lemon juice. This recipe calls for 1/2 cup lemon juice, so you'll need about 4 lemons. Look for lemons that feel soft when you pick them up and squeeze them. The softer lemons will be more ripe, and you'll be able to squeeze more juice out of them. Harder lemons usually have a thicker skin and are nearly impossible to squeeze! One lemon will yield about 1 tablespoon of lemon zest. Expert tip: Don't forget to zest your lemon before cutting and squeezing it!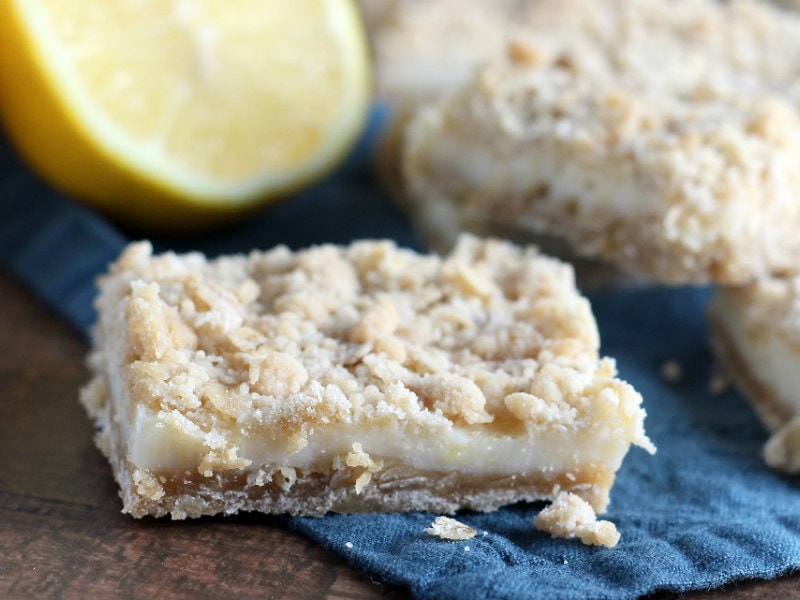 Do lemon bars need to be refrigerated?
I do refrigerate the whole pan before I cut lemon bars. They'll cut much neater and easier that way. Once cut, I like to refrigerate these Lemon Crumb Bars if I plan on having them hang around for a while. But they are certainly going to be fine sitting at room temperature for several hours. Lemon Bars will keep longer in the refrigerator too. Keep them around for about 4 days and they'll be nice and fresh.
Recipes using Lemons:
Lemon Crumb Bars
Easy recipe for Lemon Crumb Bars- a delicious filling!
Recipe Details
Ingredients
One

15-ounce can

sweetened condensed milk

½

cup

freshly squeezed lemon juice

1

teaspoon

freshly grated lemon zest

1½

cups

all purpose flour

1

teaspoon

baking powder

½

teaspoon

salt

⅔

cup

butter,

at room temperature

1

cup

packed dark brown sugar

1

cup

oats
Instructions
Preheat the oven to 375°F. In a small bowl, whisk together the milk, juice and lemon zest. Set aside.

In another bowl, sift together the flour, baking powder and salt. In a 3rd bowl, use an electric mixer to cream the butter and blend in the sugar. Add the oats and flour mixture and mix until crumbly. Spread half of the mixture in the bottom of a 9x12-inch greased baking pan. Pat the mixture firmly into the bottom of the pan. Spread the liquid mixture over the top and cover with the remaining crumb mixture.

Bake for 20 to 25 minutes or until the edges are browned. Cool in the pan at room temperature for 15 minutes.

Cut into 2-inch squares and chill in pan until firm. Remove squares from the pan when firm.
Notes
Be careful! If you try to remove the squares from the pan too early, they will fall apart.
Nutrition
Serving:
1
serving
,
Calories:
179
kcal
,
Carbohydrates:
27
g
,
Protein:
2
g
,
Fat:
6
g
,
Saturated Fat:
4
g
,
Cholesterol:
19
mg
,
Sodium:
119
mg
,
Potassium:
122
mg
,
Sugar:
18
g
,
Vitamin A:
205
IU
,
Vitamin C:
2.6
mg
,
Calcium:
70
mg
,
Iron:
0.6
mg