Spring break + Cloudy, dreary day + Cutesie, unused cookie cutters =
Meyer Lemon Cut- Out Sugar Cookies
BIG BONUS in this recipe… no waiting! You do not have to chill the sugar cookie dough before you roll and cut! The dough is very easy to work with- if too sticky just add a bit more flour, and it's able to take rolling and re-rolling without getting dry and worn out.
The Meyer Lemons give these cookies just a tinge of lemony flavor. If you don't wish to use Meyers, I wouldn't sub regular lemons (too tart), but you can skip the juice & zest in the recipe and sub vanilla or almond extract in its place.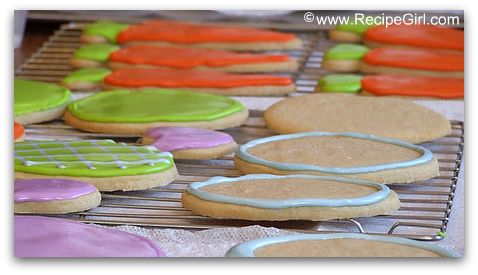 I made a double batch of Martha Stewart's Royal Icing recipe for my decor icing. The only special ingredient you need for that is Meringue Powder, which you can find at Michael's (or baking stores). It's so easy to make if you have a stand mixer. If not, you can use this one instead (which does not require either meringue powder or a stand mixer!)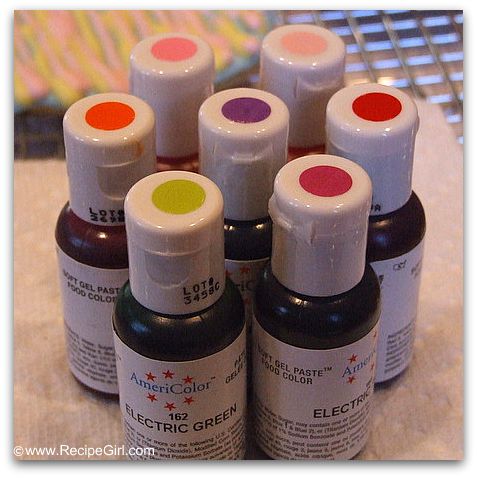 I used 'gel-paste coloring' to tint my icing. If you're a frequent baker and you don't have any of these, you should think about getting them (again, Michael's or a baking store). There are so many cute colors, and just a tiny little bit will give you the color you need. They last forever.  You can certainly use regular food coloring instead if you don't have gel-paste.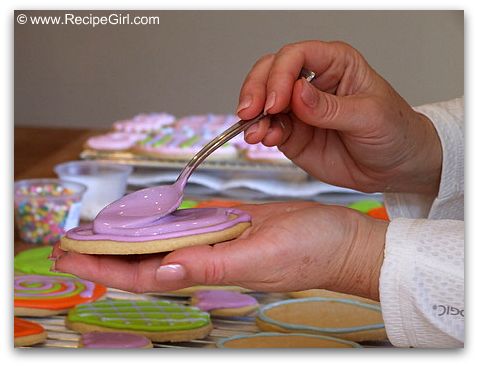 I got out a bunch of little plastic containers w/ lids, divided the icing between them and tinted my colors in those. For icing, I used the little zip snack bags (nothing fancy!) Just put the tinted icing in the baggie and very carefully snipped of the very tip of the baggie & squeezed away.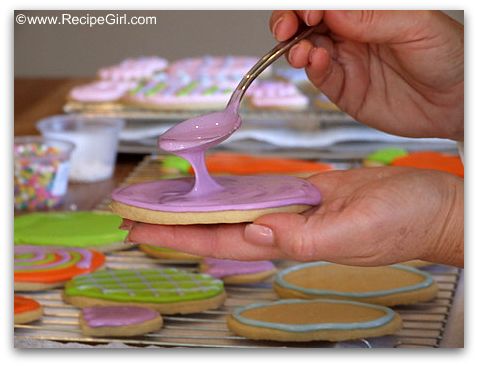 I used the squeeze baggie to do all of the edging on the cookies, then set it aside and spooned the icing from the container on top to 'flood' the center of the cookie. You have to keep the icing covered or it begins to dry out and get too thick. If it's too thick, just thin it out with a few added drips of water. After I had all of my cookies flooded with their base color, I used my squeeze baggies to do all of the decor and added a few sprinkles here and there.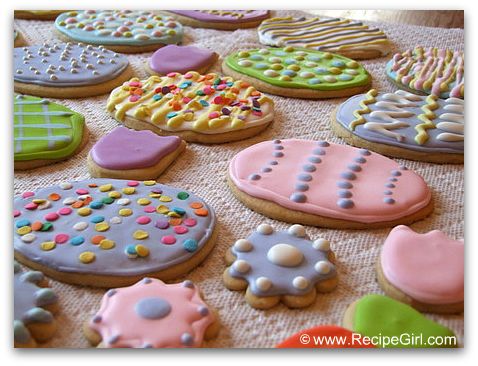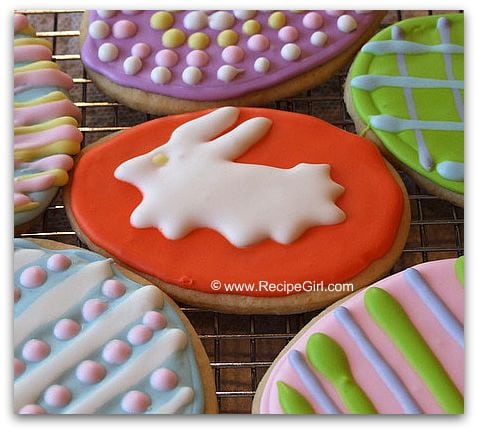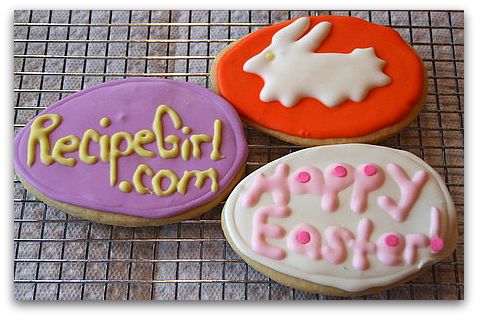 Happy Easter, Happy Passover, Happy Spring!
This recipe can be found HERE.
Note:  I'm lucky enough to have a Meyer Lemon tree, but sadly it isn't producing any gems yet.  The Meyer Lemons in this recipe were found at Specialty Produce.