Here's a healthy recipe for Mixed Greens and Double Pomegranate Salad.  Weight Watchers Freestyle SmartPoints are included in the recipe below.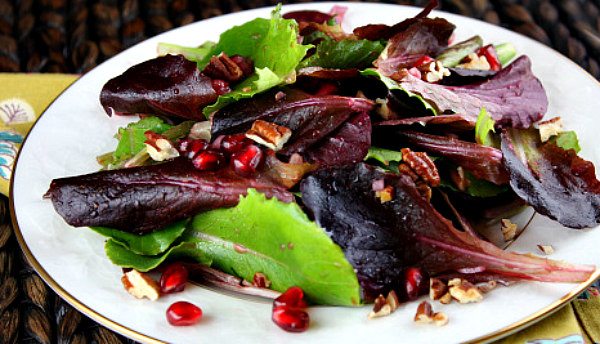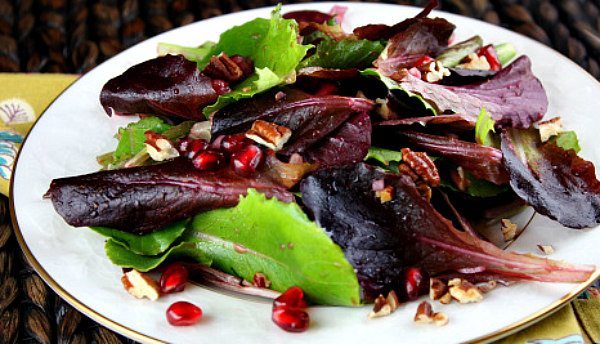 You also might enjoy my Kale Salad with Butternut Squash.  It also has pomegranate seeds in it!
Mixed Greens and Double Pomegranate Salad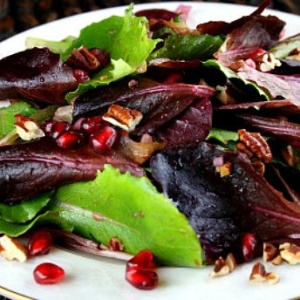 Yield:
2 servings (1 1/2 cups per serving)
Ingredients:
2 tablespoons pomegranate juice
1 tablespoon champagne vinegar
1/2 tablespoon minced shallots
1 teaspoon extra virgin olive oil
salt and freshly ground pepper, to taste
3 cups mixed salad greens
1/4 cup pomegranate seeds
2 teaspoons finely chopped pecans, toasted
Directions:
Prepare vinaigrette: In a large bowl, whisk together juice, vinegar, shallots, olive oil, salt and pepper.
Add salad greens to the bowl and toss to combine. Sprinkle in pomegranate seeds and pecans. Serve immediately.
Tips:
Squeeze your pom seeds fresh if you'd like, but it's a little less messy if you just buy the pomegranate juice. You'll find it in the "fresh" juice section of your market.
If you don't have champagne vinegar, you can sub white wine vinegar- it'll give it a little bit stronger flavor, but it'll do.
This recipe can be easily doubled, etc.
Nutrition:
Nutritional Information: Calories: 82, Fat: 4.5g (sat .5g), Cholesterol: 0mg, Sodium: 160.9mg, Carbohydrate: 10g, Fiber: 2.5g, Sugars: 5.2g, Protein: 2.0g
2 Weight Watchers Freestyle SmartPoints per serving
SOURCE:  Adapted from Cooking Light