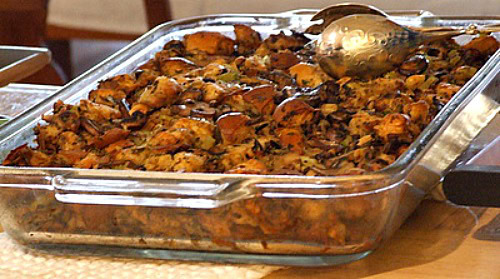 Wild Mushroom Stuffing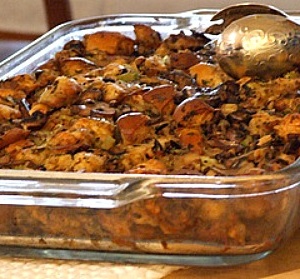 I made this one for Thanksgiving one year. It was loaded with mushrooms (mushroom-lovers will love it), and the egg bread is an absolute MUST! I used fresh challah bread and it was perfect. It took a while to make, but it was well worth it!
Yield:
10 to 12 servings
Prep Time:1 hour
Cook Time:1 hour 45 min
Ingredients:
2 cups hot water
1 ounce dried porcini mushrooms
1 1/2 to 1 3/4 pound loaf unsliced egg bread, crust trimmed, bread cut into 3/4" cubes (about 16 cups)
6 tablespoons unsalted butter (3/4 stick)
4 cups coarsely chopped leeks (white and pale green parts only; about 3 medium leeks)
1 cup chopped shallots (about eight)
1 1/4 pounds crimini or button mushrooms, sliced
1/2 pound fresh shiitake mushrooms, stems removed, caps sliced
2 cups chopped celery
1 cup chopped fresh parsley
1 cup coarsely chopped toasted husked hazelnuts
3 tablespoons chopped fresh thyme (or 1 tablespoon dried)
2 tablespoons chopped fresh sage (or 2 teaspoons dried sage)
2 large eggs, beaten to blend
3/4 cup canned low-salt chicken broth
Directions:
1. Combine 2 cups hot water and porcini mushrooms in medium bowl; let stand until mushrooms are soft, about 30 minutes. Drain, reserving soaking liquid. Squeeze porcini dry; chop coarsely.
2. Preheat oven to 325°F. Divide bread between 2 baking sheets. Bake until beginning to brown, about 15 minutes. Cool. Transfer to very large bowl.
3. Melt butter in heavy Dutch oven over medium-high heat. Add leeks, shallots, and crimini and shiitake mushrooms and sauté until golden and tender, about 15 minutes. Mix in celery and porcini; sauté 5 minutes. Transfer mixture to bowl with bread cubes. Mix in parsley, hazelnuts, thyme and sage. Season with salt and pepper. (Can be made 1 day ahead. Cover and chill porcini soaking liquid and stuffing separately.) Mix eggs into stuffing.
4. To bake stuffing in turkey: Fill main turkey cavity with stuffing. Combine broth and 1/2 cup reserved porcini soaking liquid in large glass measuring cup. Add enough broth mixture to remaining stuffing to moisten (about 3/4 to 1 cup broth mixture, depending on amount of remaining stuffing). Spoon remaining stuffing into buttered baking dish. Cover with buttered foil. Bake stuffing in dish alongside turkey untilheated through, about 30 minutes. Uncover and bake until top is crisp, about 15 minutes.
5. To bake all stuffing in pan: Preheat oven to 325°F. Butter 15x10x2" baking dish. Mix 3/4 cup reserved porcini soaking liquid and 3/4 cup broth into stuffing. Transfer stuffing to prepared dish. Cover with buttered foil and bake until heated through, about 1 hour. Uncover and bake until top is crisp, about 15 minutes.