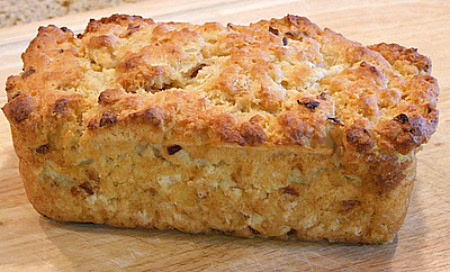 Onion & Fontina Beer Batter Bread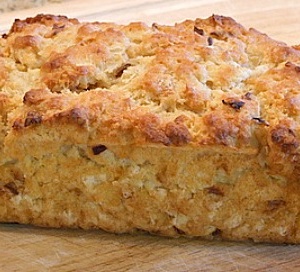 This bread is full of flavor. Much different than a regular beer bread with the added flavor of Fontina cheese.
Yield:
16 servings
Prep Time: 25 min
Cook Time: 1 hr, 5 min
Ingredients:
1 tablespoon extra-virgin olive oil
1 cup diced onion (about 1/2 medium)
3 cups all-purpose flour
3 tablespoons granulated white sugar
2 teaspoons baking powder
1 teaspoon salt
1 cup (4 ounces) grated Fontina cheese
One 12-ounce bottle beer (such as amber ale)
1/4 cup butter, melted and divided
Directions:
1. Preheat oven to 375°F. Spray 9x5-inch loaf pan with cooking spray.
2. Heat oil in a large nonstick skillet over medium heat. Add onion and sauté 6 minutes or until tender. Cool to room temperature.
3. Combine flour, sugar, baking powder and salt in a bowl; make a well in the center of the mixture. Add onion, cheese, and beer. Stir just until moist.
4. Spoon batter into prepared pan. Drizzle evenly with 2 Tablespoons of butter. Bake for 35 minutes; brush with remaining 2 tablespoons butter. Bake an additional 23 minutes or until wooden pick inserted in the center comes out clean. Cool 5 minutes in pan on a wire rack; remove from pan. Cool completely on wire rack.
Nutrition:
Nutritional Information per serving:
Serving size: 1/12th of the loaf
Calories per serving: 173
Fat per serving: 6.5g
Saturated Fat per serving: 3.5g
Sugar per serving: 3g
Fiber per serving: .77g
Protein per serving: 4.72g
Cholesterol per serving: 17.2mg
Carbohydrates per serving: 22.22g
WW POINTS per serving:
Points Plus Program: 4 Old Points Program: 4
Source: RecipeGirl.com (Adapted from Cooking Light)