Enjoy the holidays with a tall loaf of Panettone studded with a variety of dried fruits.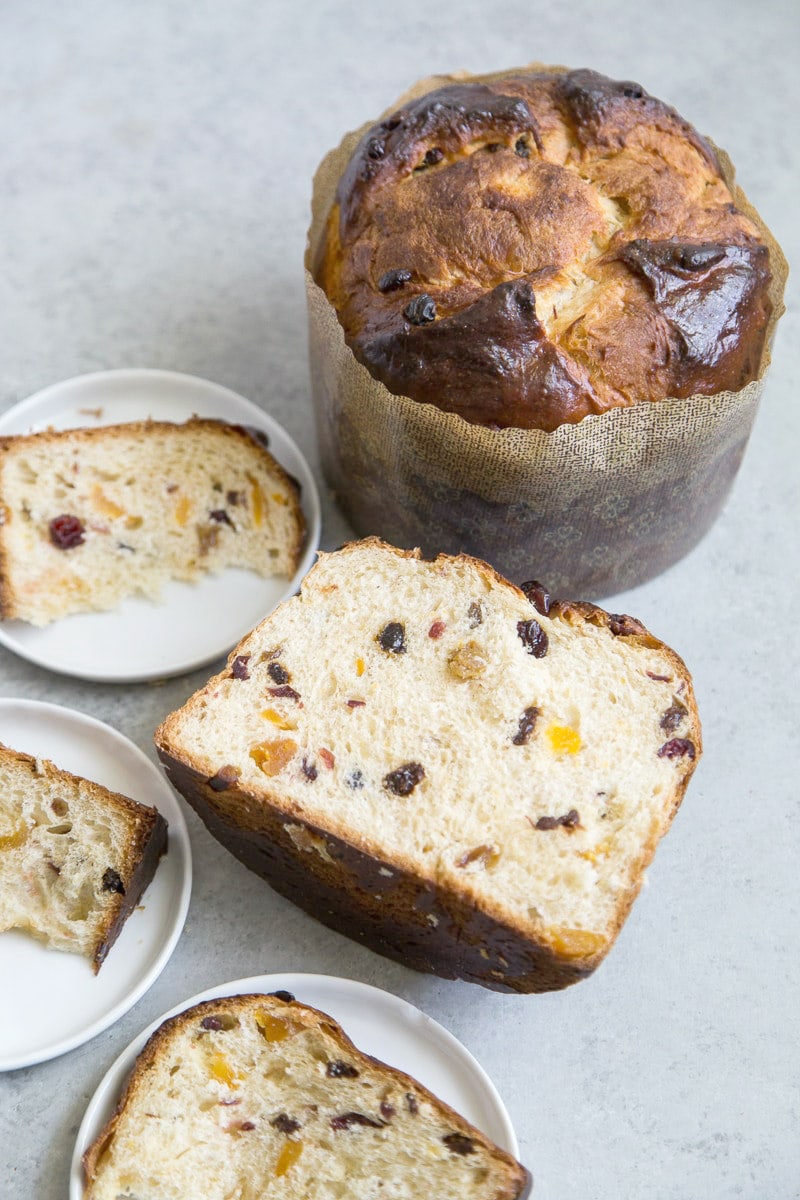 What is Panettone?
Pronounced "pan-ah-toh-nay," it's a festive Italian bread traditionally baked in a tall cylindrical mold. It is a sweet yeasted bread studded with dried fruits. And it is often served during the holiday season.
Panettone requires a bit of time and patience, but the efforts are well worth it. Skip the store-bought stuff. Nothing beats fresh, homemade bread.
This panettone recipe uses a sponge. A sponge is a pre-ferment mixture that helps to kick-start the dough fermentation process. Bread doughs develop flavor through kneading and proofing times.
Some panettone dough recipes require hours and hours of proofing time. The sponge in this recipe helps to shorten the proof time, while still adding flavor and depth to the dough.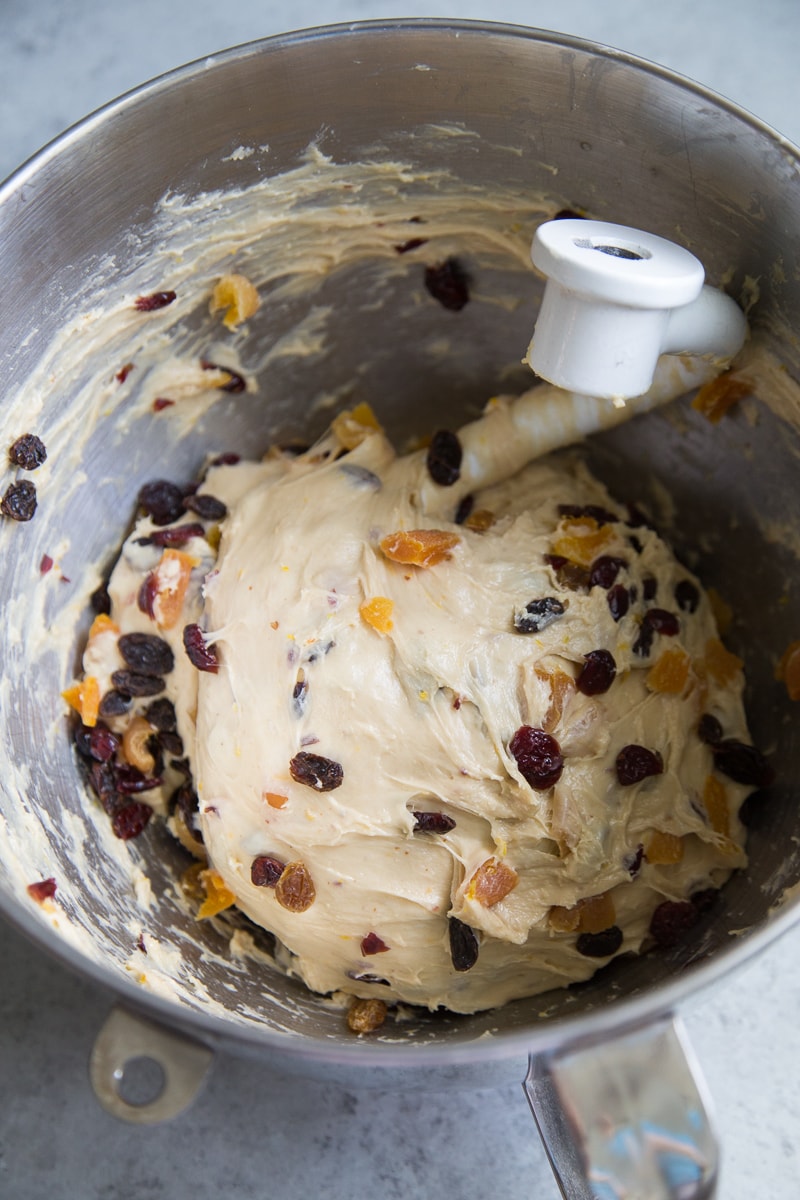 What fruits and nuts can you add to panettone dough?
Traditionally, panettone contains candied orange peel, candied lemon peel, raisins, and golden raisins. Over the years, many other varieties have become popular including those with chocolate, other dried fruits, and chopped nuts.
Candied orange peel and candied lemon peel can be difficult to find and they quite pricey! They're also often way too sweet. This recipe uses finely grated orange peel and lemon peel to add bright citrus flavor.
Along with raisins, this recipe includes chopped dried apricots and dried cranberries. Candied ginger, dried currents, dried apples, or dried cherries would be excellent additions.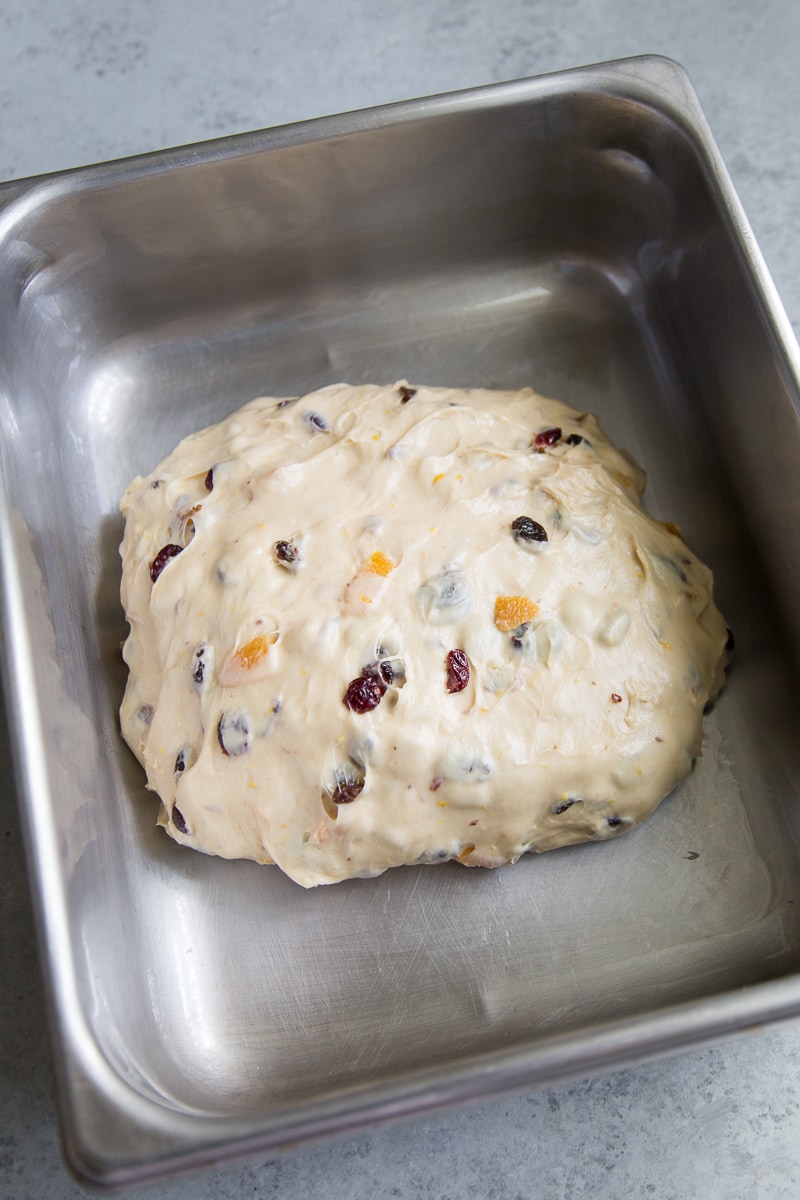 Why is the panettone dough sticky? Should I add more flour?
This panettone recipe produces a very rich and elastic dough. It requires laborious mixing and kneading before it becomes smooth and pliable.
Do not be tempted to add more four to the mixing bowl. The dough may look and feel sticky at first. However, after extensive kneading (about 8 minutes or so in a stand mixer), the flour will absorb some moisture, allowing you to easily remove the dough from the bowl.
Use a greased bowl scraper (or greased sturdy spatula) to help transferring the dough easier. I also suggest greasing your hands, as well.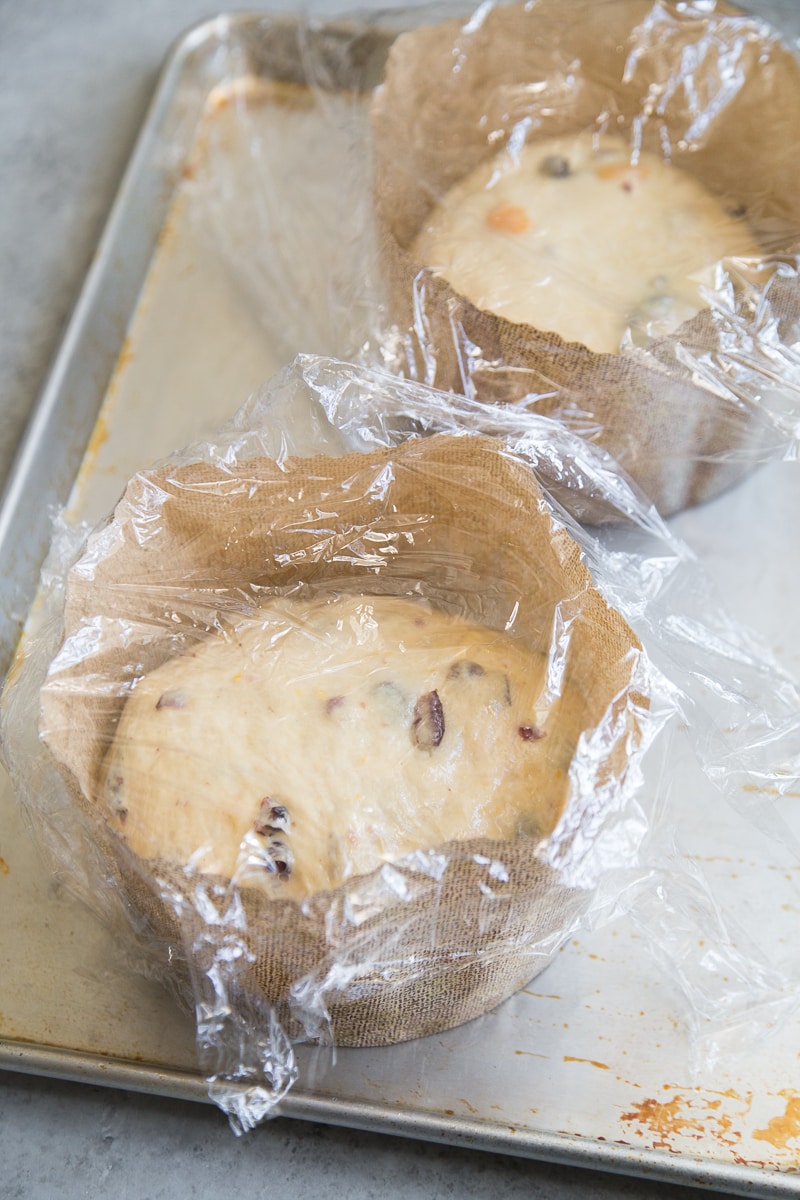 What kind of mold is needed to bake panettone?
Paper panettone pans are available online on Amazon or at a bakery supply store. This paper pan is special because it is perforated with tiny holes along the sides and bottom to allow for air flow.
If you cannot find these paper pans, the panettone dough can also be baked in muffin tins to make much smaller versions. However, I highly suggest finding the paper panettone mold for this recipe.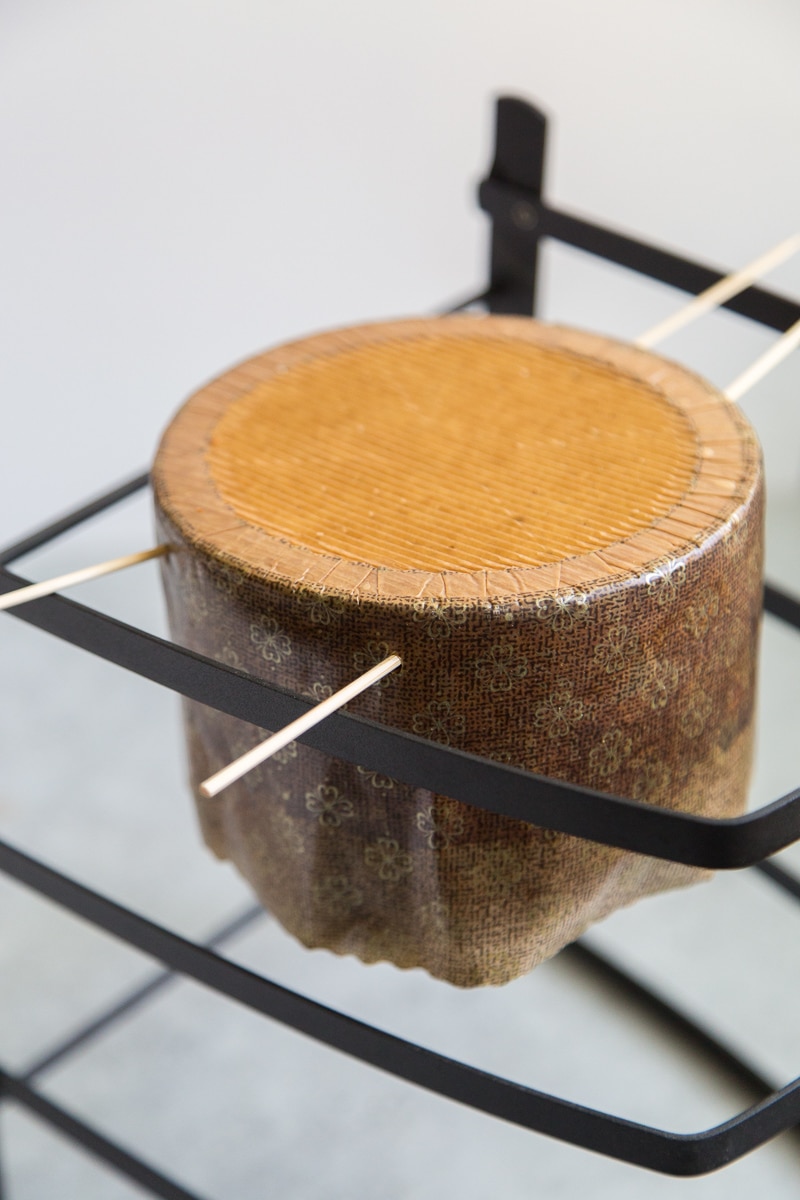 How to prevent baked panettone bread from collapsing?
To ensure the baked panettone bread loaf remains tall and fluffy, cool the panettone upside down. Immediately after baking, stick two sturdy wooden skewers (or better yet, metal skewers) into the bottom of the panettone mold.
I used a tiered cooling rack to hang the bread upside-down. This step isn't required, but it does help the bread retain its shape.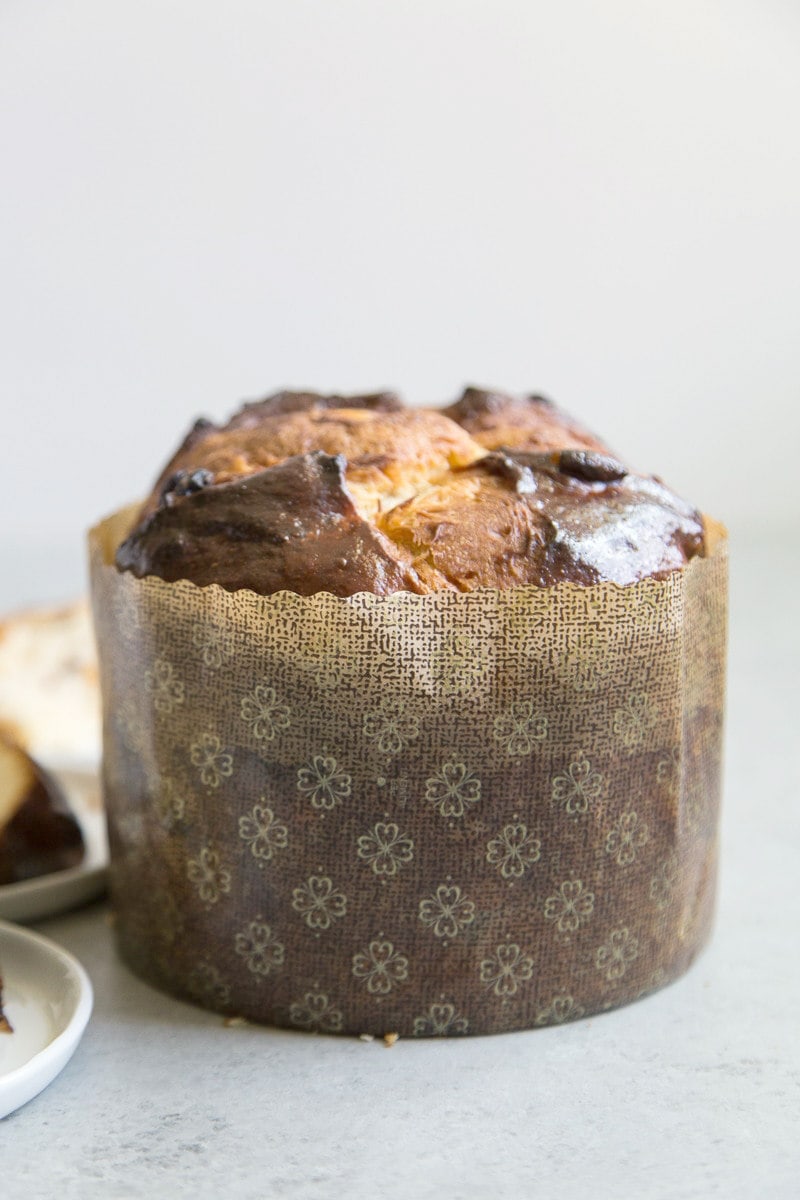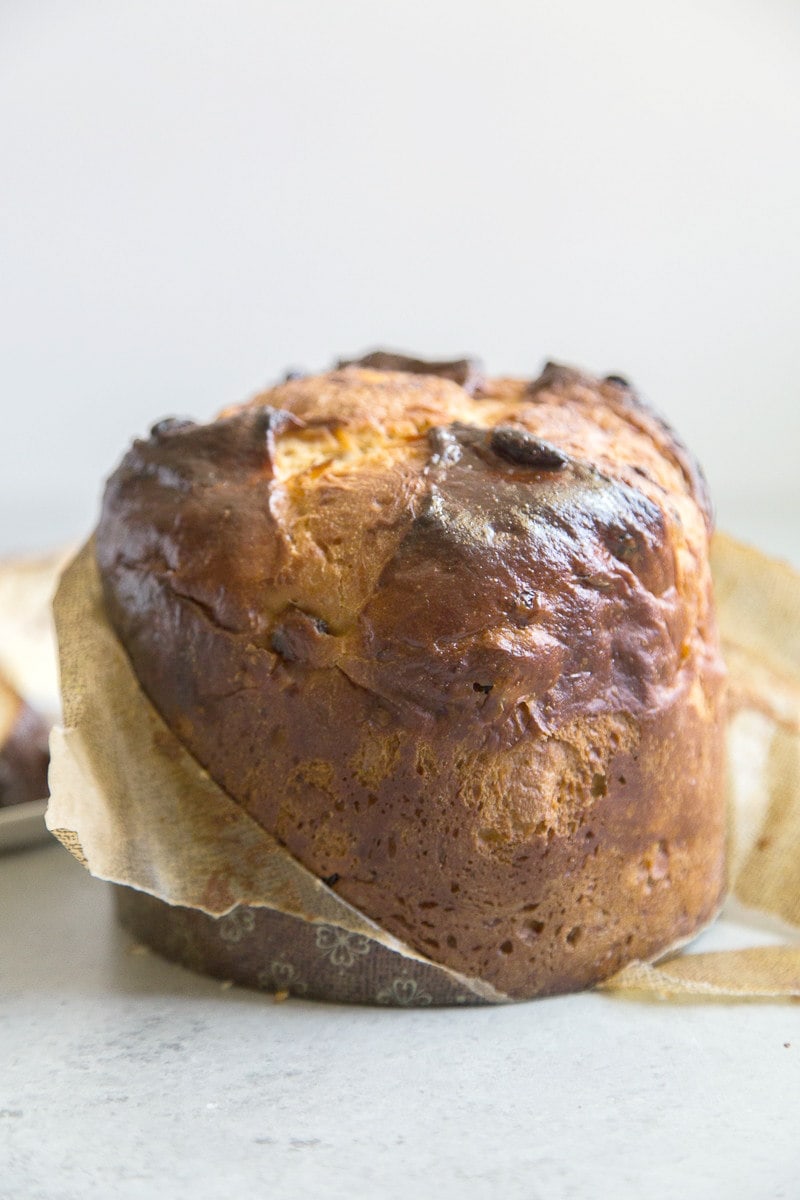 How to serve panettone?
Panettone can be enjoyed for breakfast with a pat of salted butter and cup of coffee or tea. It is often traditionally served mid-afternoon or as an after dinner treat with a glass of sweet wine like Moscato d'Asti.
The bread can be enjoyed at room temperature or toasted warm. Stale or leftover panettone can have new life as French toast or transformed into a tasty bread pudding.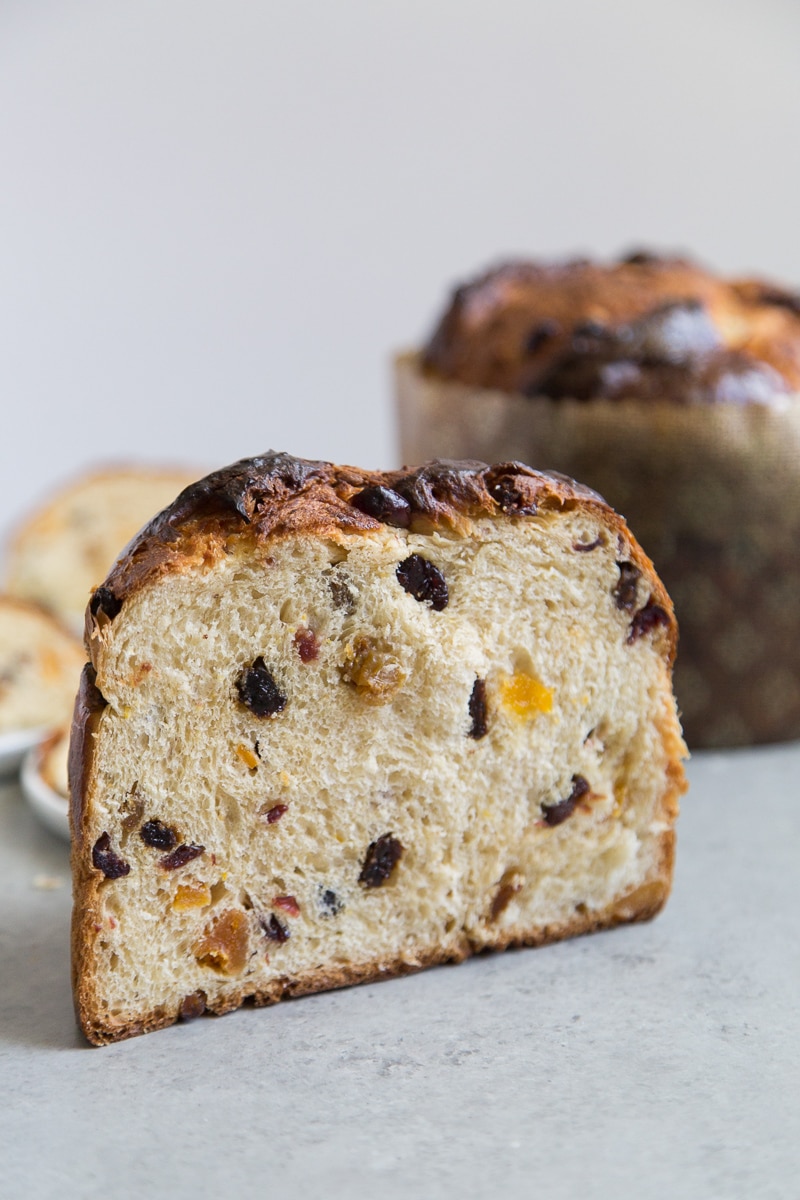 For more holiday recipes, you might like to try these Holiday Biscotti or these Cranberry Bliss Bars. This Persimmon Cranberry Pie or No-Bake Double Layer Pumpkin Pie are also delicious options!
Panettone
Enjoy the holidays with a tall loaf of Panettone studded with a variety of dried fruits.
Recipe Details
Servings:
24
servings (2 large bread loaves)
Ingredients
SPONGE:
1 1/4

cups

all purpose flour

1/2

cup

whole milk,

warmed to 110 degrees F.

1

tablespoon

instant yeast
DOUGH:
1/2

cup

raisins

1/2

cup

golden raisins

1/2

cup

dried cranberries

1/2

cup

chopped dried apricots

3

tablespoons

dark rum

(or spiced rum)

1/2

cup

whole milk

2

large

eggs

1

large

egg yolk

1/3

cup

granulated white sugar

1

teaspoon

finely grated lemon zest

1

teaspoon

finely grated orange zest

2 1/2

cups

all-purpose flour

1 1/2

teaspoons

fine sea salt

1 1/4

teaspoons

instant yeast

1

tablespoon

honey

6

tablespoons

unsalted butter,

divided (at room temperature)
EGG WASH:
1

large

egg

1

teaspoon

water

1/8

teaspoon

fine sea salt

1

tablespoon

unsalted butter

softened
Instructions
PREPARE THE SPONGE:
Combine flour, instant yeast, and warm milk in the bowl of the stand mixer until dough forms. Knead for 2 minutes. The sponge will feel rather dry. Cover with plastic wrap and allow to sit at room temperature for 45 minutes until doubled in size.
PREPARE THE DOUGH:
While the sponge is resting, combine the dried fruits in a shallow bowl. Toss with rum. Set aside. Stir every 15 minutes while sponge is resting.

In a small bowl, whisk together milk, eggs, and yolk. Set aside.

In another bowl, stir together the sugar, lemon zest, and orange zest. Set aside.

Attach the dough hook to your stand mixer. In the same bowl with the sponge dough, add the flour, salt, yeast, milk mixture, sugar mixture, and honey. Mix together on low speed for 2 minutes. Scrape down the sides of the bowl. Add the dried fruit mixture. Mix for another 2 minutes on low speed.

Scrape down the sides of the bowl. Mix on medium speed for another 2 minutes. Decrease to low speed and add the butter, 1 tablespoon at a time, while the mixer is running. Once all the butter has been added, increase to medium speed and knead for 5 minutes until dough is smooth. Scrape down the sides of the bowl as needed to ensure thorough mixing.

Transfer the dough to a large, greased bowl (or large hotel pan). Cover with plastic wrap and allow to rest at room temperature for 75 minutes until the dough has puffed up.

Using greased hands gently deflate dough. Fold into thirds like a letter. Cover with plastic wrap and let rest for another 15 minutes.

Divide the dough into 2 equal pieces, roughly 1 pound 4 oz each. Working on a clean surface, shape into a ball using greased hands. Cover with plastic wrap and let rest 15 minutes.

PREPARE EGG WASH & GET READY TO BAKE:

Meanwhile, make the egg wash by whisking together egg, water, and salt. Keep covered and set aside.

Rework the dough's ball shape and place in two greased paper panettone molds. Lightly brush the top of the dough with egg wash. Loosely cover with plastic wrap. Let rest and proof for 1 hour 40 minutes until dough has risen about 2/3 up the mold.

Preheat oven to 365 degrees F. Uncover the risen dough. Lightly brush with egg wash again. Use a very sharp knife (or bread scoring blade) to score an "X" across the entire surface of the dough. Place 1/2 tablespoon of butter in the center of "X".

Bake in preheated oven for 35 to 40 minutes until the bread is golden brown and the internal temperature of the bread registers at least 185 degrees F on a kitchen thermometer. If the bread is browning too fast, cover with a foil tent.

Notes
Cooled panettone will keep for up to 5 days tightly wrapped at room temperature.
This recipe requires INSTANT YEAST. Do not substitute in Active Dry Yeast.
Dough will be very sticky. Do not add additional flour. Keep kneading dough in the mixer until smooth.
Nutrition
Serving:
1
serving
,
Calories:
169
kcal
,
Carbohydrates:
27
g
,
Protein:
3
g
,
Fat:
4
g
,
Saturated Fat:
2
g
,
Cholesterol:
38
mg
,
Sodium:
172
mg
,
Potassium:
128
mg
,
Fiber:
1
g
,
Sugar:
8
g
,
Vitamin A:
255
IU
,
Vitamin C:
0.5
mg
,
Calcium:
23
mg
,
Iron:
1.3
mg