This might sound quirky and whacked, but spending an entire Saturday in the kitchen preparing multiple dishes for a dinner party is my idea of a good time (truly). When Sunday rolls around though, I'm pooped and I'm ready for the couch… ready to watch my tivo'd episodes of The Real Housewives of Orange County and hunker down to concentrate on the very-confusing last season of Lost.   During the week I focus on the more quick-and-easy type dinners to whip up for my family.  There's a QUICK & EASY DINNERS section on the RecipeGirl site for those of you who like the quick and easy thing.
My latest find involves pork tenderloin- the cut of pork that's so tender it's tough to dry out (even if you can't really cook):  Pork Medallions with Olive-Caper Sauce.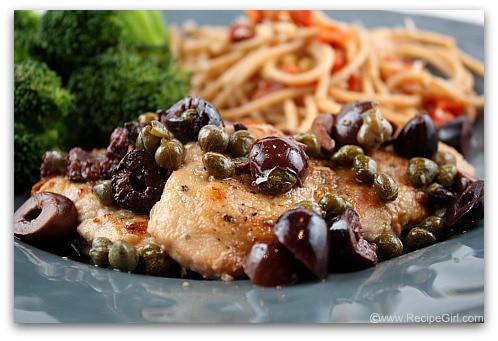 Pork "medallions" are easy to make. A one-pound piece of pork tenderloin is cut crosswise into 8 pieces- those are the medallions.  For this recipe, we flatten the medallions so that they cook up very quickly.  Take a meat mallet (or something heavy- even a rolling pin will work) and pound out the pieces until they flatten out. The medallions are dusted with flour and then sauteed in a very small amount of oil. The light sauce is made of reduced chicken broth & wine with added kalamata olives and capers. Such a simple dinner to prepare and so many good flavors too.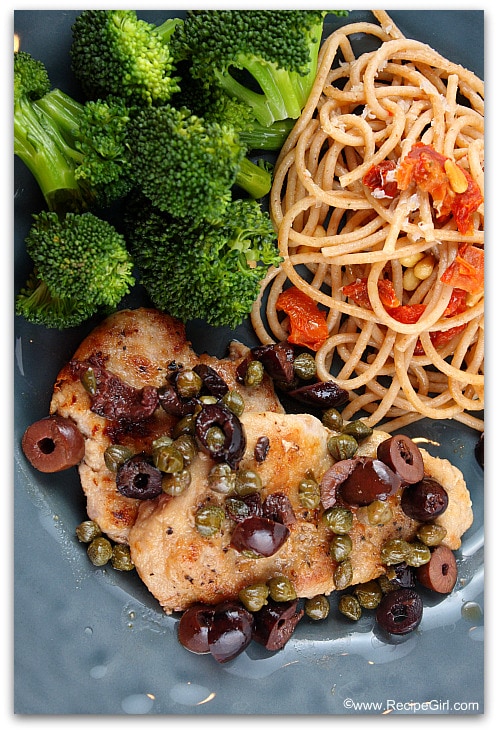 A serving of this pork includes two medallions with sauce, and it will only set you back 212 calories (or 5 Weight Watcher points). I served it up with a side of broccoli and some whole wheat spaghetti mixed with sauteed garlic, sundried tomatoes, pine nuts & a sprinkle of Parmesan. You can definitely feel good about getting a decent, healthy dinner on the table in a short amount of time. Save your more time-intensive dinners for the weekend, and then you can relax and watch some trash TV… or better yet, read a book 🙂
This recipe can be found here: Pork Medallions with Olive-Caper Sauce
——————————————–
Other recipes for Pork Medallions on the blogs:
Pork Medallions w/ Cider Sauce by Noble Pig
Pork Medallions w/ Balsamic-Honey Glaze by Andrea Meyers
Rye-Crusted Pork Medallions by Dishing Up Delights
Pork Tenderloin Medallions w/ Braised Fennel & Cider-Gorgonzola Cream Sauce by SophistiMom