This recipe has been featured in a post on The Recipe Girl blog: Samoa Blondies from The Newlywed Kitchen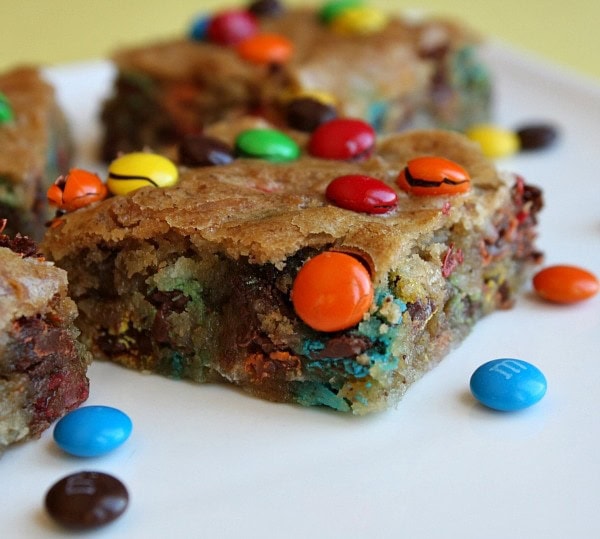 Samoa M&M Blondies
These delicious blondies from The Newlywed Kitchen are tainted with coconut and browned butter. I opted to mix in M&M's in place of the usual chocolate chips.
Yield:
16 blondies
Prep Time: 25 min
Cook Time: 25 min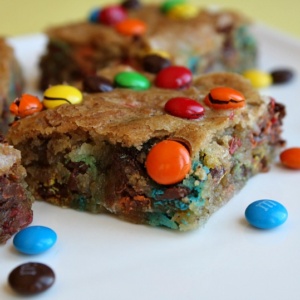 Ingredients:

10 tablespoons unsalted butter
1 cup packed dark brown sugar
1/4 cup granulated white sugar
1 large egg
2 teaspoons vanilla extract
1/4 teaspoon kosher salt
1 1/4 cups all-purpose flour
1 1/4 cups sweetened flaked coconut
1 1/4 cups mini M&M's
a few extra M&M's

Instructions:

1. Preheat oven to 350 degrees F. Spray 8x8-inch pan with nonstick spray and then line the bottom with parchment paper.

2. Heat butter in a small saucepan over medium heat until it browns and begins to smell nutty (watch it closely so it doesn't burn). Let the butter cool for a few minutes, until just barely warm.

3. In a large mixing bowl, combine the browned butter and sugars. With a wooden spoon, stir in egg, vanilla and salt. Stir in flour, coconut and M&M's until batter is blended.

4. Pour the batter into the prepared pan and smooth the top with a rubber spatula. Sprinkle a few additional M&M's on top. Bake 25 to 30 minutes. Let the blondies cool before turning them out onto a cutting board and slicing into squares (chilling them will make that process even easier).

Tips:

*Use chocolate chips in place of M&M's if you'd like.
*For slightly gooey, underbaked blondies, bake for 25 minutes. For fully baked blondies, bake the entire 30 minutes.