These Skinny Chimichangas are a GREAT light Mexican recipe for those watching their waistlines.
Scroll toward the end of this post to watch a short video showing you how to make this recipe, then print out the recipe so you can make these at home.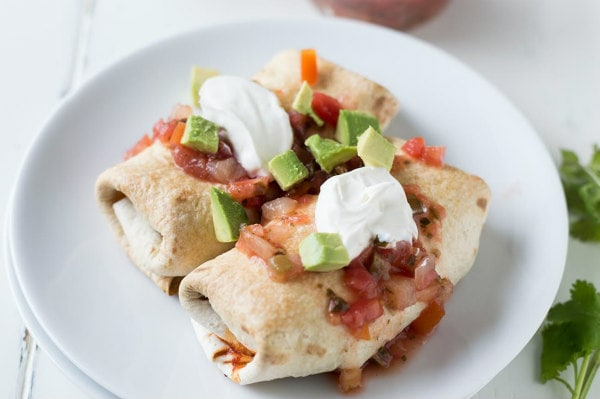 I first made this recipe almost ten years ago when I was following the very old Weight Watchers program.  Back in those days, you had to count points for every single thing you put in your mouth.  It was a lot harder to keep track, and a lot more difficult to follow the program.
These days, you can eat so many more things!  I think the Weight Watchers people have done a ton of research and have figured out that healthier-type foods shouldn't need to be "counted" into your daily totals.
This dinner recipe is terrific – even if you're not following any type of weight loss program.  A classic chimichanga is deep fried, and the filling contains rice and meats.  In this recipe, the chimichangas are baked, and the filling is made with lean ground turkey, a lightly spiced sauce, and low fat cheese.  The tortillas called for in this recipe are fat free, but you can certainly use regular flour tortillas if you don't care about that.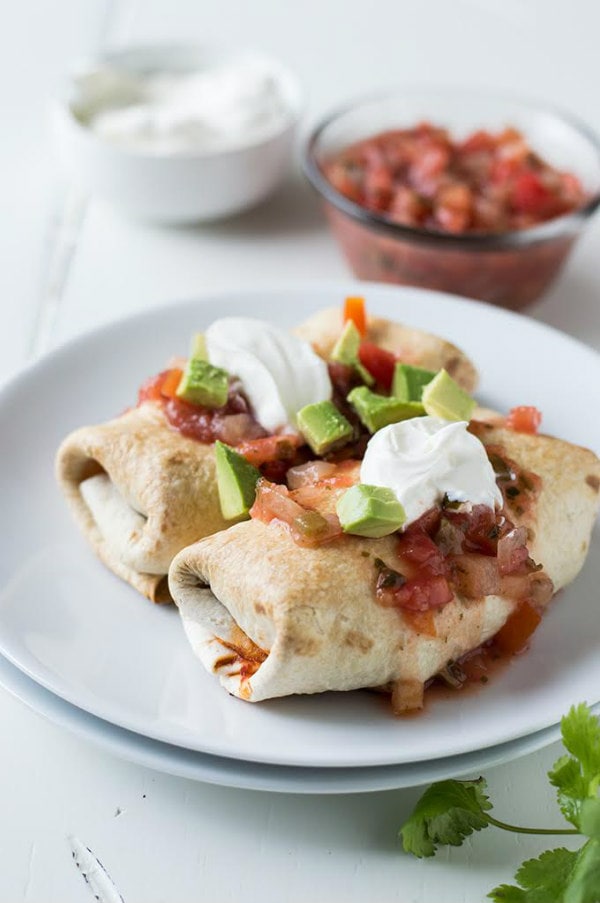 Top these with your favorite fixings, of course.  I love to add a little bit of salsa and sour cream on top.  My family loves chopped avocado too!  Enjoy!
Click below to watch a short video showing you how to make this recipe, then print out the recipe and make it at home!
Skinny Chimichangas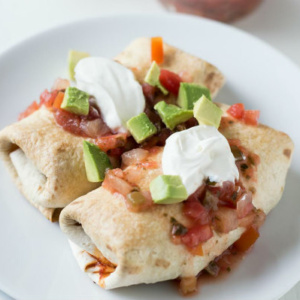 Yield:
4 servings
Prep Time:25 minutes
Cook Time:45 minutes
Ingredients:
1/2 pound 99% lean ground lean turkey
1 medium onion, finely chopped
1 clove garlic, minced
2 teaspoons chili powder
1 teaspoon dried oregano
1/2 teaspoon ground cumin
One 8-ounce can tomato sauce
2 tablespoons chopped mild green chiles
1/3 cup shredded reduced-fat cheddar cheese
Four 8-inch fat-free flour tortillas
Directions:
Preheat oven to 400°F. Spray a nonstick baking sheet with nonstick spray.
Spray a nonstick skillet with nonstick spray; set over medium-high heat. Add turkey, onion, garlic, chili powder, oregano and cumin. Cook, breaking up the turkey with a wooden spoon until browned, about 6 minutes. Stir in tomato sauce and chiles; bring to a boil. Reduce heat and simmer, uncovered, until the flavors are blended and the mixture thickens slightly, about 5 minutes. Remove from heat and stir in the cheddar.
Meanwhile, wrap the tortillas in foil and place in the oven to warm for 10 minutes.
Spoon about 1/2 cup of the filling into the center of each tortilla. Fold in the sides, then roll to enclose the filling. Place the chimichangas, seam-side down, on the baking sheet. Lightly spray the tops of the tortillas with nonstick spray. Bake until golden and crisp, about 20 minutes. Do not turn.
Tips:
Top these chimichangas with your favorite salsa, sour cream and guacamole for extra calories, of course).
Nutrition:
Nutritional Information per serving (Serving size:

1 chimichanga) 

Calories:

172, 

Fat:

3.75g, 

Saturated Fat:

1g, 

Sugar:

4.75g, 

Sodium:

674mg, 

Fiber:

3g, 

Protein:

9.75g, 

Cholesterol:

10.5mg, 

Carbohydrates:

25.75g

Weight Watchers POINTS: Freestyle SmartPoints: 3, SmartPoints: 5, Points Plus Program: 4, Old Points Program: 3
Count toppings as extra.
Here are a few more skinny recipes you might enjoy: