Here's an easy recipe that will satisfy both your pizza and Mexican food cravings:  Skinny Taco Pizza– and it's Weight Watchers friendly!  A short how-to video and the printable recipe are included at the end of this post.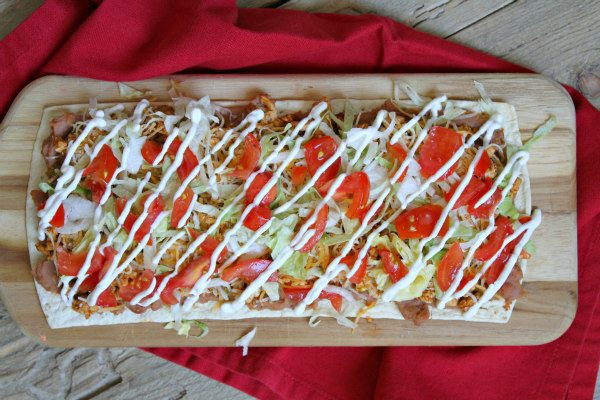 I've been hitting the gym and lightening up on my food intake for a couple of months now.  With summer looming closely ahead, I've been focused on choosing products at the store that are helping me to limit my calories.  Summer will be here in just a few days, so making more Weight Watchers- friendly recipes are going to help me feel more comfortable in a swimsuit!
I'm currently partnering with Flatout Flatbread's line of healthy bread to create a few recipes.  And since Flatout Flatbread is the only flatbread endorsed by Weight Watchers, all of the recipes I create for them have a Weight Watchers Smartpoints® total included.  Flatout Flatbreads are located in the deli/bakery section of most major grocery stores, and they are all 2 to 4 SmartPoints® each.
Even if you're not following Weight Watchers and are just trying to lighten things up, Flatout Flatbreads are a simple solution to creating simple meals.  You shouldn't have to deprive yourself of the foods you love if you are trying to lose weight.  Just make good choices and smart substitutions, and you can still enjoy the food that you #FlatoutLove.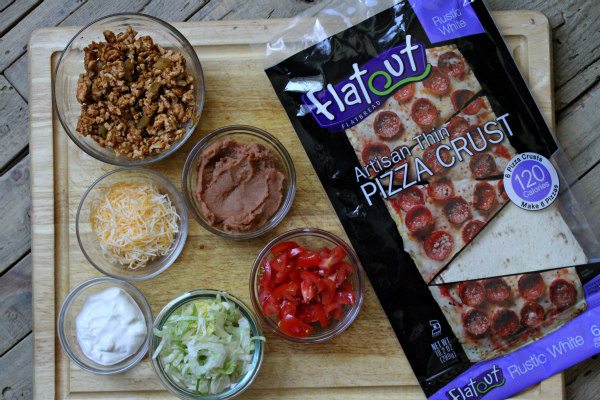 I used the Flatout Artisan Thin Pizza Crust for this recipe.  It has 4 Weight Watchers Smartpoints and is just 120 calories.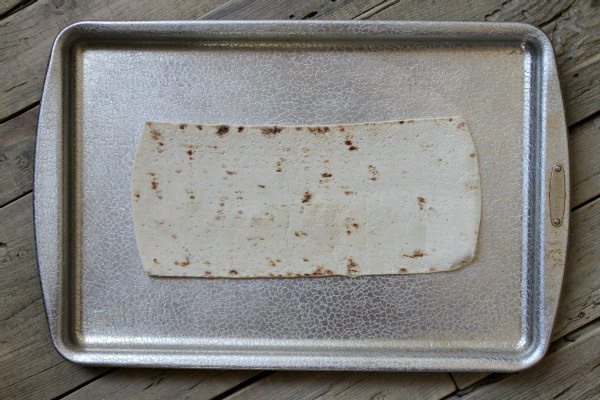 The recipe begins by baking the pizza crust to get it a little bit crispy.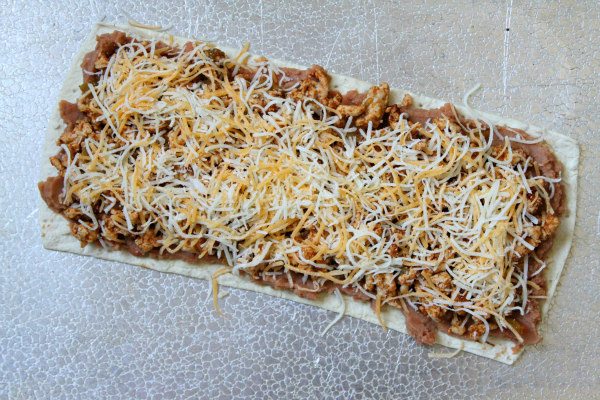 Refried beans, spiced-up ground turkey and cheese are piled on top.  Then it goes back into the oven to warm everything up.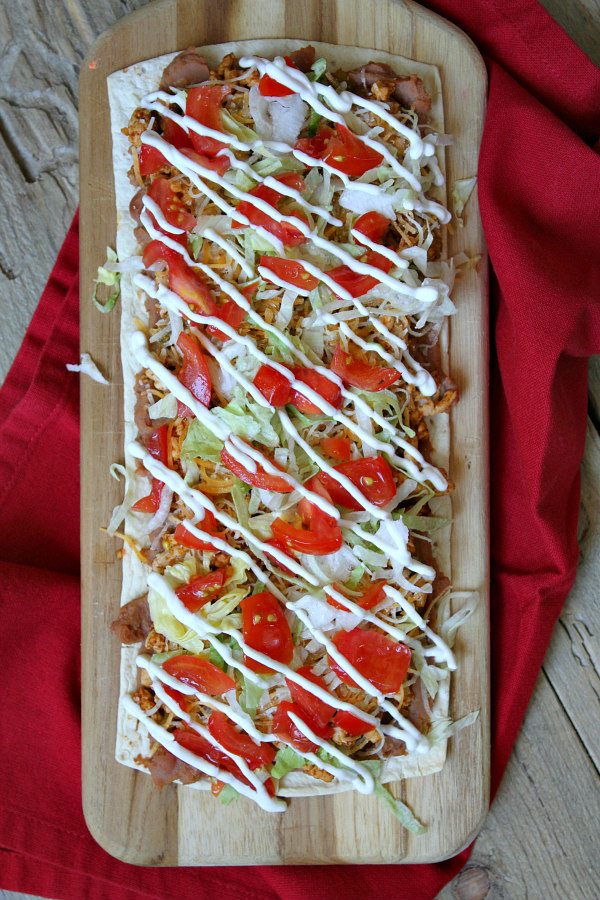 In true taco fashion, the pizza is topped with lettuce, tomato and sour cream.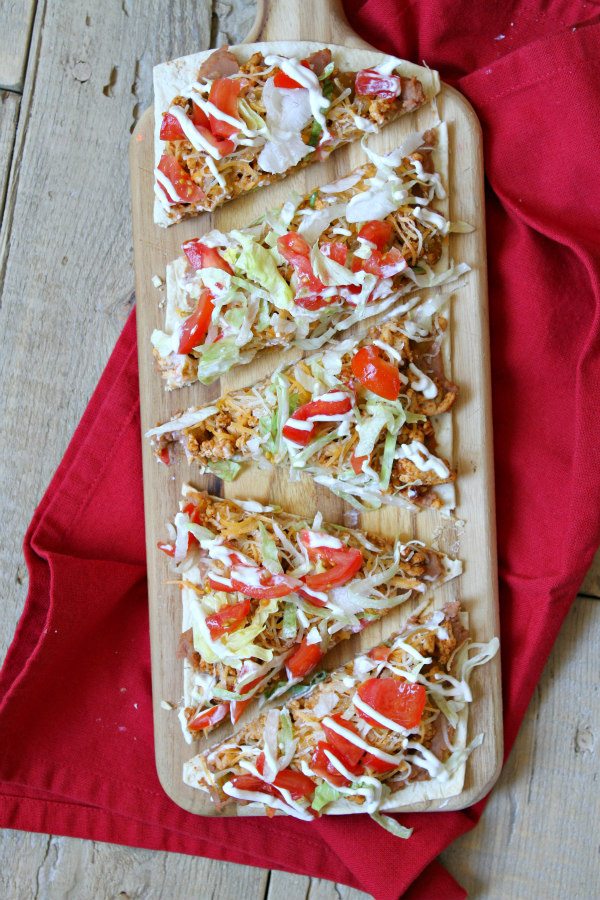 Sliced into pieces, it's perfect for picking up and eating just like regular pizza.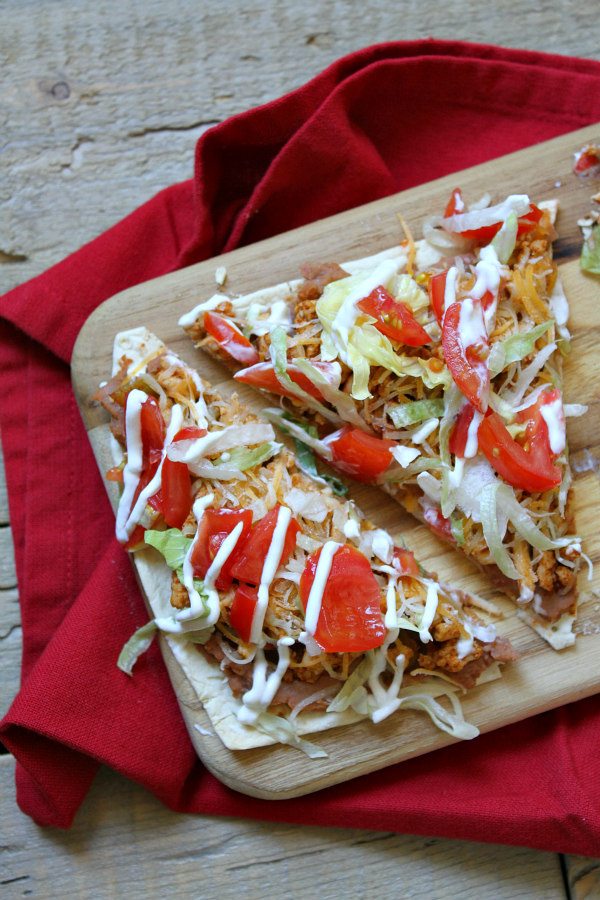 This recipe serves two people, and it's super filling and satisfying.  Each serving computes to 8 Weight Watchers SmartPoints.  My husband and son devoured my Skinny Taco Pizza samples.  And just for the record: neither of them are watching their calories and they thought this recipe was a perfectly delicious meal!
Click below to watch a quick video showing you how to make this recipe.  Then scroll down to print out the recipe.
Yield: 2 servings
Prep Time: 25 minutes
Cook Time: 10 minutes
Skinny Taco Pizza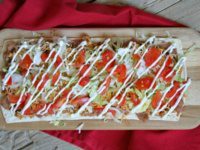 Ingredients:
1 

Flatout Flatbread Pizza Crust Rustic white artisan thin

6 ounces uncooked 99% fat free ground turkey
2 to 3 teaspoons dried taco seasoning
3 tablespoons water
2 tablespoons canned chopped mild green chiles
1/2 cup fat free refried beans
1/3 cup reduced-fat Mexican blend shredded cheese
1/2 cup shredded iceberg lettuce
1/2 cup finely chopped tomatoes
1/4 cup light sour cream
Directions:
Preheat the oven to 375 degrees F- rack should be in the middle.

Spray a medium skillet with nonstick spray.  Saute turkey until cooked.  Add water, taco seasoning and chiles.  Stir to combine.  Turn off heat and set aside.

Place the Flatout pizza crust on a baking sheet.  Spray with nonstick spray.  Bake 3 minutes.  Spray the other side and bake 3 more minutes.

Remove from the oven and spread refried beans on top.  Sprinkle seasoned taco meat on top of the beans.  Then sprinkle cheese evenly on top of it all.  Bake for 4 to 5 minutes, until heated through and cheese in melted.

Remove the pizza from the oven and slide onto a cutting board.  Top with lettuce and tomato, and drizzle sour cream on top.  Use a pizza cutter to cut into slices.  Use any extra sour cream on individual slices.
Tips:
Tip:  I put the sour cream in a baggie and snip the corner to use for easy drizzling.
8 Weight Watchers Smartpoints per serving (1/2 of the pizza)
SOURCE:  RecipeGirl.com
Here are a few more flatbread pizza recipes you might enjoy:
Disclosure:  This recipe was made in partnership with Flatout Flatbread.  This is a product that I know and use in my kitchen.  All opinions shared are my own.
8 Responses to "Skinny Taco Pizza"
Leave a Comment