This recipe has been featured in a post on The Recipe Girl blog: Christmas Cookies- Chocolate Peanut Butter Snowballs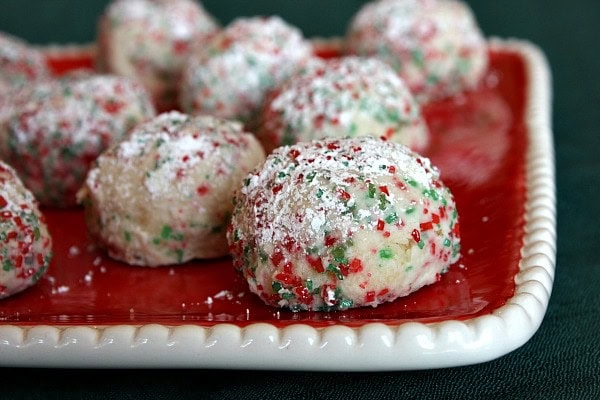 Snowballs
Yield:
2 dozen cookies
Prep Time:40 min
Cook Time:10 min
Ingredients:
FILLING:
6 ounces peanut butter chips
6 ounces semi-sweet chocolate chips
1/4 cup powdered sugar, sifted
1/4 cup peanuts, finely chopped
OUTSIDE COOKIE:
3 cups all-purpose flour
1 1/4 cups butter, softened
1/4 cup powdered sugar
1 tablespoon vanilla extract
powdered sugar
colored sanding sugar, optional
Directions:
1. Combine chips in double boiler and heat until mixture is smooth. Remove from heat. Add powdered sugar and peanuts. Mix well. Let sit at room temperature until firm enough to shape. Roll 3/4-inch balls and set aside.
2. Preheat oven to 400 degrees F.
3. In large bowl, combine flour, butter, powdered sugar and vanilla; knead until well blended (if the dough is too dry, work in a teaspoon to a tablespoon of milk. Shape into one 11-inch log; cut into 1/4-inch slices. Lay a slice of dough in your hands and use your fingers to gently spread out. Place a chocolate-peanut butter ball in the center of the slice. Shape dough slice around filling, seal and roll into a ball with your hands. Roll the ball in the powdered sugar (add colored sanding sugar if you're making a holiday cookie), and place on un-greased cookie sheet.
4. Bake for 10 minutes. Cool slightly. Roll in powdered sugar mixture again while still warm.
Yield:  about 2 dozen