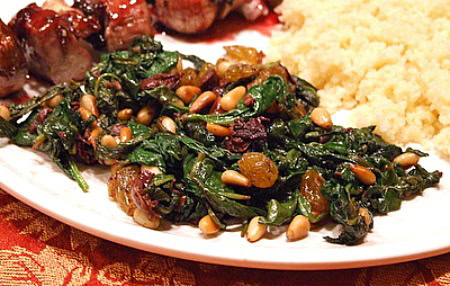 Spinach with Olives, Raisins and Pine Nuts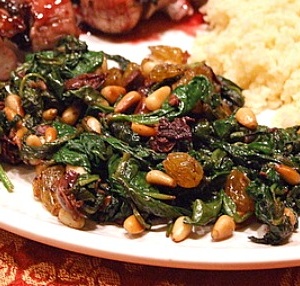 I'm not usually a spinach lover, but I enjoy the addition of olives and pine nuts. The balsamic vinegar is a nice touch too.
Yield:
8 servings
Prep Time: 20 min
Cook Time: 10 min
Ingredients:
Three 10-ounce packages of "ready to use" spinach leaves (or 4 large bunches, trimmed)
1/4 cup extra virgin olive oil
4 large cloves of garlic, chopped
1/3 cup Kalamata olives, pitted and quartered
1/3 cup raisins
1/4 cup pine nuts, toasted
1 1/2 tablespoons balsamic vinegar
Directions:
1. Place a colander over a large bowl. Line the colander with a thin kitchen towel.
2. Toss 1/3 of the spinach in a heavy Dutch oven over high heat until wilted but still bright green, about 3 minutes. Transfer spinach to prepared colander. Repeat with remaining spinach in 2 batches. Let spinach cool briefly. Gather towel around spinach and squeeze well, pressing out as much liquid as possible.
3. Heat olive oil in a heavy skillet over medium-high heat. Add chopped garlic, olives and raisins and sauté until the garlic begins to color, about 3 minutes. Add spinach and toasted pine nuts and toss until heated through. Add vinegar and toss. Season spinach generously with salt and pepper and serve.
Tips:
*The preparation of the spinach may be done up to 8 hours ahead of time, and then cover and refrigerate.