Taco Stuffed Avocados are an easy-to-make, delicious low carb meal.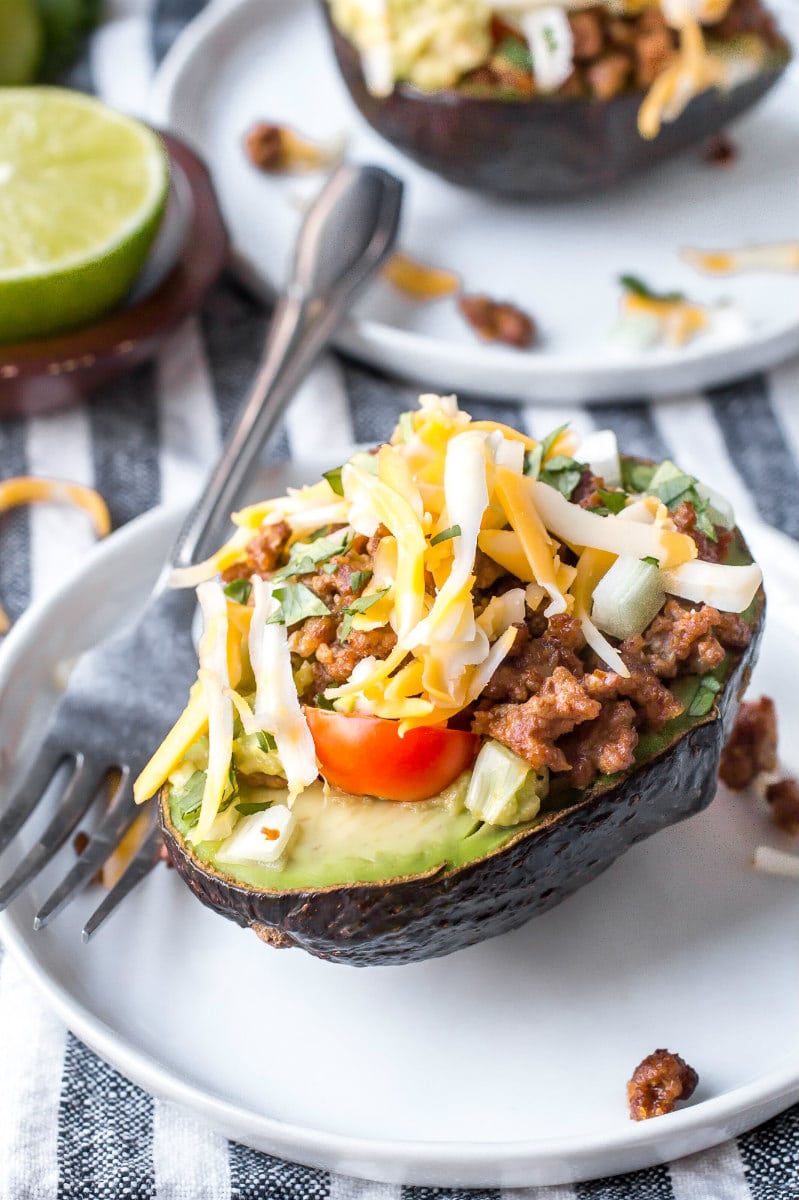 Salads get boring, so why not eat your salad in an avocado instead? These taco stuffed avocados are packed with all of the good things you'd find in a classic taco. There is a beef taco filling with fixings such as tomatoes, onion, cheese and cilantro. Can you customize the fillings to your preference? Absolutely!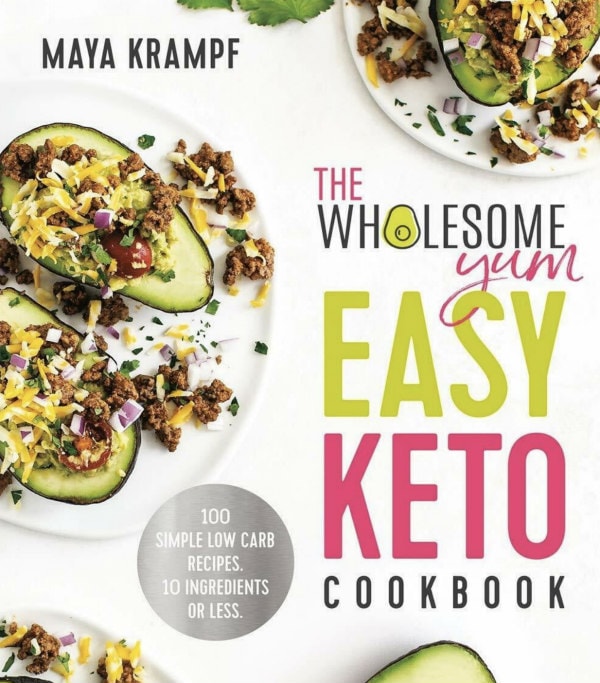 The Wholesome Yum Easy Keto Cookbook
Amazon affiliate links are included within this post.
The Wholesome Yum Easy Keto Cookbook is a brand new book from my friend Maya Krampf. Maya is the founder of the popular low carb keto website WholesomeYum.com. This book has 100 simple low carb recipes using 10 ingredients or less. The recipes are easy-to-read and simply laid out with specific serving sizes, complete nutritional information and a photo for every recipe. If you're not on the Keto diet, this is also a good cookbook for eating low carb. And if you are diabetic, this is an excellent cookbook to have in your collection. It's interesting to note that this book was only published at the end of October and it's already a best-seller!
There is a great introduction in the book, explaining the Keto diet and lifestyle, as well as sample weekly meal plans. And there are chapters for all meals of the day. Here are a few of the recipes I've bookmarked to try: Almond Flour Pancakes, Sheet Pan Sausage Breakfast Sandwiches, Lazy Lasagna Chicken, Spaghetti Squash Ramen Soup, 15-Minute Egg Roll in a Bowl, Pan-Seared Steak with Mushroom Sauce, Loaded Cauliflower Mash, Caramelized Onion Meatballs, The Best 90-Second Bread, Chocolate Peanut Butter Cup Fudge and Ranch Dressing.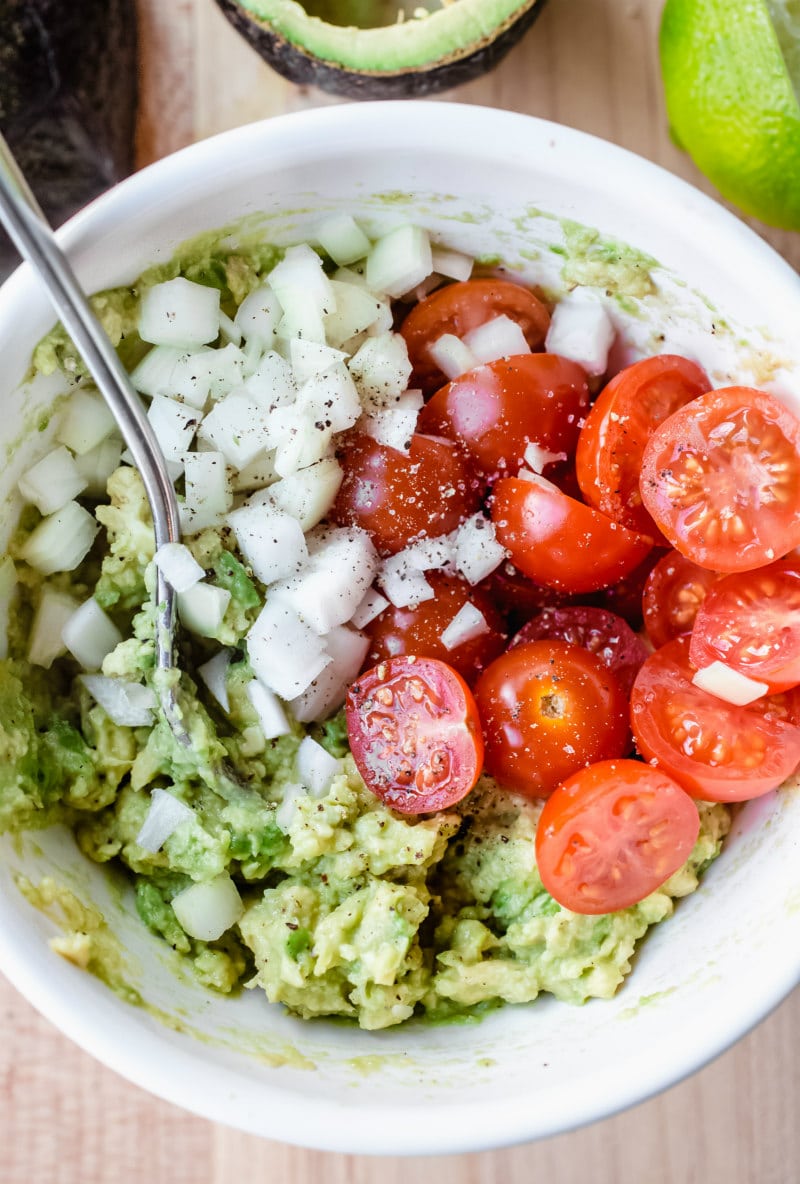 How to make Taco Stuffed Avocados:
This is a very easy recipe to make. In a large skillet, you'll brown the ground beef and then add taco seasoning and water to created the seasoned taco meat.
Then you'll halve the avocados and scoop out some of avocado flesh into a bowl. The avocado flesh is mashed slightly and combined with lime juice, salt, pepper, tomato and onion. That mixture is piled back into the avocado halves and then topped with the seasoned taco meat, cheese and a sprinkle of cilantro. That's it! Print out the recipe below for complete instructions.
If you are preparing this recipe counting WW points, see the Recipe Notes below for specifics on how you should modify this recipe for the lowest points.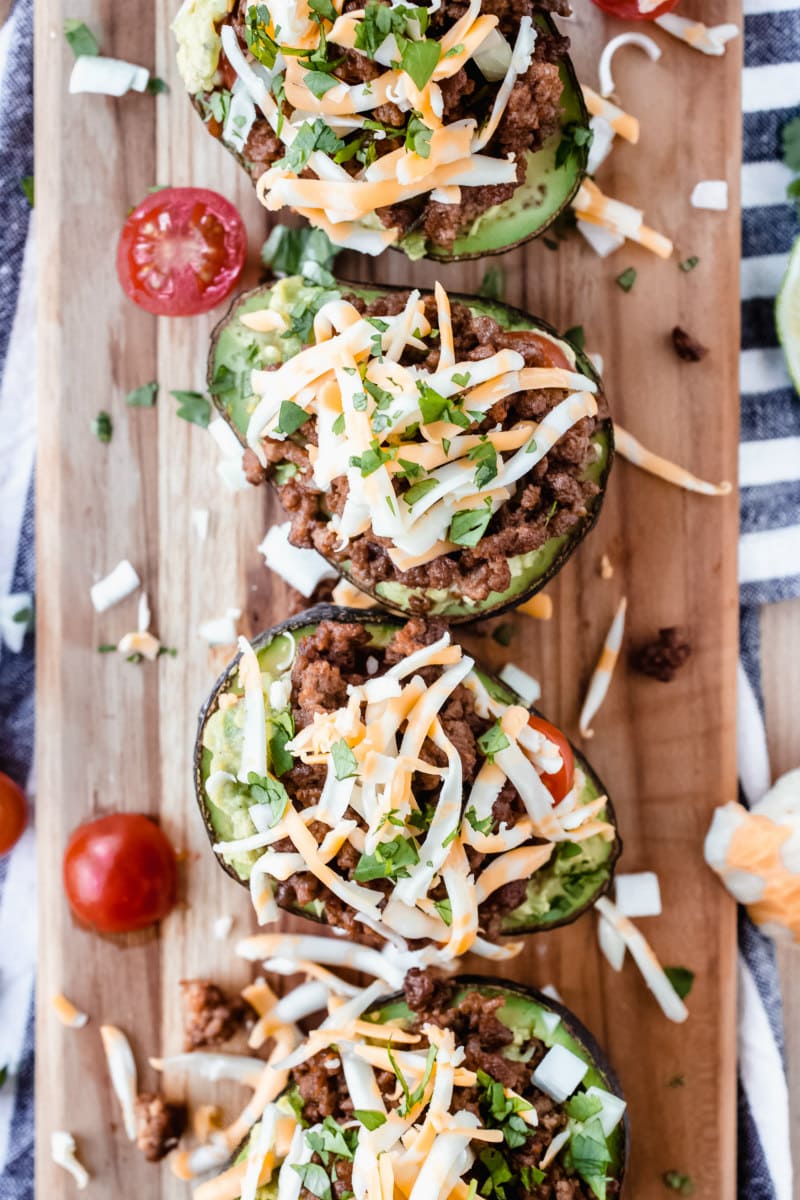 Make your own taco seasoning (another recipe from the book):
This mixture makes 6 tablespoons. You'll need 1 tablespoon for this recipe, so store the rest in a sealed container to use for more taco creations. It's nice to have it on hand, and there aren't any funky additives added to the mix.
2 tablespoons chili powder
1 tablespoon ground cumin
1 tablespoon sea salt
1/2 tablespoon black pepper
1/2 tablespoon smoked paprika
1 teaspoon dried oregano
1 teaspoon garlic powder
1/2 teaspoon onion powder
1/8 teaspoon cayenne pepper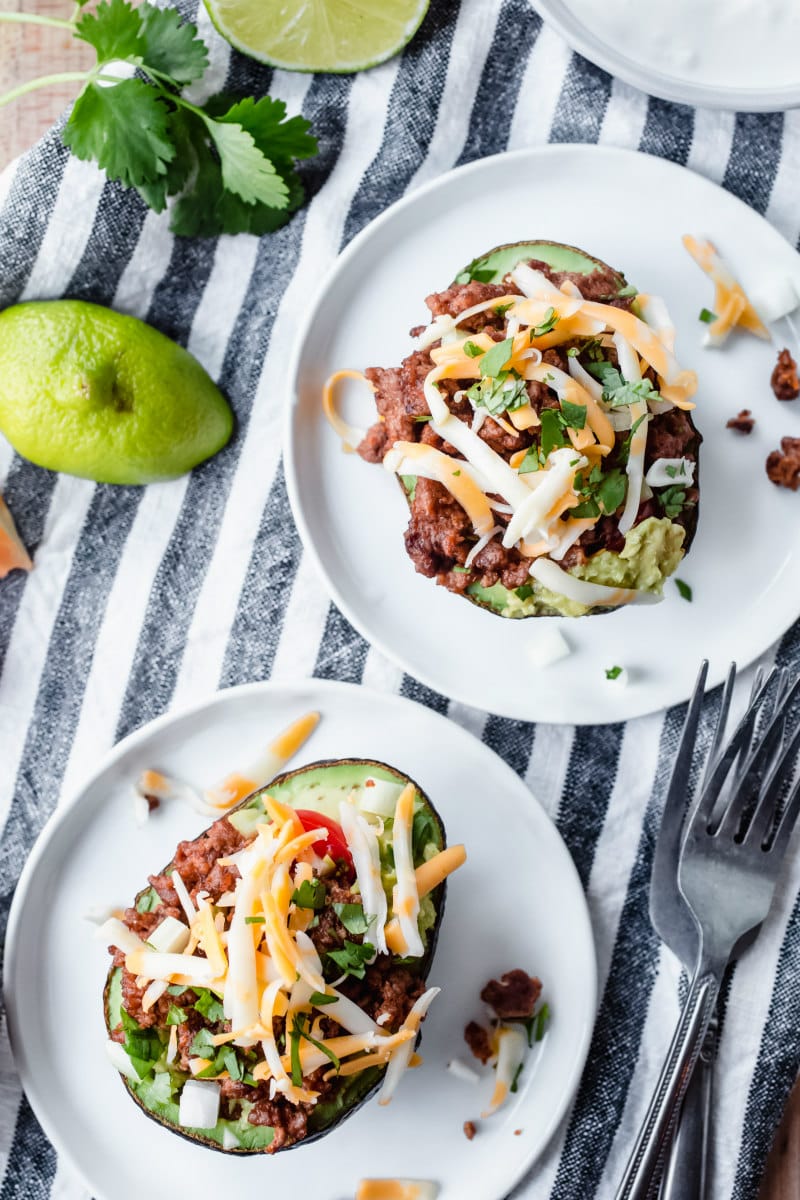 How to choose a good, ripe avocado:
Hold an avocado in your hand. Gently squeeze the fruit in the palm of your hand. Ripe, ready-to-eat fruit will be firm but will yield to gentle pressure. Avoid avocados with dark blemishes on the skin or any that are too soft. To speed up the process of ripening avocados, place your avocado in a plain, brown, paper bag and store it at room temperature until ready to eat (usually two to five days). To speed up the process of ripening, add an apple or kiwi to the avocado in the bag.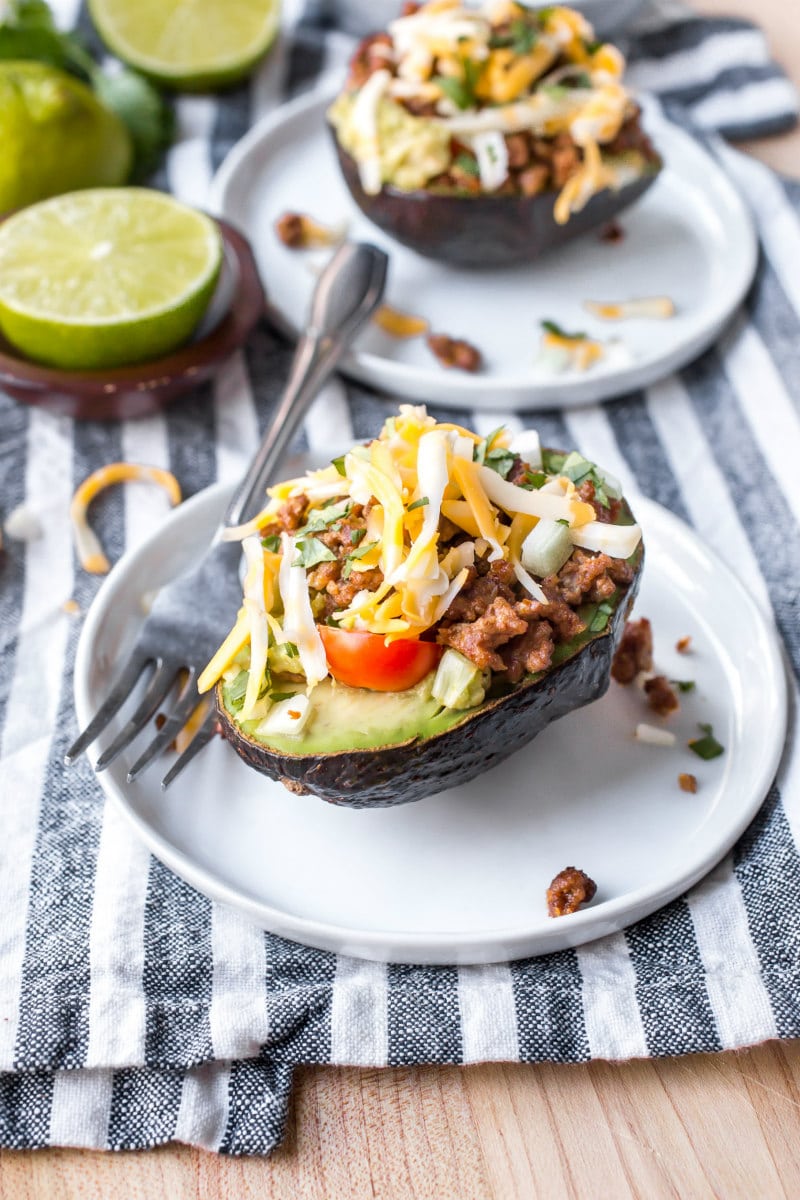 On my facebook page, a lot of people ask me if I have low carb or diabetic recipes. I don't specialize in them, but I share things like this occasionally, and I like to recommend sites like WholesomeYum.com and AllDayIDreamAboutFood.com for that. They're the experts!
These taco stuffed avocados make a delicious lunch or light dinner. Enjoy!
Here are a few more recipes using avocado:
Thanks to Tara Liptak from the blog, Smells Like Home for the beautiful photography on this post. Tara is one of the photographers for RecipeGirl.com, and I think she captured the deliciousness of these taco stuffed avocados very well!
Taco Stuffed Avocados
Recipe Details
Ingredients
1

tablespoon

avocado oil

(can use olive oil too)

8

ounces

ground beef

1

tablespoon

taco seasoning

(see Recipe Notes below)

2

medium

avocados

(total of 12 ounces)

1

teaspoon

freshly squeezed lime juice

1/4

teaspoon

sea salt

1/8

teaspoon

freshly ground black pepper

1/2

cup

halved grape tomatoes

1/4

cup

diced onions

2

tablespoons

shredded Colby Jack cheese

4

teaspoons

chopped fresh cilantro
Instructions
In a large skillet, heat the oil over medium-high heat. Add the ground beef and cook, breaking apart with a spatula, 5 to 8 minutes, until cooked through.

Add the taco seasoning and 1/4 cup water. Sauté for a few minutes, or until the extra liquid is absorbed.

Meanwhile, halve the avocados and discard the pits. Scoop most of the avocado flesh out into a large bowl. Set the avocado shells aside.

Add the lime juice, sea salt, and black pepper to the scooped out avocado flesh. Mash together, leaving some chunks. Adjust the lime juice to taste. Stir in the halved tomatoes and diced onions.

Stuff the avocado mixture back into the avocado shells. Top with the taco meat, shredded cheese and cilantro.
Notes
If you are counting WW points, prepare this recipe with 1/2 tablespoon oil, lean ground turkey and reduced-fat shredded cheese.
Make your own tacos seasoning: combine 2 tablespoons chili powder, 1 tablespoon ground cumin, 1 tablespoon sea salt, 1/2 tablespoon black pepper, 1/2 tablespoon smoked paprika, 1 teaspoon dried oregano, 1 teaspoon garlic powder, 1/2 teaspoon onion powder, 1/8 teaspoon cayenne pepper. This makes 6 tablespoons. You'll need 1 tablespoon for this recipe, so store the rest in a sealed container to use for more taco creations.
Nutrition
Serving:
1
serving (1/2 avocado)
,
Calories:
352
kcal
,
Carbohydrates:
11
g
,
Protein:
15
g
,
Fat:
29
g
,
Saturated Fat:
7
g
,
Cholesterol:
46
mg
,
Sodium:
286
mg
,
Potassium:
723
mg
,
Fiber:
7
g
,
Sugar:
2
g
,
Vitamin A:
434
IU
,
Vitamin C:
14
mg
,
Calcium:
71
mg
,
Iron:
2
mg
,
Blue WW Smartpoints:
6
,
Green WW Smartpoints:
7
,
Purple WW Smartpoints:
6