It's that time of year that I begin to feel like entertaining more. The weather is warmer, the ingredients are fresher, and the desire to invite people over to share in a meal is inescapable. My husband flips on the fountains in the courtyards, selects outdoor mood music, hoses down the outdoor patio furniture and fires up the grill. I agonize about the menu and spend the day preparing everything so that I can enjoy time with our guests when they arrive.
On one such beautiful day, we invited family over for dinner after my son's Little League baseball game. We told them it was casual… just going to whip up some veggie burgers, fries and salad & asked them to head on over to our house after the game.
My Father-in-Law watched in amazement as I formed the burger patties with my hands. "What are you doing?" he asked. "I'm making veggie burgers,"  I said.  He just shook his head. He told me that he thought people just bought veggie burgers in the frozen food section. "Well today you're going to have a real, live homemade veggie burger," I said. He looked a little skeptical, but I promised him that all would be great.
I adapted 101 Cookbooks veggie burger to make Veggie Burgers with Cilantro Mayonnaise. Here's the how-to of my creation: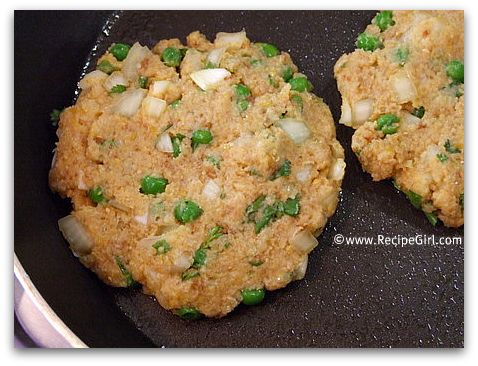 The burgers are made with chickpeas (garbanzo beans) as a base. Eggs, salt, cilantro, onion, lemon zest, breadcrumbs and peas are also mixed in. They're a little too delicate to put on a grill, unless you have a good grill grate that you can set them on. I made mine indoors, but I had my husband grill a bunch of veggies (bell peppers, portobello mushrooms and zucchini) outside- just cut the veggies in large chunks, tossed with a little olive oil, salt, pepper and garlic powder.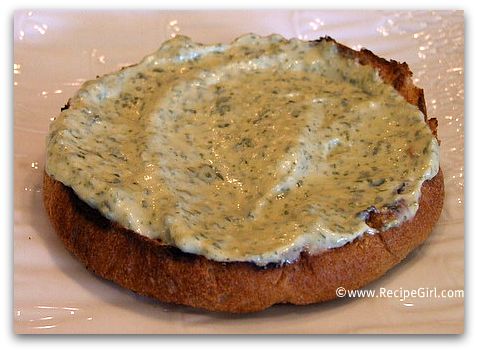 I also whipped up a batch of Cilantro Mayonnaise. It's a fabulous condiment for sandwiches and burgers, and you won't need any additional ketchup or mustard.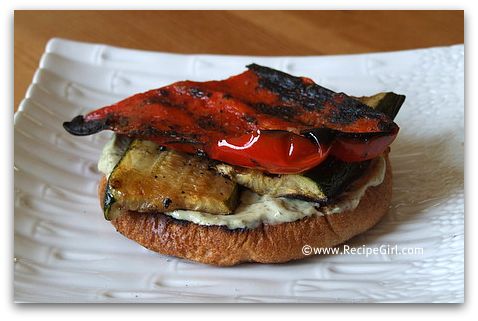 We ate some of those grilled veggies on the side, but we also included them as a condiment for our burgers.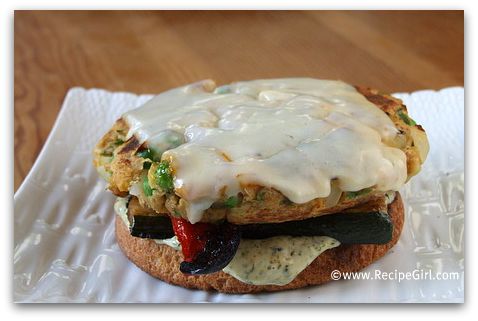 A little melted muenster cheese on the veggie burger is perfect.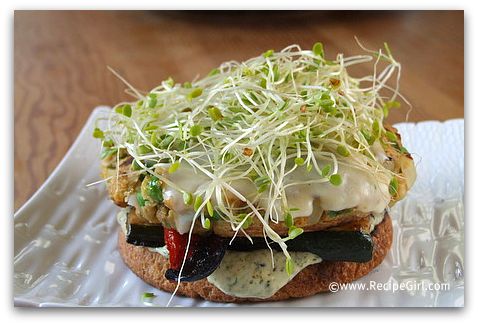 Sprouts add crunch and fresh flavor.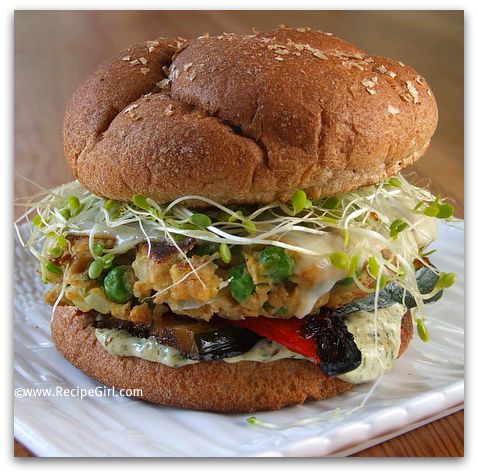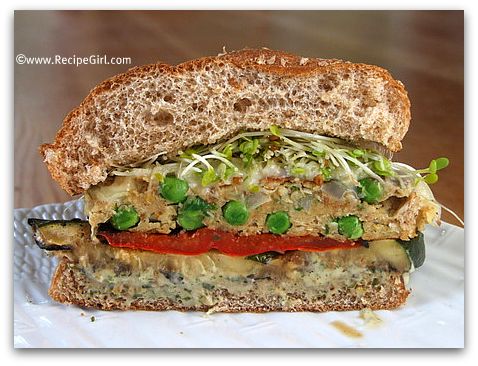 And there it is! Piled high with goodies, this turned out to be one fantastic burger. My Father-in-Law's skepticism turned to awe as he devoured is first homemade veggie burger. He turned to me and said, "You work so hard to prepare good food, but you know Lori, you're really happiest when you're in the kitchen." I'll never forget that he said that, and I really couldn't agree more. Being in the kitchen definitely makes me happy 🙂
The recipe for Veggie Burgers can be found here:  Veggie Burgers with Cilantro Mayonnaise
I served them with oven-baked sweet potato fries (cut up sweet potatoes tossed with salt, pepper & olive oil and roasted in the oven) and this great salad: Avocado & Pine Nut Salad.