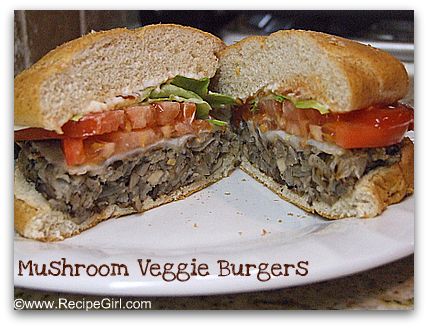 MUSHROOM VEGGIE BURGERS
1 Tbs olive oil
1½ cups moderately, finely chopped yellow onion (about 1 large onion)
3 small garlic cloves, finely minced
4 cups coarsely chopped portobello mushrooms (about 2 large mushrooms)
¼ tsp salt
1/8 tsp freshly ground black pepper
1 cup Italian-flavored breadcrumbs
2 large egg whites
buns and condiments of your choice
1. Heat olive oil in 12-inch nonstick skillet over moderately high heat for 1 minute. Add chopped onion and garlic and sauté, stirring occasionally, until limp and golden- about 3 minutes.
2. Add mushrooms and sauté, stirring now and then, until mushrooms soften and brown- about 4 minutes. Transfer mushroom mixture to a large bowl and cool 10 minutes.
3. Using wooden spoon, mix salt, pepper and bread crumbs into mushroom mixture. Add egg whites and mix thoroughly.
4. Scoop up mixture by ½-cup measure, then using hands, shape into four patties about ¾-inch-thick.
5. Wipe out skillet, spray with nonstick spray, and set over moderate heat. Add patties and brown about 3 minutes on each side.
6. Serve on buns and add desired condiments.
Servings: 4
Nutrition Facts
buns and condiments of your choice are not included in nutritional information
Amount Per Serving
Calories 300.
Calories From Fat (17%) 52
Total Fat 6.02g
Saturated Fat 1.01g
Cholesterol 0.30mg
Sodium 730.29mg
Potassium 2388.26mg
Carbohydrates 50.52g
Dietary Fiber 9.18g
Sugar 12.60g
Net Carbohydrates 41.34g
Protein 18.10g
WW Points 7.5
Recipe Source: Good Morning America's Cut the Calories Cookbook