I came upon the "perfect" recipe for a New England dinner.  It caught my attention since  I knew I'd be spending the summer in that particular region. Well, okay… so maybe it's not really perfect. Because my idea of truly the most perfect dinner ever while hanging out in Massachusetts in the summertime is Steamed Lobster dipped in melted butter. I'll get to the lobster a little later though because (of course) we did have that too… but for the moment, I'll share our other successful summer vacation Dinner: Grilled New England Seafood "Bake"
Originally from Martha Stewart's little Everyday Food magazine, the simplicity of this recipe appealed to me. All of the ingredients are placed into hobo packets (foil-sealed packets).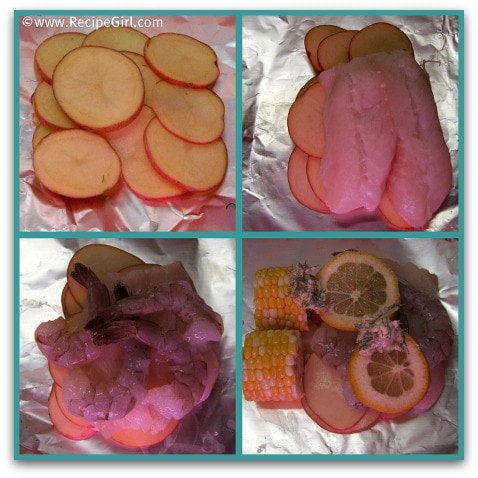 Simply layered: sliced potato, cod, shrimp, corn & a dab of dill butter.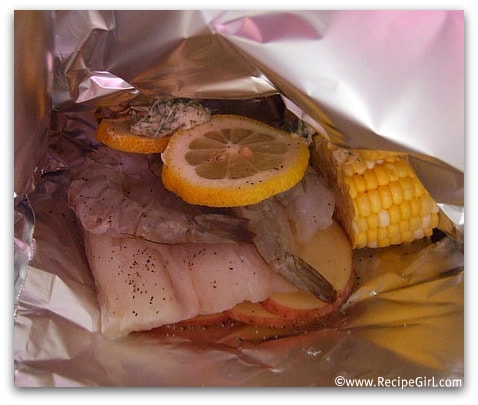 The foil packages are sealed tightly…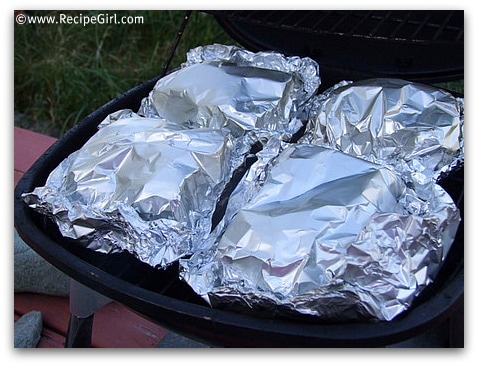 …and placed on the grill- the grill does all the work!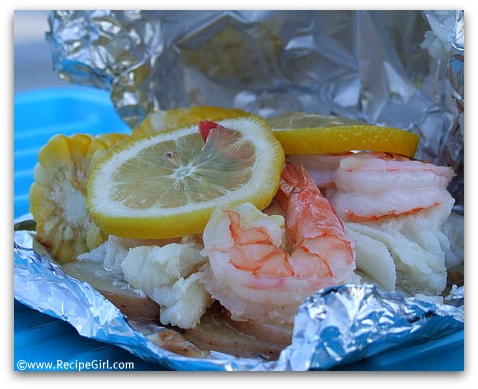 After about 15 minutes, the whole meal is done.  Packets are carefully opened up and the contents are slid onto plates.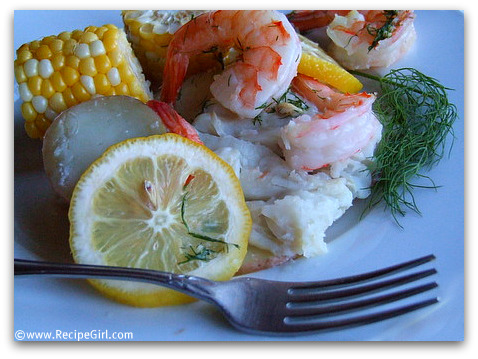 There are some delicious juices that will accompany your fish and potatoes, so be sure to serve up some great, crusty bread with your meal. This is a nice, light summer dish… nothing fancy… no amazing sauce or anything like that… just good food with a light buttery-dill flavor. Add a side salad and your meal is complete. We enjoyed this easy dinner after a long, hot day in the sun. Ice cold chardonnay made it even better

This recipe can be found here: Grilled New England Seafood Bake (nutritional information included)
Weight Watcher's points:  6 per packet
—————————————–
Other foil-packet grilling recipes on the blogs:
Karina's Kitchen:  Mediterranean Fish in Foil Packets
Rookie Cookie: BBQ Pork & Vegetable Grill Packets
Play With Food: Boy Scout Chicken
Playing With Fire and Water: Trout- Quinoa Tangerine Fir
Kalyn's Kitchen:  Grilled Salmon Packets w/ Tomatoes, Olives, Garlic, Thyme & Saffron