Blue Cheese and Pear Pizza
This recipe has been featured in a post on The Recipe Girl blog: Pizza- 3 Ways!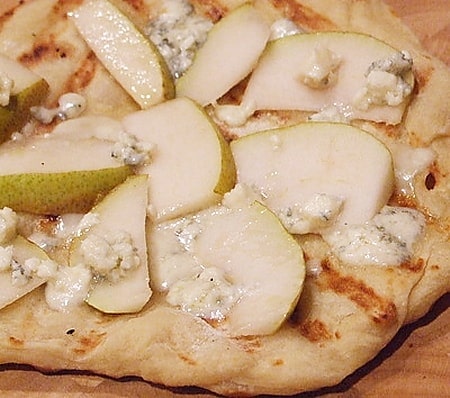 Yield: 2 (8-inch) pizzas, cut into bite-sized pieces
Prep Time: 15 min
Cook Time: 10 min
Blue Cheese and Pear Pizza
What a delicious little appetizer. The blue cheese and pear are a perfect match, and how fun and easy it is to grill pizza!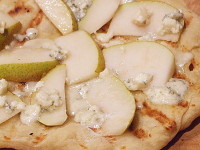 Ingredients:
1 Tablespoon all-purpose flour
2 ounces (or more) blue cheese, crumbled
1 ball fresh pizza dough
1 large pear, thinly sliced
olive oil
Directions:
1. Heat grill to medium. Coat lightly with oil.
2. Sprinkle a work surface with flour. With a rolling pin, roll out dough to two 8-inch circles, approximately 1/8-inch thick. Carefully lift dough directly onto the grill rack. Brush olive oil lightly over top side of each crust. Grill about 2 minutes, until dough bubbles and begins to char on the bottom. Turn over. Evenly distribute half of the cheese and pear slices over each crust. Close grill cover or tent with foil. Grill 3 to 5 minutes, until cheese is melted and crust is crispy.
3. Remove from grill, cut into wedges and serve.
Tips:
*If you cannot locate fresh pizza dough and don't wish to make it yourself, try visiting your local pizza establishment and ask if they will sell a ball of fresh dough to you- they often will!
Leave a Comment