Chipotle- Glazed Vegetable Kabobs
Terrific summer side dish: Chipotle- Glazed Vegetable Kabobs

Yield: 6 servings
Prep Time: 30 min
Cook Time: 8 min
Chipotle- Glazed Vegetable Kabobs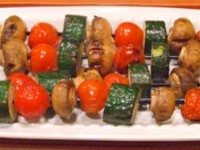 Ingredients:
CHIPOTLE VINAIGRETTE:
3 tablespoons sherry wine vinegar
1 tablespoon balsamic vinegar
2 cloves garlic, chopped
2 canned chipotle chiles in adobe sauce (seeds removed)
1/2 teaspoon salt
2/3 cup extra virgin olive oil
freshly ground black pepper
KABOBS:
2 medium-large zucchini, trimmed
18 small white mushrooms, stems trimmed
18 large cherry tomatoes, stemmed
salt and freshly ground black pepper
Directions:
1. Prepare vinaigrette: In a food processor, combine all ingredients except oil and pepper. Process until smooth. With the motor running, gradually add the oil through the hole in the lid; the dressing will thicken. Season with pepper and pulse to blend. Adjust the seasoning and pulse again just before using. Use immediately or cover tightly and refrigerate for up to 3 days. Return to room temperature and whisk to re-blend.
2. Cut each zucchini crosswise into 9 equally thick slices. Trim the slices form cubes. Divide the vegetables, alternating them, among 6 flat metal skewers. Be certain to arrange the flat sides of the zucchini cubes and the stems ends of the mushrooms so they will get the maximum exposure to the heat.
3. Preheat a gas grill to medium-high.
4. When the grill is ready, lightly brush the kebabs with some of the vinaigrette. Lay the kebabs on the rack, cover, and gril, turning every 2 minutes and basting often with the vinaigrette, until it is used up and the vegetables are lightly colored by the grill, 6 to 8 minutes total.
5. Season with salt and pepper and slide the vegetables off the skewers onto plates. Serve hot or warm.
More vegetable kabob recipes you might enjoy:
Grilled Fruit and Vegetable Kabobs by Eclectic Recipes
Grilled Moroccan Vegetable Skewers by Natasha's Kitchen
Rainbow Veggie Skewers by Gimme Some Oven
One Response to "Chipotle- Glazed Vegetable Kabobs"
Leave a Comment