Brown Sugar- Banana Muffins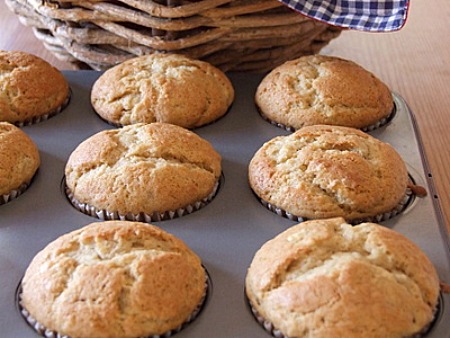 Yield: 12 muffins
Prep Time: 15 min
Cook Time: 20 min
Brown Sugar- Banana Muffins
Easy to make, and even easier to eat...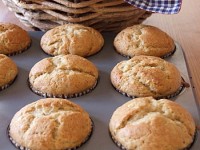 Ingredients:
1/2 cup butter, softened
1 cup firmly packed brown sugar
2 large eggs
1 cup mashed ripe bananas (about 2 large)
1/4 cup buttermilk
1 teaspoon vanilla extract
2 1/4 cups all-purpose flour
3/4 teaspoon baking soda
1/2 teaspoon baking powder
1/2 teaspoon salt
Directions:
1. Preheat oven to 350°F. Lightly grease 12 muffin cup pan.
2. Beat butter at medium speed with an electric mixer until creamy. Gradually add brown sugar, beating until light and fluffy. Add eggs, 1 at a time, beating just until blended after each addition.
3. Stir together mashed bananas, buttermilk, and vanilla. Stir together flour and next 3 ingredients; add to butter mixture alternately with banana mixture, beginning and ending with flour mixture. Beat at low speed just until blended after each addition (do not overbeat). Spoon batter into prepared muffin cups, filling two-thirds full.
4. Bake 20-25 minutes, or until toothpick inserted in center comes out clean. Remove from pans immediately, and cool 10 minutes on wire racks.
Tips:
*If you don't have buttermilk, stir 3/4 tsp. lemon juice or vinegar into 1/4 cup milk.
Source: RecipeGirl.com (via Southern Living)
8 Responses to "Brown Sugar- Banana Muffins"
Leave a Comment