Yield: 30 to 40 pieces of fudge
Prep Time: 15 min + chill time
Cook Time: 5 min
Rocky Road Fudge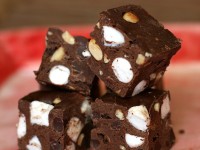 Ingredients:
16 ounces semisweet chocolate, chopped finely (or use good quality chocolate chips)
2 ounces unsweetened chocolate, chopped finely
1/2 teaspoon baking soda
1/8 teaspoon salt
1 (14-ounce) can sweetened condensed milk
1 tablespoon vanilla extract
1 cup mini marshmallows
1 cup roughly chopped peanuts
1/2 cup semisweet chocolate chips
Directions:
1. Line 8x8-inch baking pan with foil and spray lightly with nonstick spray.
2. In a medium, heatproof bowl, toss 1st two chocolates with baking soda and salt. Stir in sweetened condensed milk and vanilla. Set bowl over 4-quart saucepan containing 2 cups simmering water. Stir with rubber spatula until chocolate is almost fully melted and few small pieces remain, 2 to 4 minutes.
3. Remove bowl from heat and continue to stir until chocolate is fully melted and mixture is smooth. Stir in marshmallows, peanuts and additional chips. Scrape fudge into prepared pan and spread in an even layer with rubber spatula. Refrigerate until set, about 2 hours (or longer). Remove fudge from pan using foil. Peel off foil and cut into squares.
Tips:
*If you're preparing this as a Gluten Free recipe, just make sure the brands you use are gluten free-- for chocolate, vanilla extract and marshmallows.
Source: RecipeGirl.com (Adapted slightly from Cook's Illustrated)
8 Responses to "Rocky Road Fudge"
Leave a Comment