Dear Reeses Peanut Butter Cup Enthusiasts,
I have something new for you to try.  Something you'll enjoy just as much. They're Almond Butter Cups.   And you can even make them at home.  Yourself.  Yes, YOU!
Love, RecipeGirl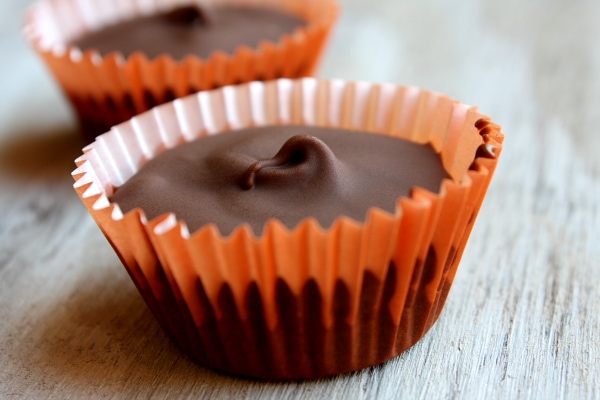 The folks at Barney Butter sent me some samples of their all-natural almond butter.  It's not like some of those natural nut butters that you find in the stores… the ones that come with the nut and oil separated and you're forced to break your favorite wooden spoon to try to blend them together.  No, this one comes to you all luscious and creamy and ready to eat.  No stirring needed at all.  It's gluten-free and peanut free, and you don't have to keep it in the refrigerator.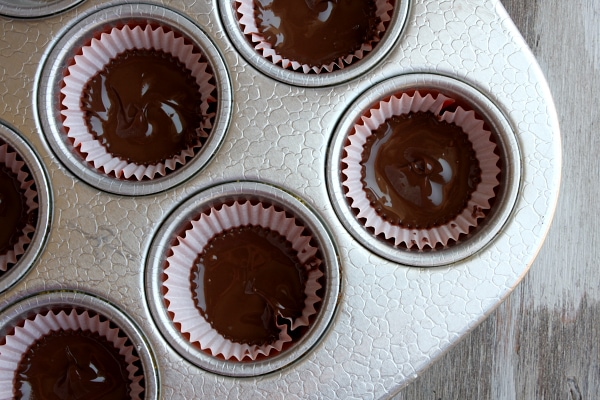 What do you do with almond butter? Well, you can treat it just as you would peanut butter. Make cookies with it, spread it on your English Muffin, pair it with jelly and bread and call it a sandwich, dunk chocolate bars inside of it and eat it right out of the jar, or you can make almond butter cups with it. Just melt some chocolate chips, and spread them into mini muffin papers. Chill that until it has had a chance to firm up.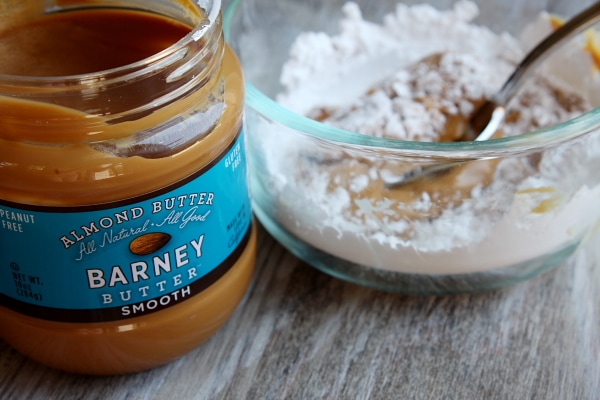 While that's chillin', mix almond butter with powdered sugar. This is going to be your creamy filling.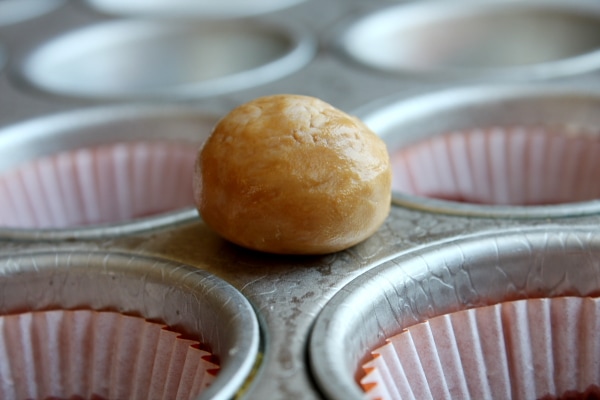 Roll that sweetened almond butter mixture into little balls.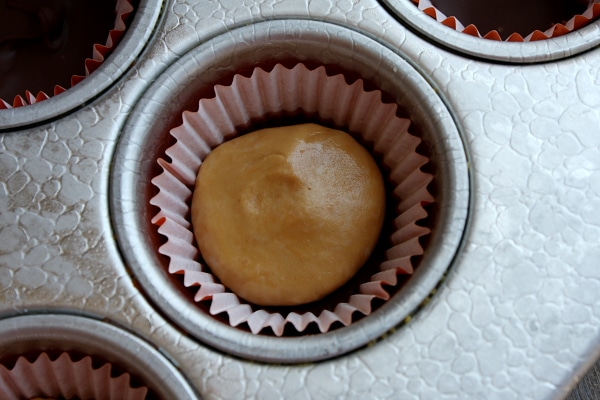 Flatten them and set them on your chilled chocolate cups.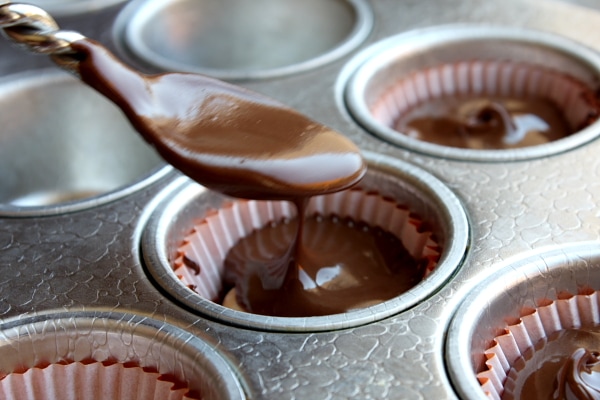 Melt some more chocolate chips and drizzle those over the top. Chill again. That's it!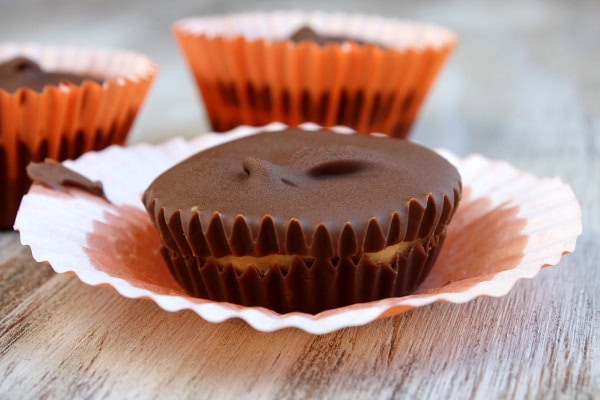 And there it is all sandwiched together. Just like a Reeses, only better. Because you made it. And because it has some fancy schmancy almond butter in it.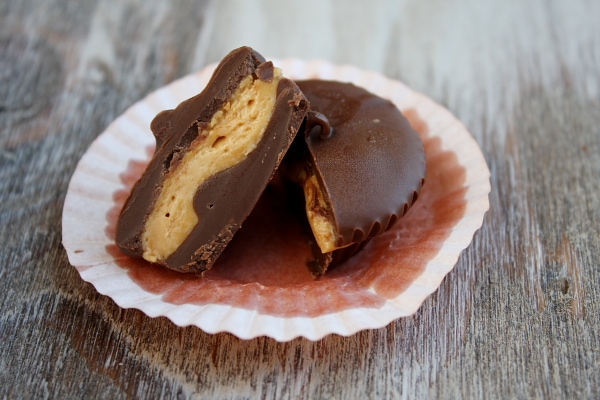 Eat 'em up! Or keep them in the fridge until you're ready for them. They'll be waiting patiently for you.  And they're even better coming straight out of the freezer!
Here's the fun giveaway!
The nice people at Barney Butter are giving away three Barney Butter Gift Baskets to 3 lucky RecipeGirl readers! Each gift basket contains a jar of smooth and a jar of crunchy, as well as a box of squeeze packs.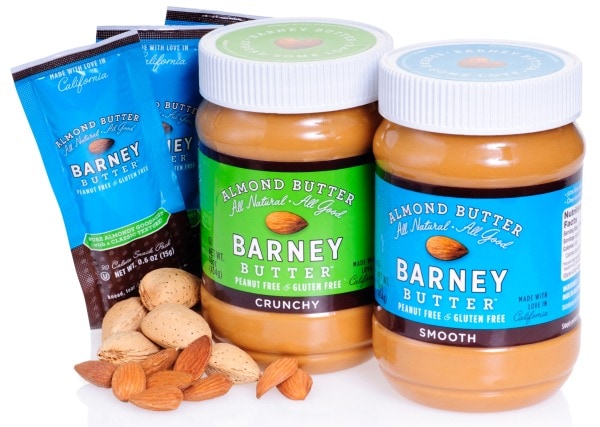 Entry Rules:  To enter, you must have a USA mailing address. Please enter one comment for a chance to win. There will be three winners selected via random.org on Monday, August 1st. Winners will be contacted via email and will be announced here on this post on Tuesday, August 2nd. This giveaway is now over! Randomly selected winners are commenters #45 (Alex), #137 (Brooke) and #305 (Melinda). Thanks for entering!
If you'd like to purchase Barney Butter via their website, they are offering RecipeGirl readers a 20% discount! Enter promo code Almond20 for 20% off any order from their website. Visit their website to see where they might sell Barney Butter in a store near you.
Thanks to Barney Butter for the product samples and for offering this giveaway for my readers!

Almond Butter Cups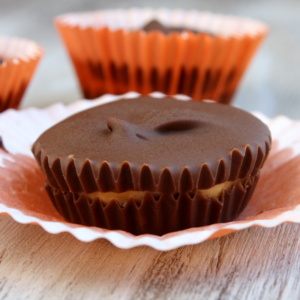 These happen to be peanut free and gluten free!
Yield:
20 candies
Prep Time: 25 min
Cook Time: 3 min
Ingredients:
1 (11.5 ounce) bag milk chocolate chips
3/4 cup Barney Butter (almond butter)
1/4 cup powdered sugar
peanut butter cup molds, or mini muffin paper baking cups
Directions:
1. In a microwave-safe bowl, melt chocolate chips in the microwave (about 2 minutes). Stir; continue to microwave in short-bursts until completely melted and smooth. With a small spoon, scoop chocolate into the bottom of each cup. Refrigerate (if using paper cups place in muffin tin and then refrigerate).
2. Meanwhile, in a medium bowl- combine almond butter and the powdered sugar with a sturdy spoon. Roll teaspoonfuls of the almond butter mixture into little balls. Flatten the balls and place them on top of the 1st layer of chocolate. Top with more melted chocolate and refrigerate to set.
3. Peel and eat. These may be kept refrigerated or at room temperature.
Tips:
*Try using different varieties of chocolate.