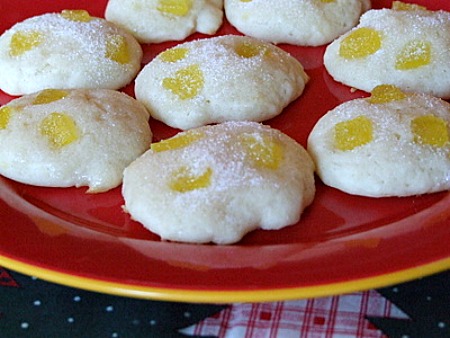 LEMON DROP COOKIES
www.RecipeGirl.com
COOKIES:
½ cup butter, softened
¾ cup granulated sugar
4 tsp finely shredded lemon peel
½ tsp baking powder
½ tsp baking soda
1/8 tsp salt
1 large egg
½ cup sour cream
1/3 cup fresh lemon juice
2 cups flour
GLAZE:
¼ cup granulated sugar
2 Tbs fresh lemon juice
TOPPING:
coarse sugar
yellow gum drops, chopped
1. Preheat oven to 375°F. In a large bowl, beat butter with an electric mixer at medium speed for 30 seconds. Add the ¾ cup granulated sugar, lemon peel, baking powder, baking soda and salt. Beat until combined, scraping sides of bowl occasionally. Beat in egg, sour cream, and lemon juice until combined. Beat in as much of the flour as you can with the mixer. Stir in any remaining flour.
2. Drop dough by slightly rounded Tablespoons 3-inches apart onto an ungreased cookie sheet. Gently press 3-4 pieces of chopped gumdrops into each cookie.
3. Bake 8 minutes or until tops are firm. While baking, prepare lemon glaze. In a small mixing bowl stir together sugar and lemon juice. Transfer baked cookies to a wire rack. Brush the tops of warm cookies with lemon glaze. Sprinkle cookies with coarse sugar. Let cookies cool.
Yield: 3 dozen
Recipe Source: Better Homes and Gardens
Cooking Tips
*To store, place in layers separated by waxed paper in an airtight container; cover. Store at room temperature for up to 3 days or freeze for up to 3 months.
Leave a Comment