Martha Stewart's Sugar Cookies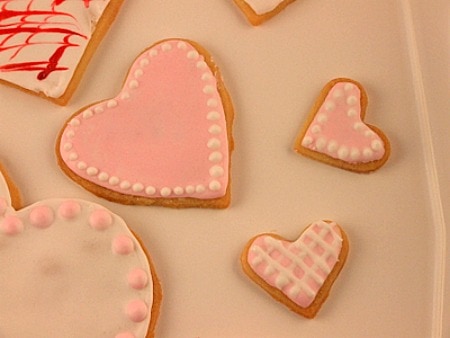 Yield: 3 dozen cookies
Prep Time: 40 min + chill time
Cook Time: 15 min
Martha Stewart's Sugar Cookies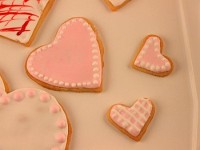 Ingredients:
1 pound unsalted butter, at room temperature
3 cups granulated white sugar
2 large eggs
1 teaspoon pure vanilla extract
1 1/2 teaspoons salt
5 cups all-purpose flour, plus more for dusting
colored sanding sugar or sprinkles, for decorating (optional)
royal icing (optional)
Directions:
1. In the bowl of an electric mixer fitted with the paddle attachment, beat butter and sugar on medium-high speed until light and fluffy, about 5 minutes. Add eggs, vanilla, and salt; mix on medium-high speed until combined. With mixer on low speed, add flour in two batches, mixing until just incorporated.
2. Turn out dough onto a clean work surface. Divide in half, and pat into flattened rectangles; wrap each in plastic. Refrigerate for at least 2 hours or up to 1 week.
3. Preheat oven to 350°F., with rack in upper and lower thirds. Line large baking sheets with parchment paper. On a lightly floured work surface, roll out one rectangle of dough to a scant 1/4-inch thickness. Using cookie cutters, cut out shapes. Using a small offset spatula, transfer shapes to prepared sheets, placing about 2 inches apart. Chill in freezer or refrigerator until firm, about 15 minutes. Set scraps aside. Repeat process with remaining rectangle of dough. Gather all the scraps, and roll out again. Chill 15 minutes; cut out more shapes, and place on sheets.
4. Decorate cookies with sanding sugar or sprinkles, if using, before baking. Bake, rotating sheets halfway through, until cookies are golden around the edges and slightly firm to the touch, about 15 minutes. Transfer cookies to a wire rack to cool completely.
5. Decorate with Royal Icing, if using. Top icing with sanding sugar or sprinkles, if using.
Tips:
*Cookies can be kept in an airtight container, layered between sheets of waxed or parchment paper, at room temperature for up to 3 days.
*You may with to top these with Martha Stewart's Royal Icing.
5 Responses to "Martha Stewart's Sugar Cookies"
Leave a Comment