It's been unusually hot here in San Diego the past few days. Like, stay-inside-and-turn-on-the-air-conditioner-because-it's-like-a-sauna-outside kind of hot. I know I shouldn't be complaining. Our weather is 75 and sunny most of the year. But this heat has been brutal. It makes me lazy, and it makes me crave fall. I cranked up the air and defiantly baked with apples… to make some Apple Cider Bread. That'll show that weather.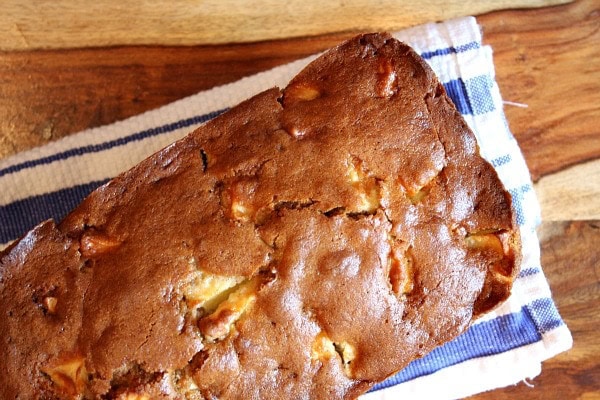 Apple cider isn't so obvious on the grocery store shelves just yet. I guess they're waiting until the official release of fall on Sept. 23rd to get shoppers into the swing of things. I found some cider though, and we'll drink it up cold until that first autumn chill hits the air (hopefully soon).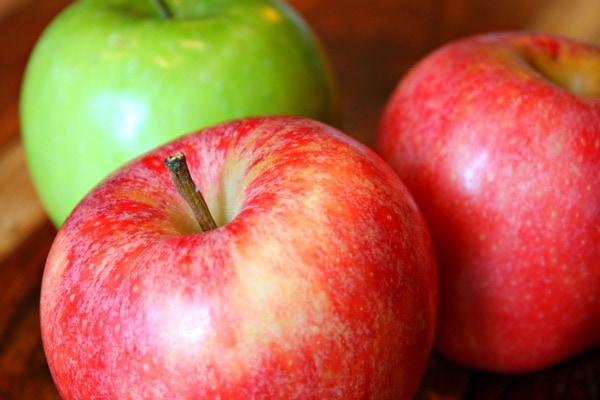 The apples in the store are looking good. We usually hit up our local mountains for a day of apple picking… but they're not quite ready for us yet.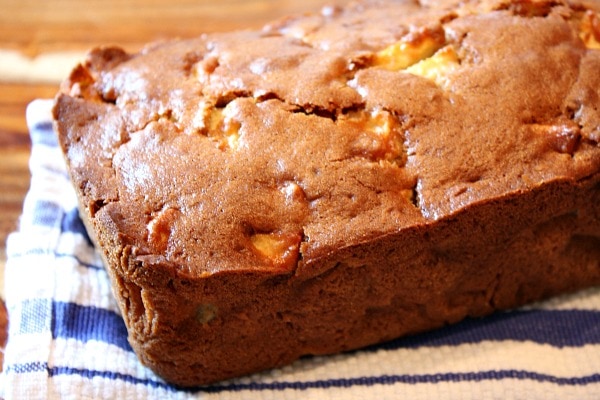 This is a breakfast loaf that is full of apple chunks. It's slightly sweet with a hint of fall spices. It's so simple to make… and bake… and eat.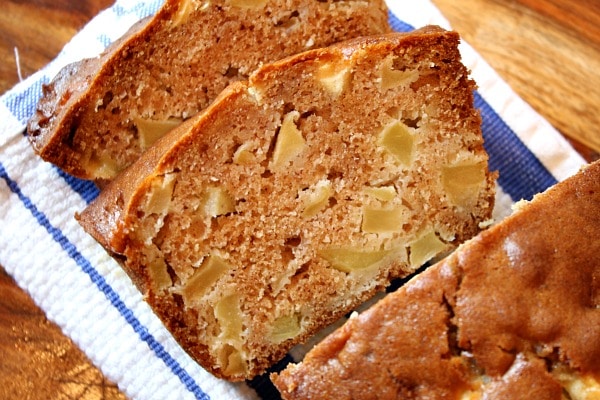 Heated with a smear of butter (real butter) is the best way to serve this. And look at all that fruit tucked in there nice and perfect. It's my celebratory, kick-start to fall… even though we are currently in the midst of the year's hottest heat wave. Thank goodness for air-conditioning and swimming pools and ice cream.
Apple Cider Bread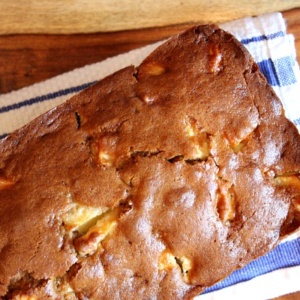 This quick loaf recipe... with its chunks of apple strewn throughout, will have you dreaming of fall.
Yield:
1 loaf (12 servings)
Prep Time: 15 minutes
Cook Time: 50 minutes
Ingredients:
2 cups all-purpose flour
1 teaspoon baking powder
1 teaspoon salt
1 teaspoon baking soda
1 teaspoon ground cinnamon
1/2 teaspoon ground cloves
1/4 cup (1/2 stick) butter, at room temperature
2/3 cup granulated white sugar
1/3 cup light brown sugar, packed
2 large eggs
1/2 cup apple cider
2 1/4 cups chopped apples (peeled and cored)
1 tablespoon freshly squeezed lemon juice
Directions:
Preheat oven to 350 degrees F. Grease and flour a 8x5-inch loaf pan.
Sift dry ingredients (flour through cloves) into a medium bowl.
In a large bowl, use an electric mixer to cream together butter and sugars. Beat in eggs. Add in flour mixture alternately with cider- about half at a time, and mix just until combined.
In a small bowl, toss apples with lemon juice. Stir into the batter.
Scoop batter into the prepared pan. Bake 50 to 60 minutes, or until a toothpick inserted into the center comes out clean. Let cool for at least 20 minutes, then remove to a wire rack and let cool completely.
Tips:
I like to use a combination of apples- for this recipe I used Granny Smith and Gala.
This bread is one of those that tastes much better the next day. It will keep for several days- just keep in a covered container or wrap well.
SOURCE: RecipeGirl.com