Here's a delicious and EASY chicken recipe that the whole family will love > Balsamic Glazed Chicken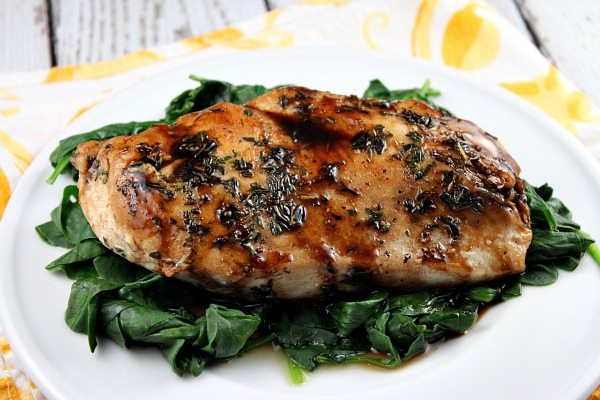 My family actually digs spinach, so I chose to take advantage of that and serve this chicken over some simply sauteéd spinach.  The chicken is the star of the show here though.  It's cooked in a skillet, then the sauce is cooked in the same skillet (one pan- yay!), and then they meet briefly in the skillet together, and then the drizzle action happens once plated.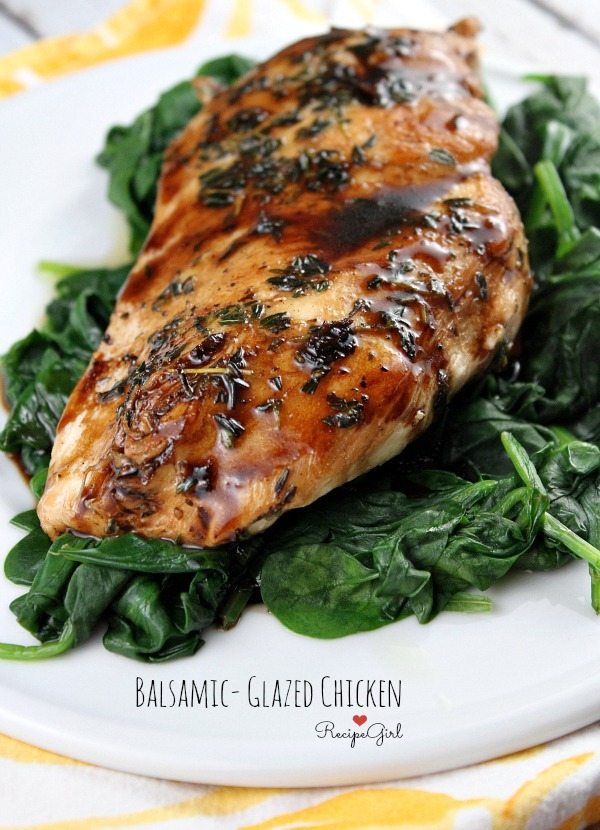 If you are not into spinach- that's totally okay!  You can serve this chicken with anything you want.  It would be great with rice, steamed veggies or even a baked potato.
The sauce is wonderful, so if it happens to sneak into your side dishes on the plate… you won't be too disappointed.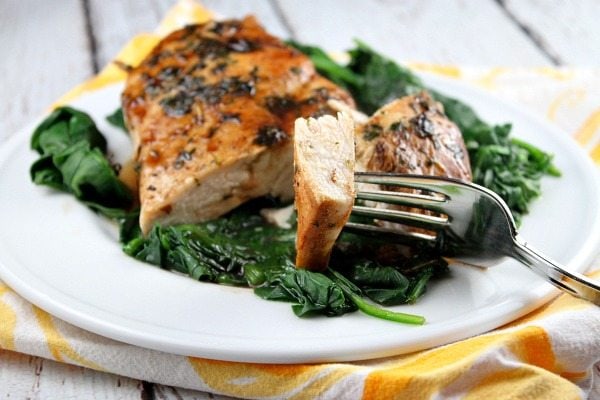 The chicken itself?  Very tender.  Since you're quickly skillet-cooking it, it doesn't get dried out in the oven.  Perfect.
It's our new favorite chicken recipe to make for dinner.  That's a good thing since my husband often says, "Um, we're having chicken… again?"  And my son pretty much just wants to add barbecue sauce to his chicken.  They both liked this one without complaints.  Enjoy!
Balsamic Glazed Chicken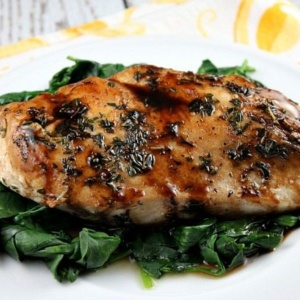 Yield:
4 servings
Prep Time:15 minutes
Cook Time:10 minutes
Ingredients:
Four 6-ounce (or two larger) boneless, skinless chicken breasts
1 1/2 teaspoons dried thyme (or 2 teaspoons fresh)
1/2 teaspoon salt
1/4 teaspoon pepper
2 teaspoons extra-virgin olive oil
1/3 cup water
1/4 cup balsamic vinegar
2 teaspoons honey
2 tablespoons butter, cut into bits
spinach, for serving (optional)
Directions:
Mix thyme, salt and pepper in a small bowl. Pat both sides of the chicken breasts with the spice mixture. Heat a large skillet with the olive oil over medium heat. Add the chicken, cook for 2 to 3 minutes (or until browned). Turn and cook the other side until browned. Transfer to a plate and cover with foil.
Add water, vinegar, and honey to the skillet. Bring to a boil, stirring constantly. Boil for 2 minutes or until slightly syrupy and reduced by half. Add the butter and stir until melted. Reduce the heat to medium-low and return the chicken to the pan. Cook for about 3 minutes in the glaze, then turn the chicken over and cook for an additional 3 minutes (or until chicken is cooked through). Serve drizzled with glaze.
If you'd like to serve over spinach, heat 1/3 cup of water in a large skillet, add a bag of spinach, place the lid on top and let it cook and wilt. Add salt and pepper, as desired, and serve chicken on top of the spinach.
Tips:
If you'd like to serve this over spinach (as the photo shows), place one bag of spinach in a large skillet and sprinkle a few sprinkles of water on top. Place the lid on top and cook over medium-heat until spinach is wilted. It doesn't really need any (or little) seasoning since the chicken will be served on top with the sauce drizzled over all.
Nutrition:
Nutritional Information per serving (Serving size:

1 chicken breast + sauce drizzled over (no spinach)) 

Calories:

300, 

Fat:

14.1g, 

Saturated Fat:

6.2g, 

Sugar:

2.8g, 

Sodium:

357mg, 

Fiber:

.1g, 

Protein:

38g, 

Cholesterol:

113mg, 

Carbohydrates:

5g

Weight Watchers POINTS:  Freestyle SmartPoints: 5, SmartPoints: 8, Points Plus Program: 8, Old Points Program: 7
Here are a few more chicken recipes you might enjoy: