This pie is gluten-free adaptable- please see tips below the recipe. This recipe has been featured in a menu on the site: Gluten Free Thanksgiving Menu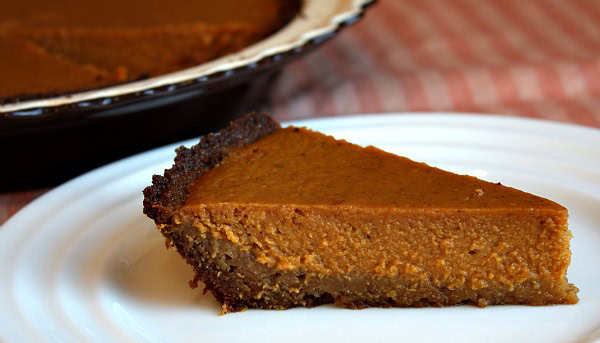 Ginger- Pumpkin Pie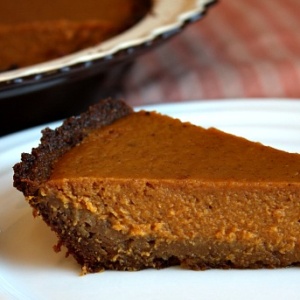 Easily adapted to be gluten free (see notes below), this pumpkin pie recipe is a little lighter and has the wonderful addition of a little bit of ginger flavor to it.
Yield:
8 servings
Prep Time:15 min
Cook Time:45 min
Ingredients:
CRUST:
2 cups gingersnap crumbs
1 Tablespoon granulated white sugar
2 Tablespoons melted butter
FILLING:
One 16-ounce can pure, unsweetened pumpkin puree
1/2 cup granulated white sugar
1/2 cup packed light brown sugar
2 teaspoons grated fresh ginger root
3/4 teaspoon pumpkin pie spice
1/2 teaspoon salt
2 large eggs, lightly beaten
1 1/2 cups skim milk
freshly grated nutmeg, optional
Directions:
1. Preheat oven to 400°F.
2. Prepare the crust: Combine crust ingredients in a medium bowl. Pat mixture onto bottom and sides of 9-inch pie plate, lightly greased or sprayed with nonstick cooking spray. Bake 5 minutes. Remove from oven and set aside to cool while you prepare the filling.
3. Prepare the filling: In a large bowl, whisk together pumpkin, sugars, ginger, spice and salt until blended. Whisk in eggs and milk until all is smooth and incorporated. Carefully pour into prepared crust.
4. Bake at 400 for 15 minutes. Reduce heat to 350°F, and cover outside crust with a pie shield (or pieces of foil), and continue to bake 40 to 50 minutes or until knife inserted in center comes out clean. Cool.
Tips:
*The easiest way to make gingersnap crumbs is to whir the cookies in a food processor. If you don't have a FP, put them in a zip bag and roll a rolling pin over them until they've turned into fine crumbs.
*If you're wanting to make this pie gluten-free, use gluten-free gingersnaps. I used the "Mi-Del" brand of Gluten Free Gingersnaps and needed 40 cookies to make 2 cups of crumbs.
*This pie can be made the night before. It's best if eaten up within a day or two of baking.