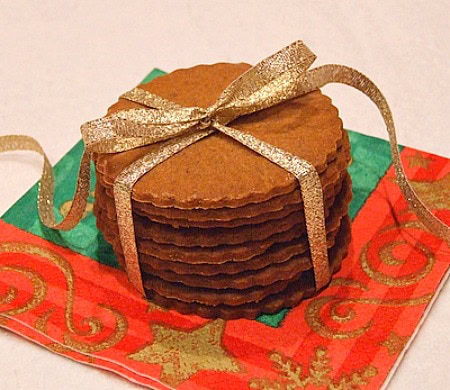 Gossamer Spice Cookies
Yield:
About 60 cookies
Prep Time: 40 min + chill time
Cook Time: 5 min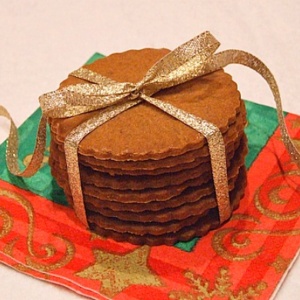 Ingredients:

1 1/3 cups all-purpose flour
1/2 teaspoon ground ginger
1/2 teaspoon apple pie spice
1/4 teaspoon ground cloves
1/4 teaspoon ground cardamom
1/8 teaspoon ground red pepper
1/3 cup butter, softened
1/3 cup molasses
1/4 cup packed dark brown sugar

Instructions:

1. In a medium bowl stir together first 6 ingredients (thru red pepper); set aside.

2. In a large bowl, beat butter with an electric mixer on medium to high speed for 30 seconds. Add molasses and brown sugar. Beat until combined. Beat in flour mixture just until combined.

3. Divide dough in half; cover and chill for 1 hour or until easy to handle.

4. Preheat oven to 375°F. On a lightly floured surface roll half of the dough at a time to 1/16-inch thickness. Using a 2-inch round scalloped cutter, cut out dough. Place cutouts 1-inch apart on an ungreased cookie sheet.

5. Bake in preheated oven for 5 to 6 minutes or until edges are browned. Transfer cookies to wire racks; cool.

Tips:

To store: Place in layers separated by waxed paper in an airtight container; cover. Store at room temperature.