Things were pretty simple in the 70's.   I remember shag carpet and an avocado-colored refrigerator.  I remember polyester pants and our big, green station wagon with the seat in the way back that faced backwards.  I remember playing outside for hours with kids in the neighborhood, not reliant upon any electronic toys to make us happy.  I remember walking a mile or so to school at a very young age without parents having to worry.  And most of all I remember the dinners that my Mom used to make.  In my first 7 years of life, there were six people at our dinner table each night.  We had quite a lot of canned or frozen vegetables- they were affordable & easy for working parents.   Mom always had her favorites that she liked to make- things that were quick & easy and fed a lot of people:  chili, spaghetti, beef burgundy, split pea soup, boxed spice cake, and butterscotch Jell-O Pudding.  But what I remember most about Mom's favorites was our favorite dinner of all:  Mom's Tacos.
I've adapted her recipe a bit (she used to use a taco seasoning packet, & in all honesty, she'd nix the Ro-Tel), but here are the basics: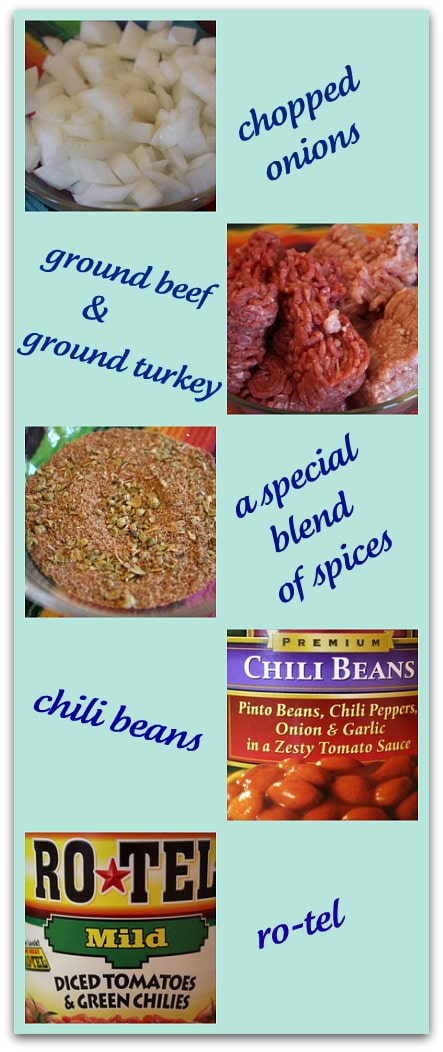 I buy a package of ground beef and a package of turkey.  Then I divide them each in half and mix them together.  You can use half for your recipe & freeze the rest for when you make tacos again in a couple of weeks.  The seasoning is a mix of chili, cumin & garlic powders with oregano, salt & pepper.  The beans are what I remember most about Mom's Tacos.  I'm pretty sure she snuck the beans in there so the filling would feed more people.  It was a smart thing to do, really.  My brother had quite the healthy appetite (he's 6'4″ now) and tacos were (and still are) his absolute favorite.  There were never any leftover tacos.  I've added the Ro-Tel to expand that filling even more… and it's mild enough that it just adds some good flavor and not a lot of spice.
Here's the how-to: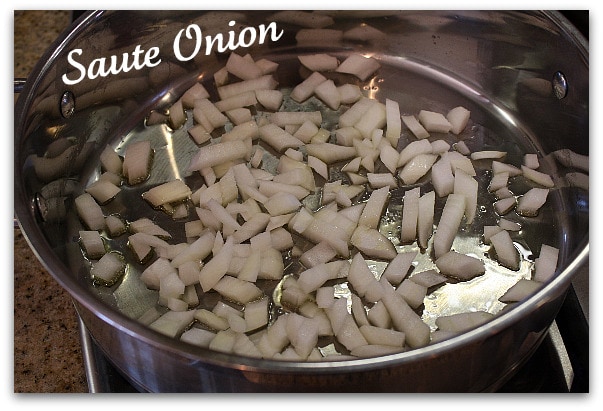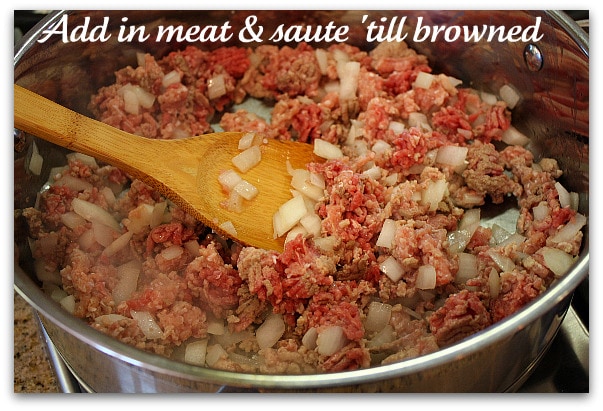 Here's my little secret- I tilt the pan and use a bunched up paper towel to soak up the extra fat.   Use tongs to pick up the soaked towel and throw it away.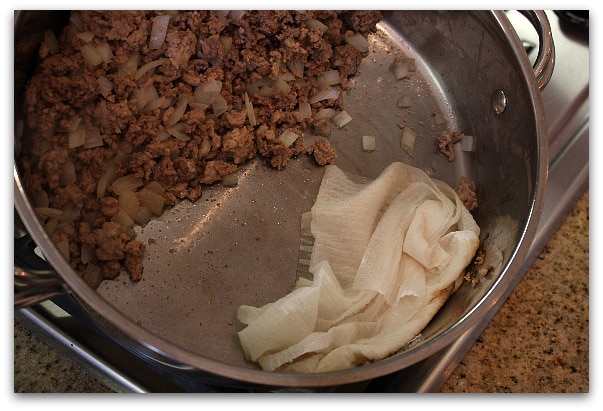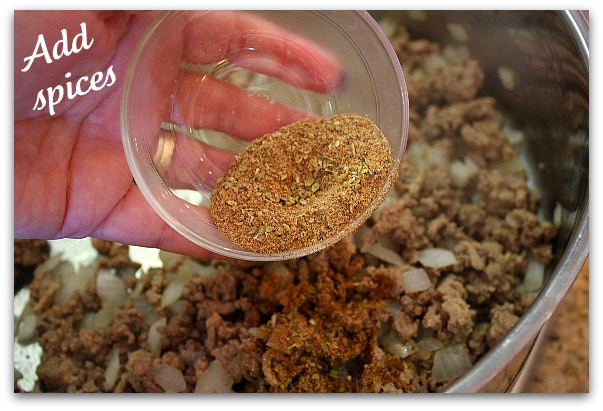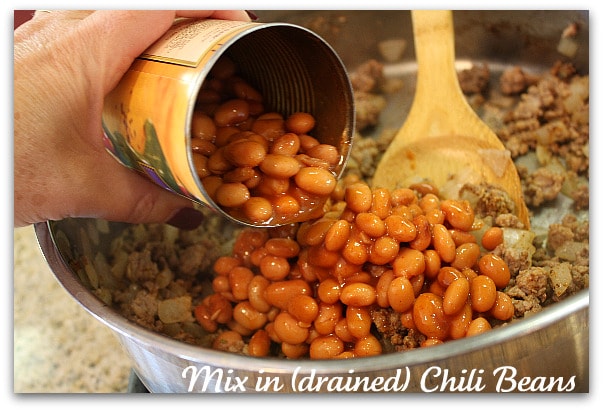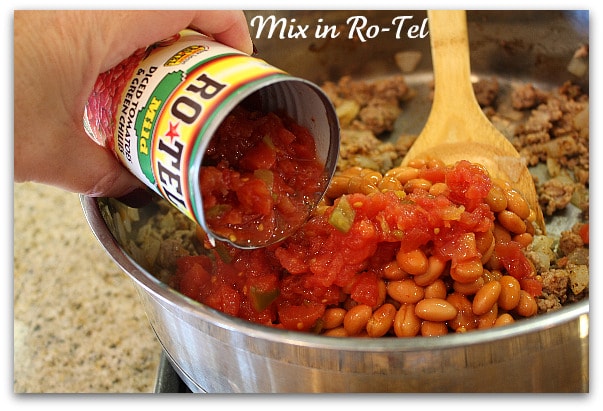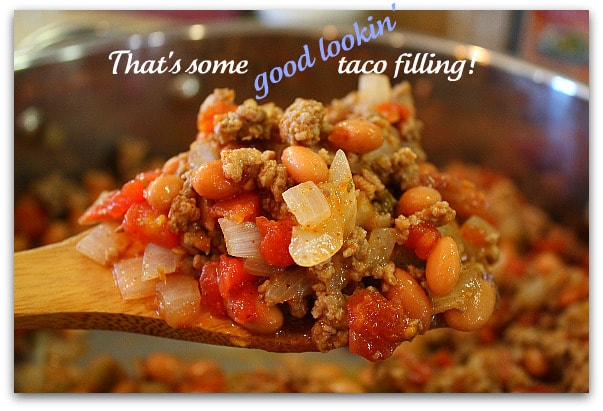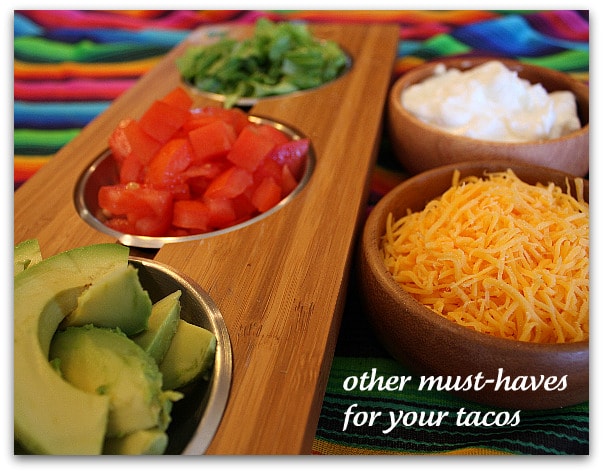 You can tuck these into either flour or corn tortillas.  Mom always fried corn tortillas in oil for her tacos.  A company called Tortilla Land recently contacted me to see if I'd like to test out one of their products- corn tortillas.  There was something that caught my attention about these tortillas- they're a "fresh" product sold in the refrigerated section- and they're cooked up in just 60 seconds.  I was told that they have the flavor, taste & aroma of an authentic, homemade tortilla  (without the hassle of making your own).  There are no preservatives, no cholesterol & no saturated fat.  Two tortillas have 120 calories and 1.5 grams of fat.



They're currently being sold at select Costco stores.  The package that I got my hands on contains four packages of 12 tortillas.  The expiration date is a couple of months from now.  I'm pretty sure I can plow through 48 tortillas in two months.  The tortillas are separated by thin layers of plastic.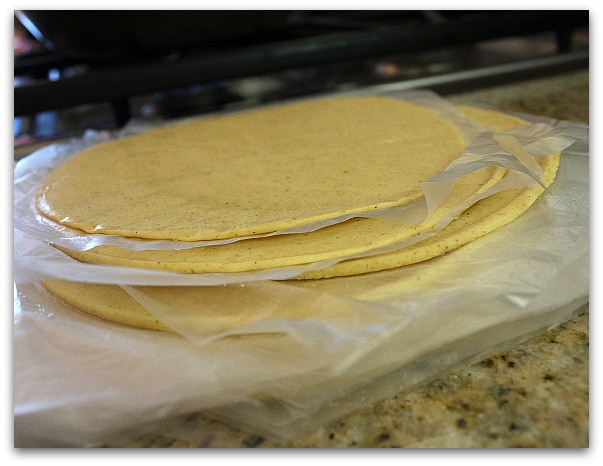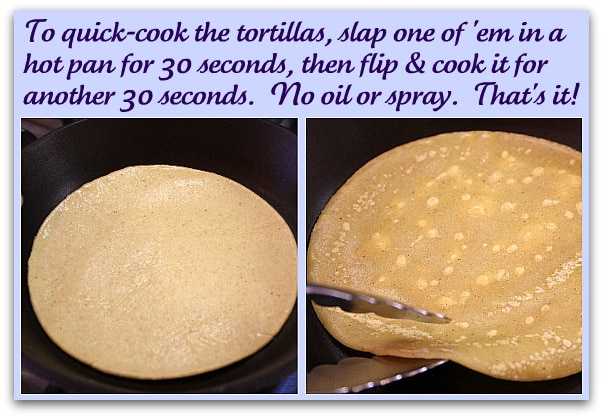 Then stuff your tortillas with filling & whatever your favorite taco toppings are.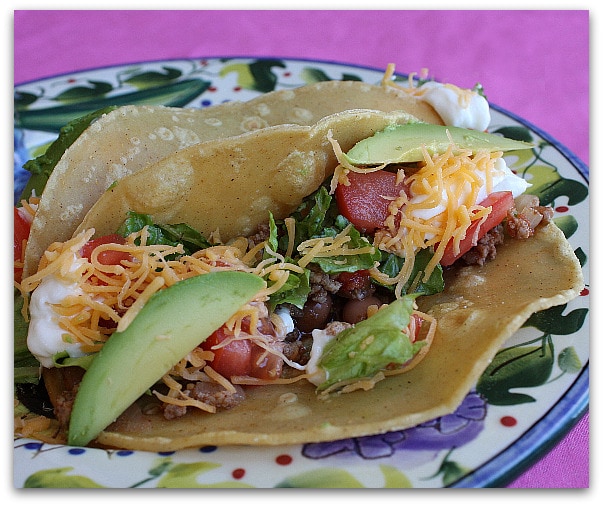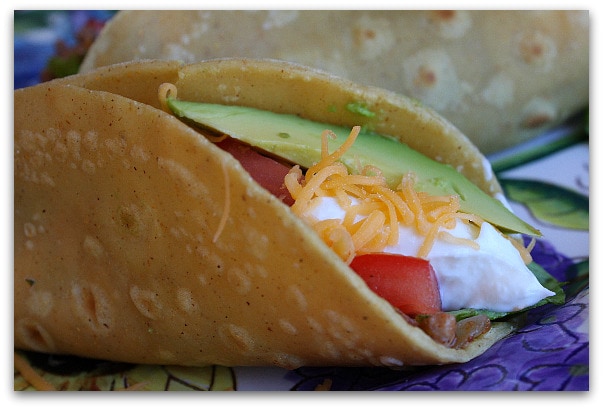 This is pretty much the way Mom used to serve them in the 70's.  She used iceberg lettuce though.  And the avocado is my Southern California addition 🙂  This recipe is also Gluten-Free, which is something my Mom needs to watch nowadays.
As for the tortillas, I'm pretty impressed with the product.  I'm a Mexican food fanatic, and living in SoCal, I eat at authentic Mexican restaurants quite often.  I have to say that these are pretty fair competition to homemade.  They were delicious.  Most corn tortillas tend to crack and fall apart as you're eating your tacos.  These tortillas do not fall apart.
My recipe for the tacos can be printed out here:  Mom's Tacos.
To be a fair judge of how I these tortillas really tasted, I had to try them in a more simple way… so I gave them the old college try (literally).  I heated them up and gave them a spread of butter and honey (something I used to do in college as a quick, easy & affordable sweet treat).  This is a nice kid-friendly snack too.  Good stuff, really 🙂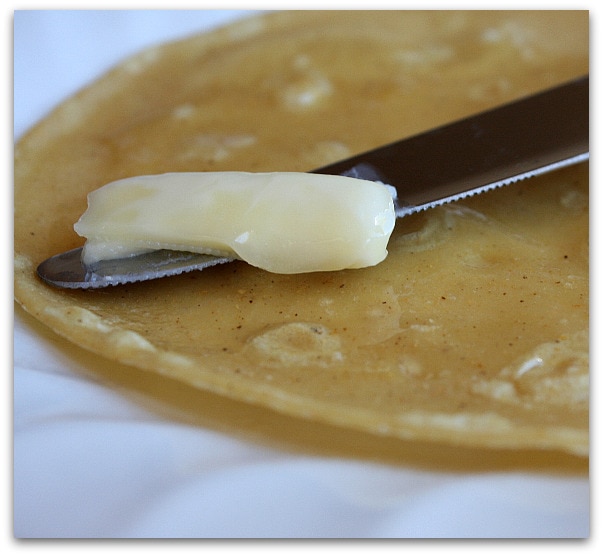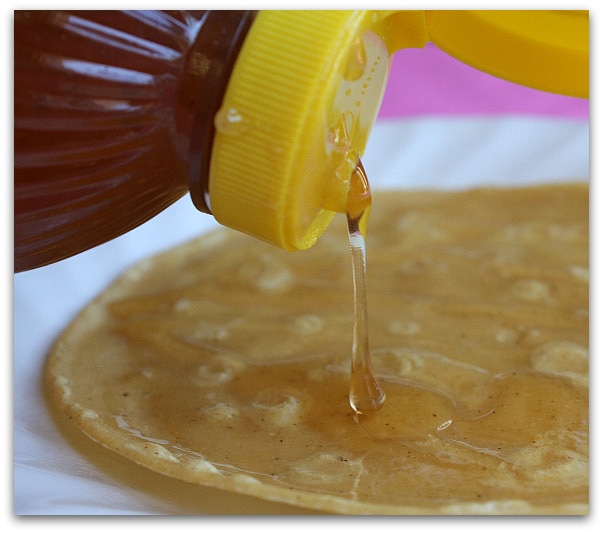 I'm doing a little giveaway for these tortillas. If you'd like to have a chance to try them out & have 48 tortillas delivered via Fed-Ex to you, please leave a comment below with valid email address. Tell me what you'd do with a whole bunch of tortillas!

Please leave one comment per person.

You must be a resident of the USA to enter. I'll choose a comment randomly on Sunday evening, August 22nd & will post the winner here.
This giveaway is now closed. The randomly selected winner is comment #56: Ericka, who says, "I would make a whole arangement of tacos, fish, beef, chicken, shrimp. I would definitely try the honey/butter combo on them too! I used to use butter and cinnamon/sugar on flour tortillas!" Congratulations, Ericka. I'll be contacting you via email to get your mailing address. Have fun w/ these tortillas!

This post is sponsored by Tortilla Land.  RecipeGirl.com shares honest opinions and observations about any sponsored products– without editorial assurances to sponsors regarding content.
You can find these Tortillas at select Costco locations. You can also visit them on Facebook