Pioneer Woman's Linguine with Clam Sauce is a delicious version of this classic pasta dish.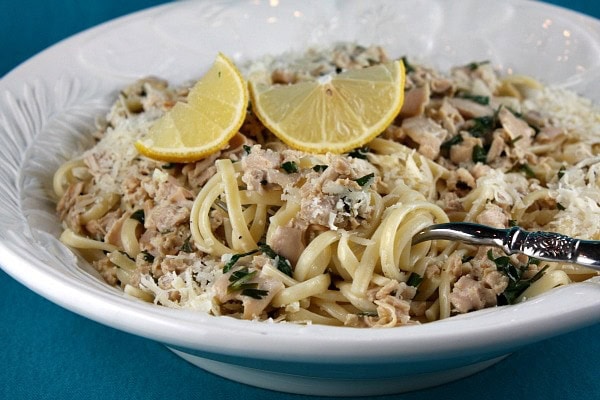 Ree Drummond, also known as The Pioneer Woman, has been a friend of mine for a good number of years. She cooks often for her family and the workers on their ranch. And she's quite skilled at creating the best recipes. Ree's version of Linguine with Clam Sauce is one of my favorites. I've always enjoyed ordering this pasta dish in restaurants, but I have loved making it at home too with this recipe.
What are the best kinds of clams to use for Linguine with Clam Sauce?
I know there are recipes out there that call for using fresh clams. That's not this recipe. This is an easy, no-fuss version of clam linguine, and you'll be using 3 cans of clams for this recipe. Any brand will do (there are usually just a couple of brands to choose from). Look for chopped canned clams instead of minced clams. When you make this recipe, you'll open the can of clams and squeeze the clams dry, collecting the juice in a bowl. The juice will be used in the recipe, so be sure to save it.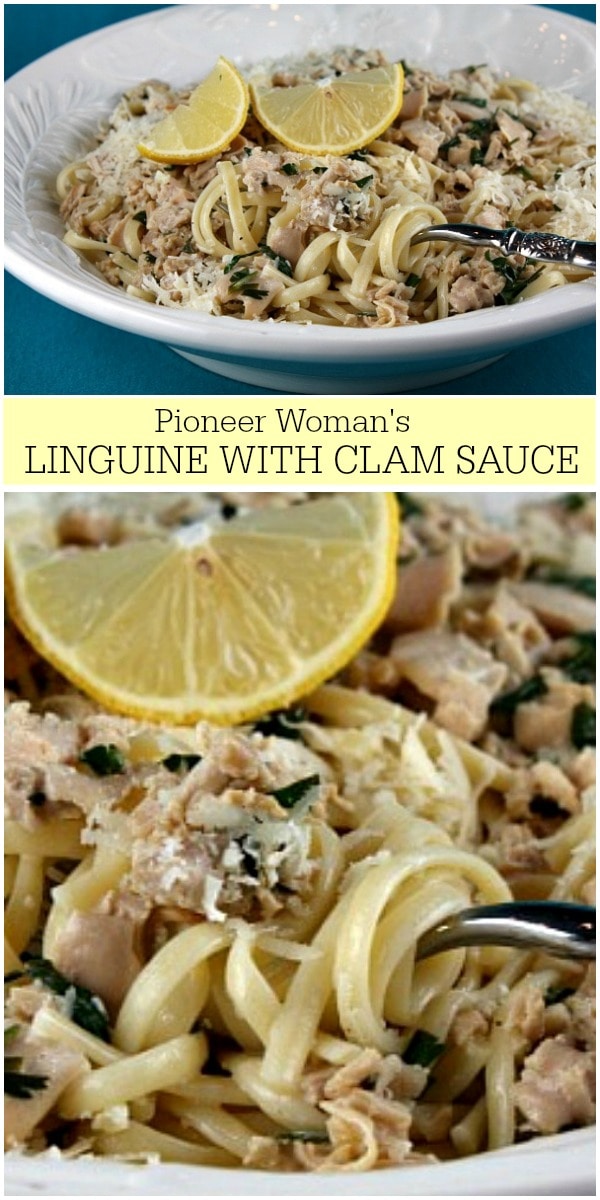 It's an option to sprinkle Parmesan cheese on top of the finished pasta dish. Some people don't care for cheese with their seafood pasta, but I happen to love it. I also recommend squeezing a wedge of lemon over the top of your pasta just before eating. Enjoy!
Clam Recipes:
Pioneer Woman's Linguine with Clam Sauce
A totally delicious version of this classic pasta dish!
Recipe Details
Ingredients
16

ounces

linguine

1

tablespoon

extra virgin olive oil

2

tablespoons

butter

divided

3

medium

garlic cloves,

minced

Three

6.5-ounce cans

chopped clams,

drained (save the juice)

¾

cup

white wine

½

medium

lemon,

juiced

2

tablespoons

chopped fresh Italian parsley

¾

cup

whipping cream

salt and freshly ground black pepper,

to taste

grated Parmesan cheese for topping,

if desired

½

medium

lemon,

sliced for garnish (optional)
Instructions
Cook the pasta according to package directions. Make the sauce while the pasta is cooking.

In a large skillet over medium-high heat, add the olive oil and 1 tablespoon butter. Add the garlic and then the clams; stir together. Cook for 3 minutes. Pour in the white wine, scraping the bottom of the pan with the spoon. Cook for 3 to 4 minutes, until the sauce is reduced and less watery. Add in 1 more tablespoon of butter and stir to melt. Reduce heat and add the lemon juice. Add parsley and cream. Add salt and pepper. Stir well and taste for seasonings, adding a splash of clam juice if the sauce needs thinning.

Cook over low heat for 3 additional minutes, or until heated through.

Drain the pasta and put the hot pasta in a large bowl. Pour the sauce from the skillet onto the hot linguine. Toss to combine.

Serve in individual bowls; sprinkle with Parmesan (if desired) and serve with lemon wedge for garnish.
Notes
*PW recommends using heavy whipping cream for the sauce. I lighten it up (very slightly) by using regular old whipping cream.
Nutrition
Serving:
1
serving
,
Calories:
770
kcal
,
Carbohydrates:
98
g
,
Protein:
24
g
,
Fat:
28
g
,
Saturated Fat:
15
g
,
Cholesterol:
82
mg
,
Sodium:
203
mg
,
Potassium:
385
mg
,
Fiber:
4
g
,
Sugar:
4
g
,
Vitamin A:
1062
IU
,
Vitamin C:
18
mg
,
Calcium:
79
mg
,
Iron:
2
mg