Pizza Bianca with Arugula, Bacon and Mushrooms
If you're looking for a lighter-style pizza recipe, try this Pizza Bianca with Arugula, Bacon and Mushrooms.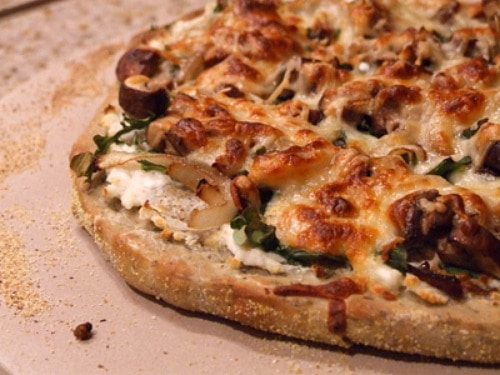 Yield: 6 servings (pizza cut into 6 portions)
Prep Time: 50 minutes + rising time
Cook Time: 35 minutes
Pizza Bianca with Arugula, Bacon and Mushrooms
Terrific, really different pizza recipe. You won't miss the red sauce at all! Our whole family gives this one a double thumbs up.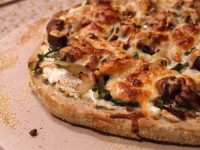 Ingredients:
CRUST:
1 package active dry yeast (about 2 1/4 teaspoons)
1 teaspoon granulated sugar
1/2 cup warm water (100° to 110°F)
1 1/2 cups all-purpose flour (about 6 3/4 ounces), divided
1/4 teaspoon kosher salt
2 teaspoons yellow cornmeal
TOPPING:
2 slices center-cut bacon
1/2 cup thinly sliced white onion
1 (8 ounce) package whole button mushrooms, quartered
1/2 teaspoon kosher salt, divided
1/4 teaspoon freshly ground black pepper, divided
1 tablespoon extra-virgin olive oil
1/2 cup part-skim ricotta
2 cups loosely packed baby arugula
1/3 cup (1.5 ounces) shredded part-skim mozzarella cheese
2 tablespoons freshly grated Parmesan cheese
Directions:
To prepare dough: dissolve yeast and sugar in 1/2 cup warm water in a large bowl; let stand 5 minutes. Lightly spoon flour into dry measuring cups, and level with a knife. Stir 1 1/4 cups flour and 1/4 teaspoon salt into yeast mixture to form a soft dough. Turn dough out onto a lightly floured surface. Knead until smooth and elastic (about 5 minutes); add enough of remaining flour, 1 Tablespoon at a time, to prevent dough from sticking to hands.
Place dough in a large bowl coated with cooking spray, turning dough to coat. Cover; let rise in a warm place (85°F), free from drafts, 1 hour or until doubled in size. (Press two fingers into dough. If indentation remains, dough has risen enough).
Punch dough down; cover and let rest 5 minutes. Roll dough into a 14-inch circle on a lightly floured surface. Place dough on a pizza pan or baking sheet coated with cooking spray and sprinkled with cornmeal. Crimp edges of dough with fingers to form a rim.
Preheat oven to 450°F.
To prepare topping: Cook bacon in a large nonstick skillet over medium heat until crisp. Remove bacon from skillet, reserving 2 teaspoons bacon drippings in pan. Crumble bacon; set aside. Add onion and mushrooms to pan; cook 10 minutes or until tender and moisture evaporates, stirring occasionally. Remove from heat; sprinkle with 1/4 teaspoon salt and 1/8 teaspoon pepper.
Drizzle oil over dough; sprinkle with remaining 1/4 teaspoon salt and 1/8 teaspoon pepper. Place pan on lowest oven rack; bake at 450°F. for 10 minutes or until golden brown. Remove from oven; spread ricotta evenly over crust, leaving a 1/2-inch rim. Arrange onion mixture and arugula evenly over ricotta. Sprinkle with bacon, mozzarella, and Parmesan. Bake an additional 10 to 15 minutes or until crust is lightly browned and topping is bubbling. Let stand 5 minutes before serving. Cut into wedges.
Tips:
To save time/ make easier, use a refrigerated pizza dough. Trader Joes sells great pizza dough (this will change the calorie count, of course).
Nutritional Information per serving (Serving size:

1/6th of the pizza) 

Calories:

223, 

Fat:

7g, 

Saturated Fat:

2.67g, 

Sugar:

2.18g, 

Fiber:

2g, 

Protein:

10.77g, 

Cholesterol:

16.62mg, 

Carbohydrates:

29.63g

Weight Watchers POINTS per serving: Freestyle SmartPoints: 6, Points Plus Program: 6, Old Points Program: 5
SOURCE: RecipeGirl.com (Adapted from Cooking Light )