This recipe has been featured in a post on The Recipe Girl blog: Greek Dinner Party- Main Dishes & Sides. This dish is gluten-free adaptable– please see notes below the recipe.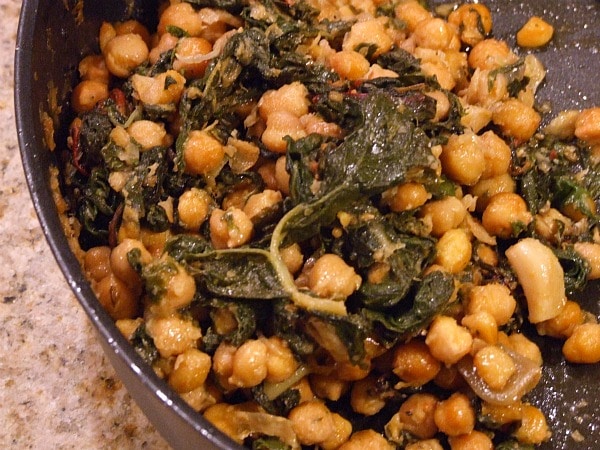 Roasted Garbanzo Beans & Garlic w/ Swiss Chard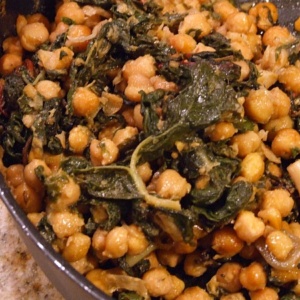 Amazing side dish! I wasn't sure I liked Swiss chard, but this recipe made me a lover of it. We served it at our Greek Dinner party and it was raved about.
Yield:
6 servings
Prep Time:30 min
Cook Time:60 min
Ingredients:
GARBANZO BEANS:
2 (15.5-ounce) cans garbanzo beans, rinsed & drained
10 garlic cloves, peeled
2 large shallots
3 small bay leaves, preferably fresh
1 teaspoon fennel seeds
1 1/4 cups extra-virgin olive oil
CHARD:
2 Tablespoons extra-virgin olive oil
6 garlic cloves, peeled & crushed
3 small bay leaves, preferably fresh
2 shallots, sliced thinly
2 bunches Swiss chard, center stems cut out, leaves coarsely torn
2 cups low-salt chicken or vegetable broth
Directions:
1. Prepare garbanzo beans:
Preheat oven to 350°F. Combine first 5 ingredients in 8x8x2-inch glass baking dish. Sprinkle with salt and pepper. Pour oil over; cover dish with foil. Roast until garlic is tender, about 45 minutes. DO AHEAD: Can be made 1 day ahead. Cool slightly, cover, and chill.
2. Prepare chard:
Heat oil in large pot over medium-high heat. Add garlic, bay leaves, and shallots. Cover; cook until shallots are tender, about 2 minutes. Uncover; add half of chard. Toss until chard wilts and volume is reduced by half, about 2 minutes. Add remaining chard. Toss until chard wilts, about 2 minutes. Add broth. Cover and cook until chard is tender, stirring occasionally, about 10 minutes. Season chard with salt and pepper. Transfer chard mixture to large sieve set over bowl and drain. DO AHEAD: Can be prepared 2 hours ahead. Let stand at room temperature.
3. When ready to serve:
Drain garbanzos and reserve oil; discard bay leaves. Combine garbanzos and chard in large skillet. Add 2 tablespoons oil reserved from garbanzos. Toss over medium heat until warmed through, moistening with more oil by tablespoonfuls if needed, about 5 minutes. Season with salt and pepper and serve.
Tips:
*If preparing this recipe as GLUTEN FREE- just make sure you use a brand of broth that is designated as GF.