Here's an easy recipe to make for a busy-day dinner:  Slow Cooker French Basil Chicken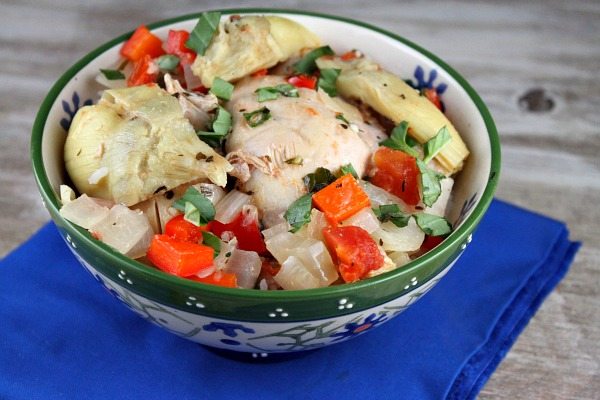 I realize that many of you are in a place where it's majorly hot both outside and inside your home.  And all that heat surrounding you means you probably don't feel like cooking either, right?  Well, using your slow cooker is a good option then.
In this recipe, you just need to saute the onions for a few minutes, then throw in a few other ingredients to blend the flavors.  The rest of the recipe is done in the slow cooker.  If you're afraid that your slow cooker is going to heat up your house, try putting it on your porch to do its thing!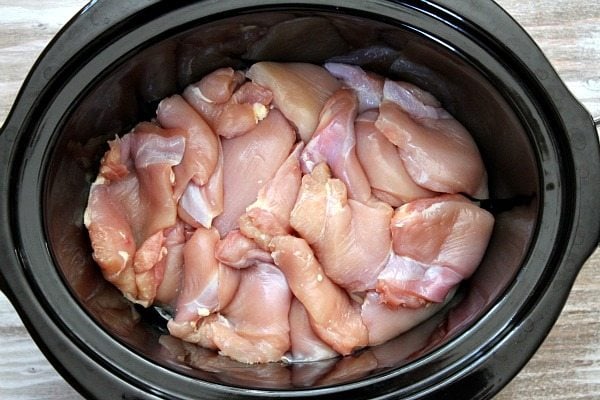 This recipe begins with chicken… lots of chicken.  You can use boneless chicken breasts or boneless chicken thighs, or you can use a combination of the two.  If you need a smaller portion, just cut all the ingredients in this recipe in half.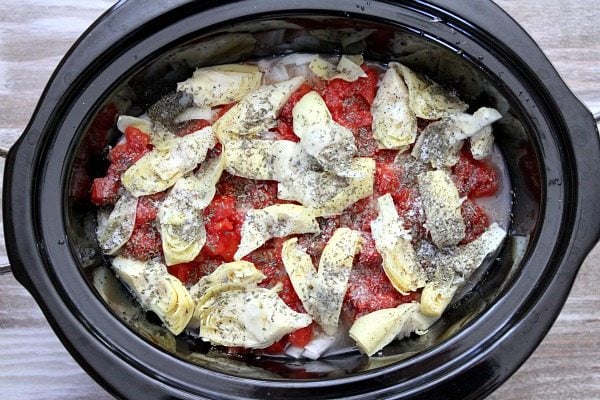 Those onions and things that you saute on the stove are scooped right on top of the chicken.  Those are artichoke hearts you see there- my favorite!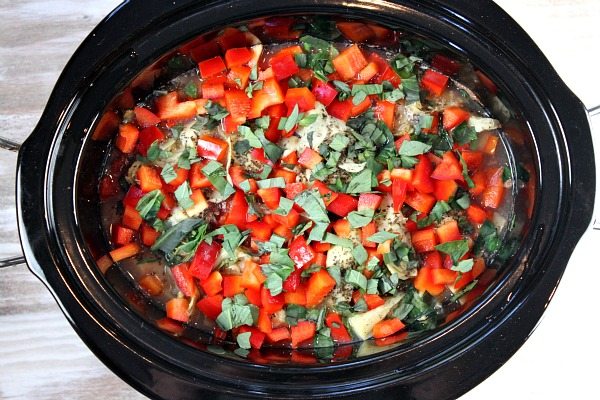 Toward the end of the cooking process, some red bell pepper and fresh basil are sprinkled on top.  Then you can let it cook for an additional 1/2 hour.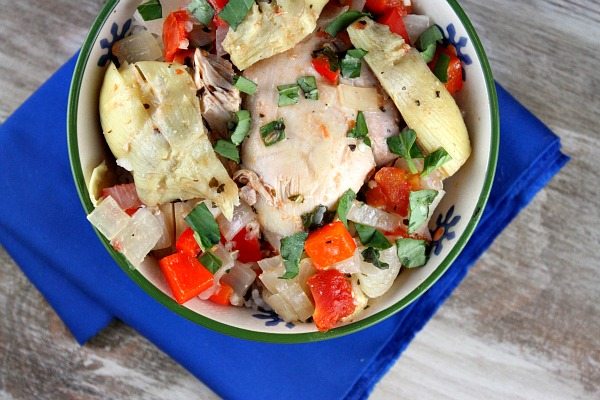 All done!  Dinner is so incredibly easy when you have a slow cooker around.  This recipe can be finished in about 3 1/2 hours if you wish to use the high setting on your slow cooker, or you can let it cook low and slow for 6 1/2 hours instead.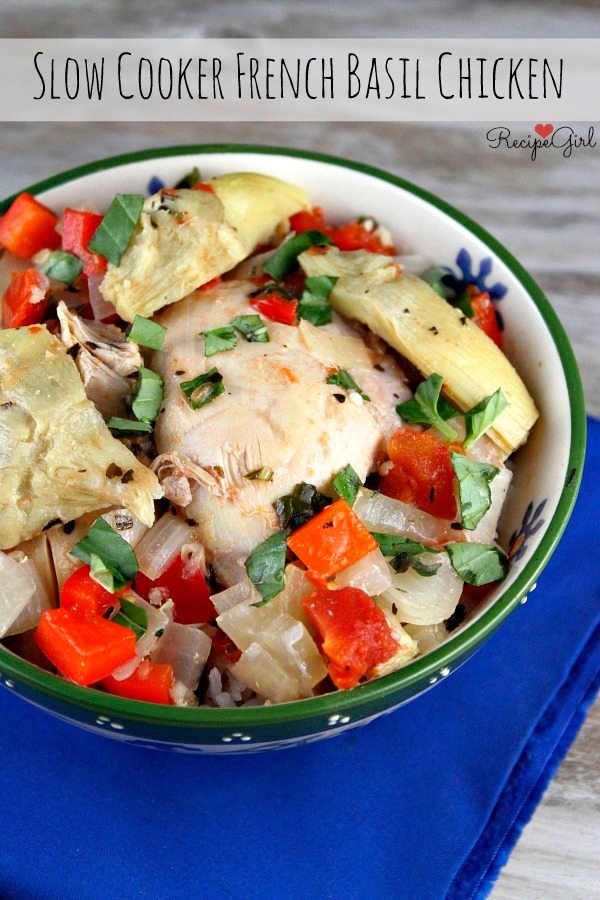 We loved this French Basil Chicken served over freshly cooked fluffy rice.  My son pushed away the artichoke hearts (which I was happy to acquire!) but loved everything else.  It's always good to know that a picky teenager enjoyed a recipe, right?  🙂
Slow Cooker French Basil Chicken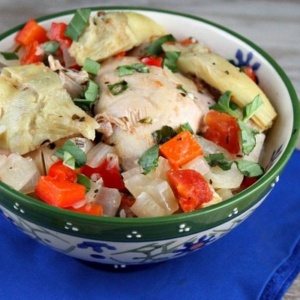 Yield:
6 to 8 servings
Prep Time:25 minutes
Cook Time:3 hours and 40 minutes
Ingredients:
1 tablespoon extra-virgin olive oil
2 medium onions, finely chopped
4 cloves garlic, minced
1 teaspoon herbes de Provence
1/2 teaspoon sea salt (or more, to taste)
1/2 teaspoon freshly ground black pepper
1/2 cup dry white wine (see *Tips below)
1 cup chicken stock or broth
One 14-ounce can diced no-salt-added tomatoes, including juice
One 14-ounce can artichoke hearts, drained, rinsed and quartered
3 pounds skinless boneless chicken (mix breasts and thighs, if you wish)
2 large red bell peppers, ribs and seeds removed, chopped
1/2 cup finely chopped fresh basil leaves
cooked rice, for serving (or something else, if you prefer)
Directions:
In a large skillet, heat the oil over medium heat. Add the onions; cook, stirring, until softened- about 3 minutes. Add the garlic, herbes, salt and pepper; cook, stirring, for 1 minute. Add wine and cook, stirring for 1 minute. Add chicken broth and tomatoes with juice and bring to a boil. Stir in artichoke hearts and remove from heat.
Arrange the chicken pieces evenly over the bottom of your slow cooker insert and pour the tomato mixture on top. Cover and cook on low for 6 hours. Stir in the bell pepper and basil. Cover and cook on high for 30 minutes.
Tips:
If you don't wish to use wine in the recipe, you can sub chicken broth for the wine.
If you are preparing this recipe as gluten-free, just be sure to use brands of artichoke hearts, tomato and chicken broth that are known to be GF.
Nutrition:
WEIGHT WATCHERS Freestyle SmartPoints:  1 per serving
SOURCE: RecipeGirl.com (adapted from The Healthy Slow Cooker)
Here are a few more slow cooker chicken recipes you may enjoy: