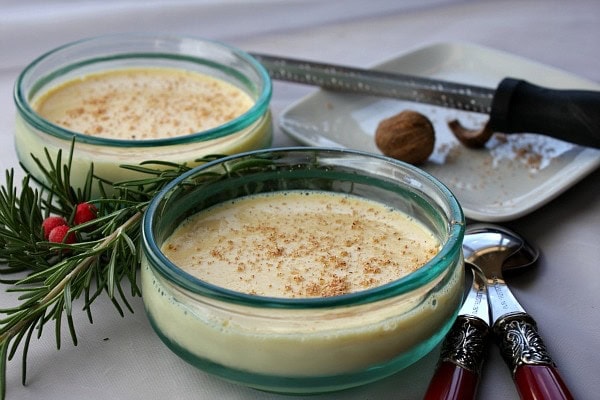 Spiked Eggnog Custard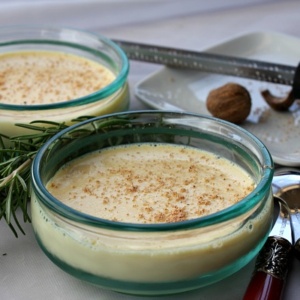 Love this wonderful 5 minute dessert recipe from Abigail Johnson Dodge. Replace the booze with vanilla extract if you don't wish to make it with alcohol.
Yield:
4 servings
Prep Time: 10 min
Cook Time: 2 min
Ingredients:
2 teaspoons unflavored powdered gelatin
1 2/3 cups eggnog
2 to 3 tablespoons dark rum
1/4 teaspoon ground nutmeg (I used freshly ground)
Directions:
1. Have ready four 6-ounce ramekins and make room in the fridge.
2. Put 1/4 cup water in a small bowl and sprinkle the gelatin on top. Let sit until the gelatin is moist and plump, about 3 minutes. Microwave until the gelatin is dissolved and the liquid is smooth, 30 to 90 seconds.
3. Put the eggnog and dark rum in a medium bowl. Add the dissolved gelatin and whisk until blended, about 20 seconds.
4. Divide the mixture between the ramekins. Cover and refrigerate until chilled and firm or for up to 3 days.
5. To serve, sprinkle the nutmeg evenly over the top of each custard and serve immediately.
Tips:
*Switch in ideas: In place of the dark rum, switch in one of the following- 2 to 3 Tbsp. brandy or 1 tsp. vanilla extract
*This recipe can be easily cut in half to make a dessert for two 🙂
*If you're making this as a GLUTEN FREE recipe, make sure your eggnog is of the gluten-free variety.