One of the things I truly miss on my healthy eating venture is pizza. I miss being able to order it up on a Friday night, eat piece after piece without much thought and gulp it down with a couple of beers. Oddly enough, that sounds rather gluttonous to me now… and rather unappetizing. If I were faced with an out-to-dinner pizza situation now-a-days, I'd likely opt for one slice with a side salad and perhaps a glass of wine.
I have, however, had luck in making healthier versions of pizza at home. Here's the latest: Spinach, Mushroom and Feta Pizza with Whole Wheat Crust.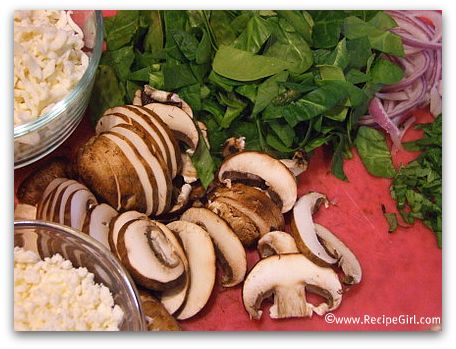 This pizza uses all fresh ingredients and no tomato sauce.  The crust uses a combination of whole wheat flour and all-purpose.  It's a simple crust recipe that I've used for all of my pizza recipes for a couple of years now.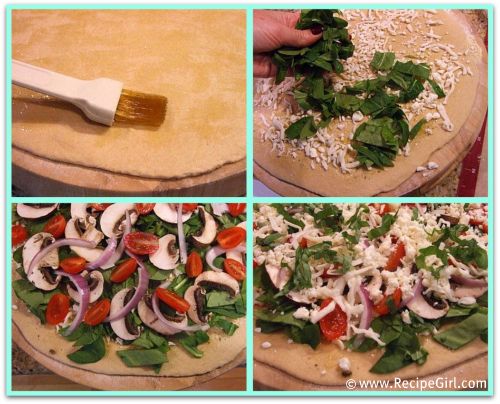 Brush on olive oil and garlic.  Sprinkle w/ a little garlic salt.  Add a small handful of mozzarella and fresh spinach.  Top with additional veggies (flexible to what you want to use).  Top with feta/mozzarella and fresh basil.
I use  a pizza stone on which to bake my pizza.  If you don't have a stone, you can use a cookie sheet instead.  I sprinkle cornmeal onto a cutting board, place the dough on top of the cornmeal, add my pizza toppings and then slide the pizza onto the heated stone (or sheet) when ready to bake.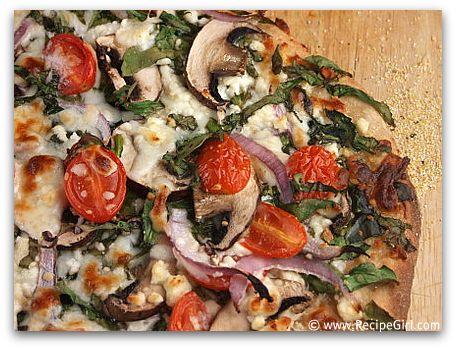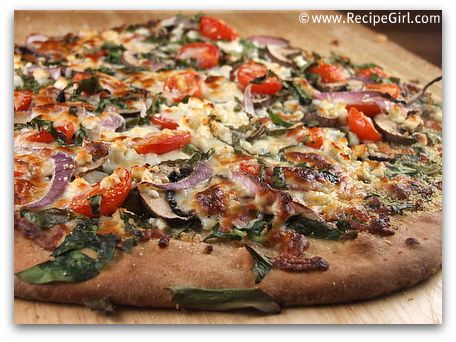 I wouldn't call this 'diet pizza.'  It's simply a way to make pizza- using fresh ingredients and not drenched in fatty cheese.  You should use part-skim mozzarella and low fat feta for optimal calorie savings.


I cut the pizza into 6 good-sized slices and had one slice with a salad for dinner.  It felt wickedly good to eat pizza in the midst of eating healthy.  The pizza itself was excellent… didn't miss the extra cheese at all.  This was one that the family thoroughly enjoyed, and even my little one gobbled a couple of slices (spinach and all)!
This pizza recipe can be found here:  Spinach Mushroom and Feta Pizza
The whole wheat pizza crust recipe can be found HERE.