Almond- Chocolate Chip Cookies
This recipe has been featured in a post on The Recipe Girl blog: The Most Adorable Little (Healthy) Chocolate Chip Cookies Ever.
Yield: 24 miniature cookies
Prep Time: 10 min
Cook Time: 8 min
Almond- Chocolate Chip Cookies
These miniature chocolate chip cookies are made with almond flour (ground almonds) as a base. They're delicious, healthy little bites you can feel good about eating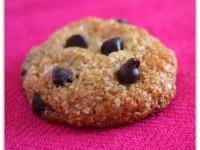 Ingredients:
1 cup almond flour
1/4 teaspoon baking soda
1/8 teaspoon salt
2 Tablespoons canola oil
2 Tablespoons agave nectar
1/2 teaspoon vanilla extract
1/4 cup semi-sweet mini chocolate chips
Directions:
1. Preheat oven to 350 degrees F. Line 2 baking sheets with parchment paper or silpat mats
2. In a medium bowl, whisk together almond flour, baking soda and salt. In a small bowl, whisk together oil, agave and vanilla. Pour wet mixture into dry and stir until blended. Stir in chocolate chips.
3. Drop dough by level teaspoonfuls (literally- a teaspoon!) onto baking sheet, 2 inches apart. Bake 7 to 8 minutes. Let cool 5 minutes before removing to a rack to cool completely.
Tips:
*Almond flour is simply ground almonds (or almond meal). It can be found in the baking aisle of some markets and in health food markets. You also might find it in markets that sell items from bulk barrels.
*This recipe will not work using regular, all-purpose flour.
Nutritional Information per serving:
Serving size: 1 cookie
Calories per serving: 58
Fat per serving: 4.3g
Saturated Fat per serving: .7g
Fiber per serving: .5g
Protein per serving: 1.2g
Cholesterol per serving: 0mg
Carbohydrates per serving: 3.8g
WW POINTS per serving:
Points Plus Program: 2 Old Points Program: 1
14 Responses to "Almond- Chocolate Chip Cookies"
Leave a Comment