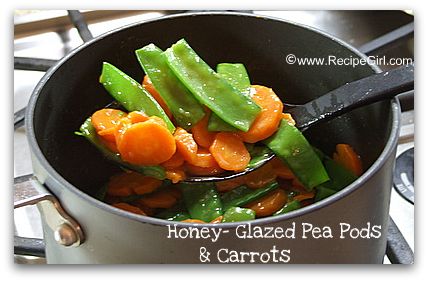 HONEY- GLAZED PEA PODS & CARROTS
www.RecipeGirl.com
1 1/3 cups sliced carrots
5 oz snow peas, trimmed
2 Tbs butter
¼ tsp cornstarch
1 Tbs + 1 tsp honey
1. Bring a large saucepan of salted water to boil. Add carrots and cook until tender crisp, 10-12 minutes. Add pea pods and cook until tender crisp; drain and set aside.
2. Melt butter in the same pan and stir in cornstarch. Return carrots and peas to pan and stir in honey. Cook over medium heat, stirring occasionally, until heated through.
Servings: 4
PRINT THIS RECIPE using your browser's 'print' function. It's automatically formatted to print recipe & picture only.
RATE THIS RECIPE[ratings]
"I needed a good side for the Beef Wellington (also on this site) and this one was it. Just a slightly sweet flavor made it perfect for my gourmet meal."
-Park City, UT