Bacon & Cheese Wrapped Tater Tots with Tabasco
Game Day is almost here, and the best thing about game day (besides watching those guys in tight pants running around the field with a football) is definitely the food… comfort food of all sorts… food you're willing to sacrifice extra time at the gym for… food that you only treat yourself to once a year on Super Bowl Sunday.  A Super Bowl party wouldn't be quite right without comfort food, would it?  I've got a quick and easy appetizer recipe for you that requires only 4 ingredients:  bacon, tater tots, cheddar cheese and TABASCO® Original Red.
Are you a fan of Tabasco?  Do you douse your scrambled eggs with it, drizzle it on your pizza or pour it into your Bloody Mary?  I'm always curious to know how people use this stuff.  Well, Tabasco sauce is the secret ingredient here, so don't even think of leaving it out. It enhances the flavor of these little bites, taking them from ho-hum to woo-hoo!
Here's the how-to: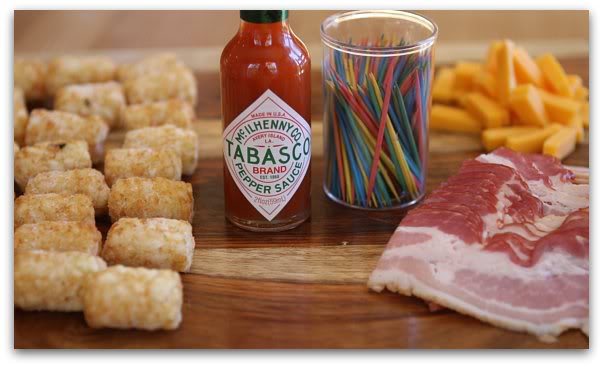 The key ingredients:  frozen tater tots, Tabasco sauce, sharp cheddar cheese and center-cut bacon.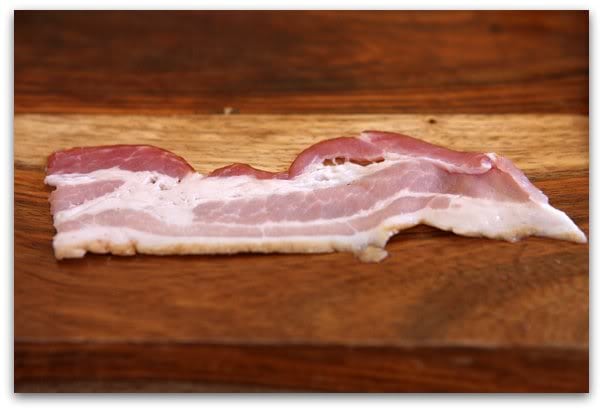 These are so easy to assemble.  Lay out a half-slice of bacon on a working surface.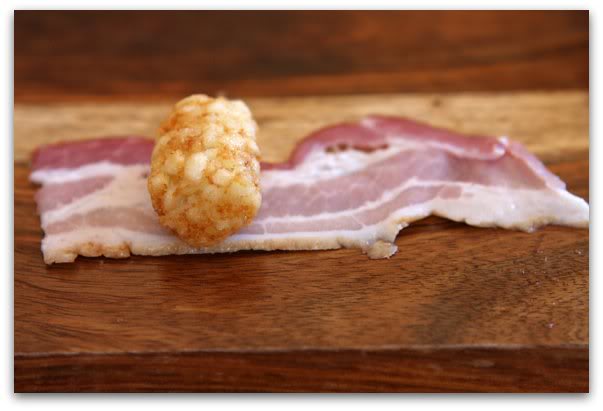 Place a partially defrosted tater tot onto the bacon.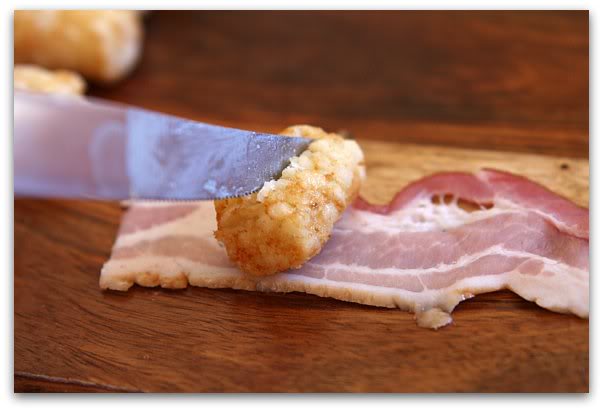 Cut a slit into the center of the tater tot.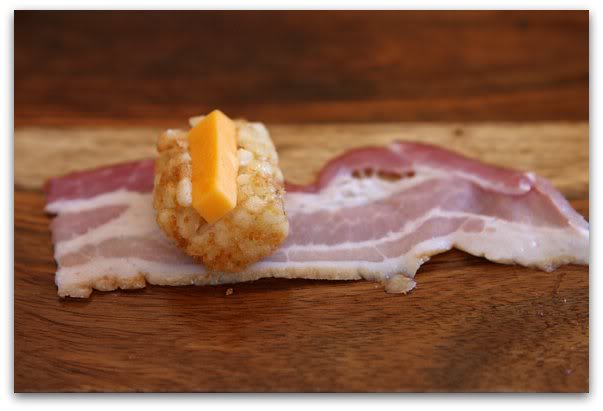 Slide a chunk of sharp cheddar cheese into the middle.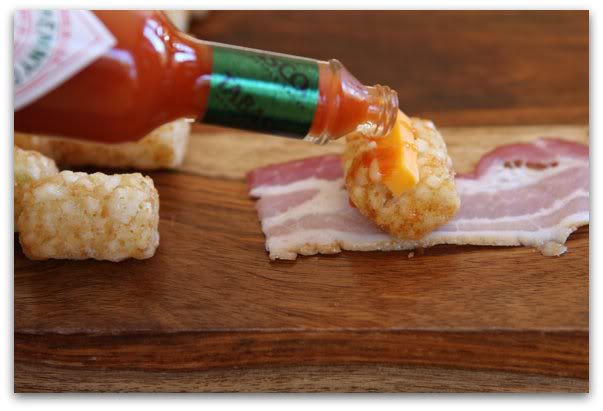 Give it a good sprinkle of Tabasco Sauce.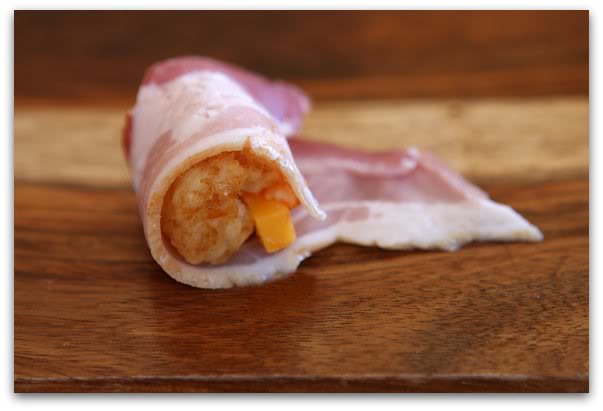 Wrap the bacon tightly around.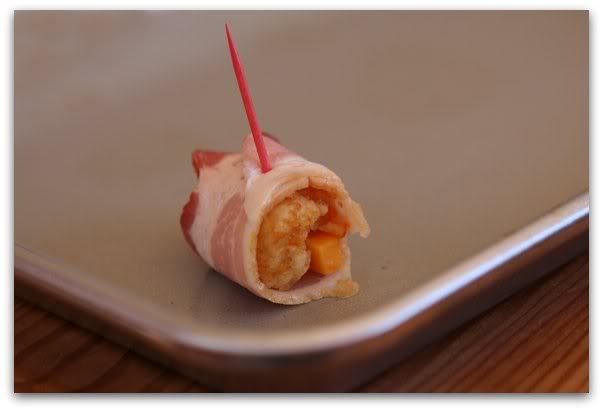 Secure with a toothpick and place on a baking sheet.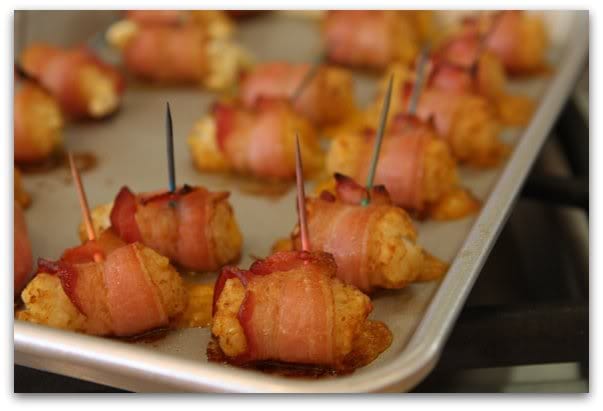 Bake at 450 for about 15 minutes, until tater tots are cooked through and bacon is crispy.  Drain on paper towels to rid these little bites of any excess fat.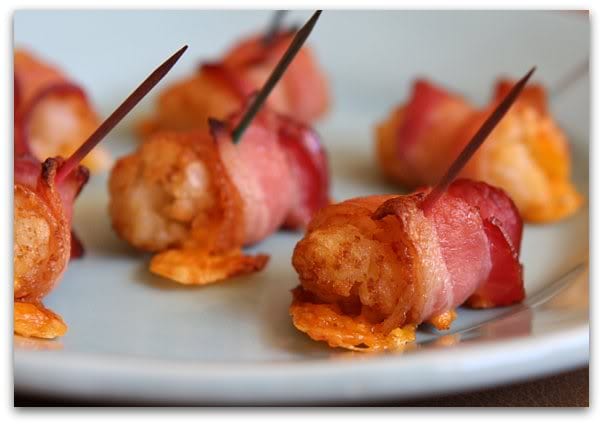 Serve immediately!
If you're feeling adventurous, you can try one of the suggested variations.  Include a pickle for a little bit of a salty addition.  Roll the original in brown sugar before baking.  Or stuff with cream cheese and pepperoncini instead.
The Tabasco adds a very small amount of kick- just enough flavor to bring some special pizzazz to this appetizer.  Since some like it hot, it would be a nice idea to leave the bottle of TABASCO® Original Red on the table so your spicy friends can go at it as they wish.  Serve these these bites on their own or with a little dish of sour cream mixed with Tabasco for dipping.
This appetizer rocks.  It's easy to assemble, it's kid-friendly, and football fans will devour these in no time at all.  In our house, the hands-down favorite was the variation where you roll the original in brown sugar before baking.  The flavors of sweet, smoky, and spicy were a delicious combination.
Yield: 24 appetizers
Prep Time: 25 min
Cook Time: 15 min
Bacon-Wrapped Tater Tots
Yield: 24 appetizers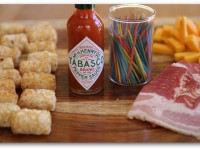 Ingredients:
24 tater tots, partially defrosted (about 15 minutes at room temperature) 12 strips of center-cut bacon, cut in half 24 small chunks of sharp cheddar cheese (1/2-inch x 1/4-inch) Tabasco sauce toothpicks
Directions:
Preheat oven to 450 degrees F. Line a baking sheet with parchment paper or spray with nonstick spray. Lay a piece of bacon on a flat surface. Place a tater tot on top. Using a sharp knife, gently cut a slit down the center of the tater tot. Wiggle a piece of cheese into the slit. Sprinkle Tabasco sauce on top. Wrap bacon tightly around the stuffed tater tot and secure with a toothpick. Bake 15 minutes, or until they appear to be cooked through and the bacon is crispy. Serve immediately.
Tips:
*Tater tots are found in the frozen section- Ore Ida makes them. *Variations: add a piece of pickle on top of the cheese. Roll the bacon-wrapped tater tot in brown sugar before baking to add a little sweet flavor to this (my favorite way to make these)- just make sure you don't over-bake them though or the sugar will make them burn. Or try replacing the cheddar cheese with cream cheese and a piece of pepperoncini. *Make ahead tip: Assemble these a few hours ahead, place them on a baking sheet, cover with plastic wrap and bake when ready. *Try serving them up with a spicy sour cream dip- sour cream mixed with a little bit of Tabasco sauce.
Source: RecipeGirl.com
For more Super Bowl recipes, please see my post on 101 Best Super Bowl Recipes on the Internet
This is a Sponsored post written by me on behalf of TABASCO® Original Red. All opinions are 100% mine.
70 Responses to "Bacon & Cheese Wrapped Tater Tots with Tabasco"
Leave a Comment