I have 5 things to share with you today, and one question to ask!
1.  RecipeGirl.com has a new feature:  Beyond Food.



I'm a Mom and a wife, and I sometimes like to talk about things that are not related to food.  On Beyond Food, you'll find me writing about parenting, Travel, marriage, products, websites, iphone apps, giveaways, exercise… life.  It's a separate subscription feed from RG's food posts, so if you'd like to subscribe you can find the subscribe button at the top of the Beyond Food section.  Hope you like it

2. Recipe Box and Shopping List Features!



I've added a new feature at RecipeGirl to make it easier for you to save your favorite recipes from my site to an online recipe box, then add the ingredients you need to your weekly shopping list with one click. Just look for the red "Save Recipe" button on every recipe here at RecipeGirl to get started.
I teamed up with ZipList.com to make this possible. They power recipe boxes and shopping lists you find online at AOL's KitchenDaily, MarthaStewart.com, WomansDay.com, and now, RecipeGirl. Best of all, you can save recipes from any of these websites, including mine, and they all get saved in one place. No more hunting around from site-to-site to locate your favorite recipes.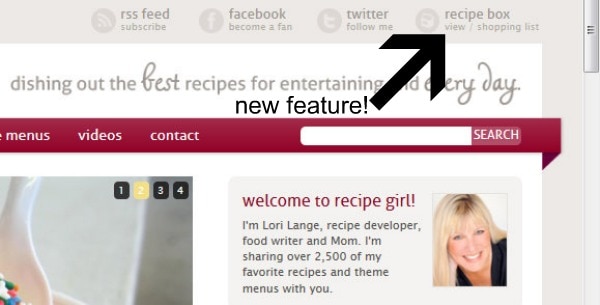 If you want to access your online recipe box or shopping list from RecipeGirl, just click the Recipe Box link at the top right-hand corner of the page of my website. You can also access your recipe box and shopping list from any partner website, as well as from ZipList.com and using free mobile apps from ZipList, so you have what you need to plan meals and grocery shop wherever you go.
3.  Printing on RecipeGirl.com.  When my site was re-designed several months ago, a wonderful new print function was added.  I'm still editing some of the older recipes to include this print feature.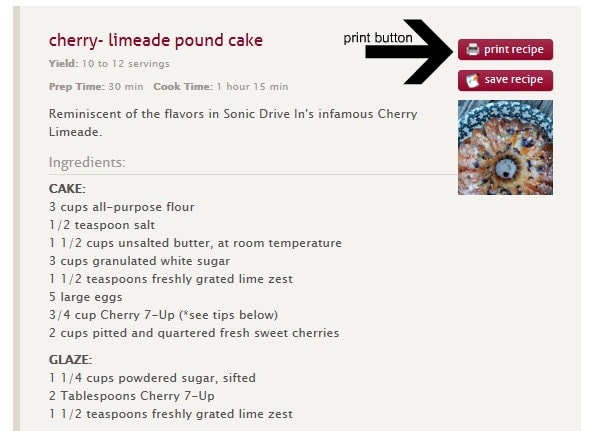 If you see the print button shown above, the recipe has been edited and is all set to print with the print button.  If you come across a recipe that is not in a nice, new print box with a print button, it has not been edited yet.  Just cut/paste those older recipes into a word doc to print until I can manage to get to it.  I am working as quickly as I can to get them all perfect!
4.  Introducing Bloggers Without Borders!  Bloggers without Borders is a newly established non-profit organization helping connect bloggers to one another, and helping them to assist others in need. Bloggers have long been using their platforms for good, raising money and awareness for causes close to their hearts. They have rallied behind people who have lost their homes or their loved ones, reached out to people who are struggling with illness or experiencing a personal tragedy. Help can be as simple as sending flowers or a check, but bloggers support people in the community and beyond when they need it the most. They have a Facebook page and they're on Twitter. Check Facebook and Twitter for some great auctions currently going on to help raise money for blogger Jennie Perillo.  My San Diego food blogging community has banded together to auction off a San Diego-themed basket, which you can view and bid on HERE.  To make a direct donation, click the button below:
Unless otherwise indicated in the transaction, all current donations will go toward the #afundforjennie campaign.
5.  I've contributed 10 recipes (that you have not seen before…) to a cookbook!  GoodBite Weeknight Meals:  Delicious Made Easy - a compilation of recipes from 16 well known food bloggers showcasing their best ideas for quick and delicious family dinners.  You can find more information or pre-order HERE.  And here's a promo-video-sneak-peek for the book! Click below to view the video:
And now for the question… is there anything you'd like to see on RecipeGirl.com- special features that I don't have, or anything you'd like to see improved or changed?