Thick- Cut Oven Roasted Fries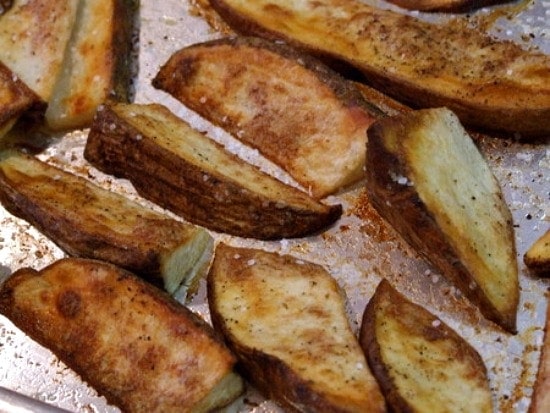 Yield: 4 servings
Prep Time: 20 min
Cook Time: 45 min
Thick- Cut Oven Roasted Fries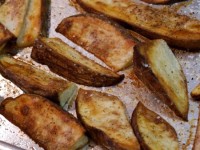 Ingredients:
nonstick vegetable oil cooking spray
2 pounds unpeeled russet potatoes, scrubbed, cut lengthwise into 1/2 to 1/3-inch wedges
2 tablespoons vegetable or canola oil
kosher salt and freshly ground black pepper
Directions:
1. Preheat oven to 450°F. Spray large, rimmed baking sheet with nonstick spray.
2. Toss potato wedges with canola oil in a large bowl. Sprinkle potatoes generously with salt and pepper; spread in a single layer on prepared baking sheet.
3. Roast potato wedges until tender and brown in spots, turning occasionally, about 45 minutes. Sprinkle with salt and pepper and serve.
Tips:
Source: RecipeGirl.com (via Fine Cooking)
Leave a Comment