Labor Day Gourmet Grilling Party Menu
Our neighborhood's Gourmet Group gathered for a dinner party last weekend. Nineteen of us celebrated & toasted the summer's end.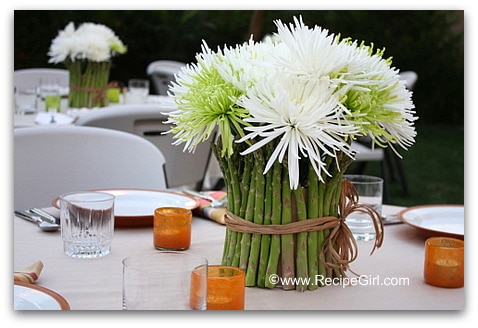 Our hostess used a rubber band to wrap asparagus around formula (or coffee) cans, stuck a glass inside and arranged flowers in the glass.  Raffia wrapped around the asparagus cleverly covered the rubber band.  Aren't they wonderful centerpieces?
Our menu:
The featured beverage…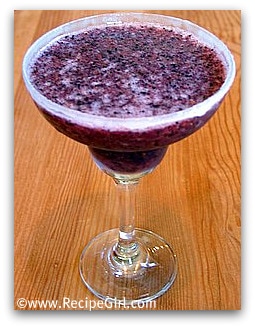 Blueberry Margaritas (edged in sugar): Yum!
The appetizers…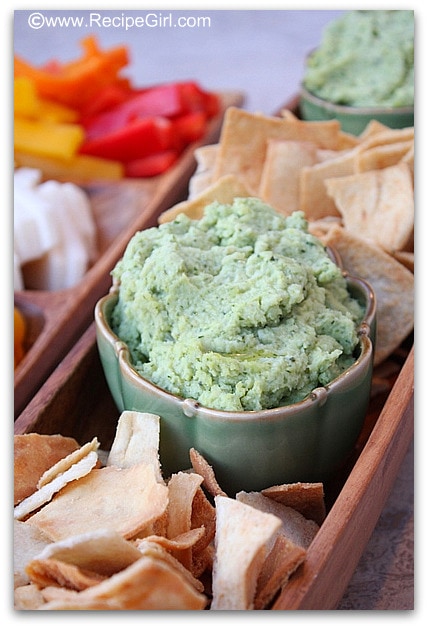 Herbed Lima Bean Hummus: This was very, very good. You have to play with the spices a bit to get the flavor that you're looking for, but it's unique and summery and perfect with veggies or pita chips or crackers.


Fresh Blueberry Salsa: It sounds unusual, but it's a very summery approach to an appetizer, and it works. Dip a chip or two in this stuff & you might have trouble stopping.
The starter…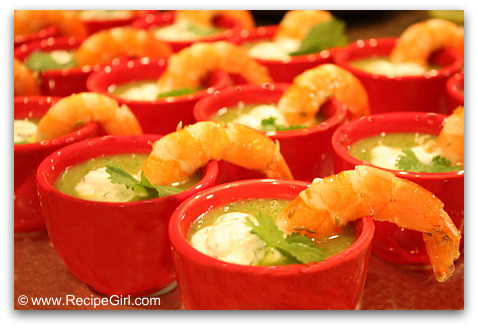 Chilled Zucchini Soup with Lemon- Cumin Shrimp & Cilantro Cream: These were served in small tea cups.  We dunked the shrimp and then sipped the soup out the cups. It was a gorgeous soup for an extremely hot day- great choice.
The main meal: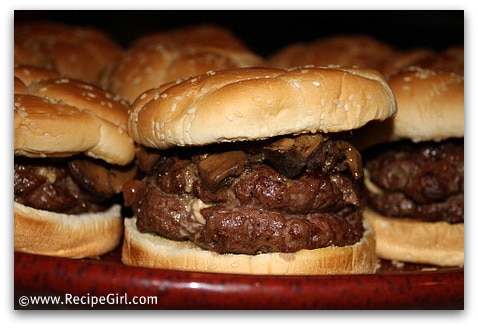 Gorgonzola- Stuffed Beef Burgers with Sauteed Wild Mushrooms & Caramelized Red Onion Marmalade: Oh My! Everything about these burgers was perfect- the mushrooms, the marmalade and the hint of gorgonzola… these were definitely gourmet, and no extra condiments were needed.


Grilled Corn Salad: This is my new favorite salad recipe. It has a creamy vinaigrette that completely makes the salad. Everyone sitting at my table asked for another scoop.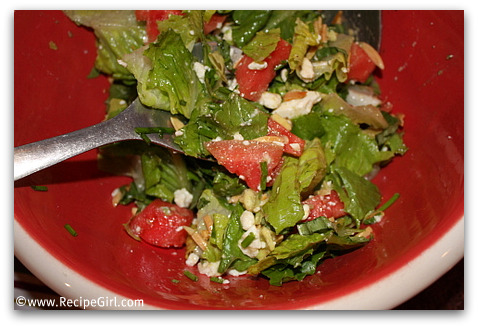 Watermelon & Avocado Salad: The classic mix of watermelon, feta & greens, but it also has avocado added in- as well as a raspberry vinaigrette. A very good summer salad.
The dessert…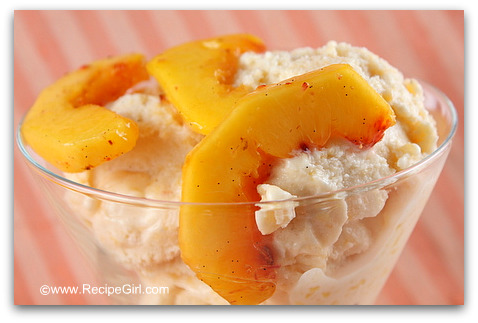 Fresh Peach Ice Cream with Vanilla- Scented Peaches: A creamy, creamy ice cream loaded with fresh peach flavor (not frozen peach chunks), and topped with peaches that have marinated in a vanilla bean-wine simple syrup. Oh yeah!
All recipes were fantastic, and each would be a welcome addition to a Labor Day Barbecue.  Have a terrific holiday weekend of grilling, eating, relaxing & hanging out with friends, and be sure to try out a new recipe or two.
All recipes listed can be found by clicking on the recipe titles above.
36 Responses to "Labor Day Gourmet Grilling Party Menu"
Leave a Comment