Summer Maxi Dresses: Will You Be Wearing Them?
What's all this fuss about Maxi dresses?  They're apparently all-the-rage right now.  You'll find them featured in every store, and you'll see fashionable women wearing them around the mall as they shop.  Or maybe you're asking yourself, "What the heck is a Maxi dress anyways?"  Remember those caftan-type, brightly colored chiffon dresses that all of the ladies wore back in the 60's and early 70's?  Well, maybe you don't- but perhaps you've seen pictures… or movies.  A Maxi dress is a long, flowing, comfortable dress.  Depending on the style of the dress and the body type of the gal who holds it, they can be flattering or not.  I recently bought two Maxi skirts, and I just ordered the first dress you see below in royal blue.  Here are a few favorites I found while shopping online- the prices range from $18 to $198.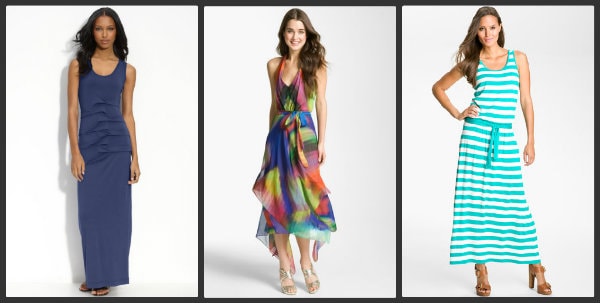 From Nordstrom (free shipping and returns):
Nicole Miller Pleated Jersey Racerback Maxi Dress (on sale for $163.90)
Suzi Chin for Maggy Boutique Print Halter Dress ($198)
Michael Kors Stripe Jersey Maxi Dress ($110)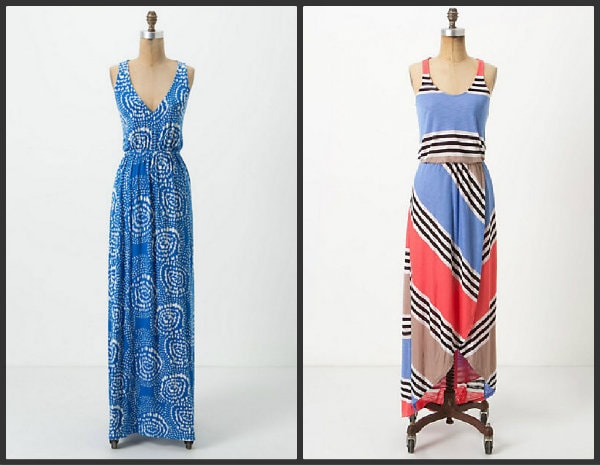 From Anthropologie:
Sky Trails Maxi Dress ($168)
Between Lines Maxi Dress ($168)

From Macys (free shipping w/ $99 purchase):
Studio M Dress Sleeveless Scoop Neck Striped Tiered Maxi ($98)
Tommy Hilfiger Dress Sleeveless Printed Long V-Neck Maxi ($74.99)
Cha Cha Vente Dress Sleeveless V-Neck Striped Maxi ($78)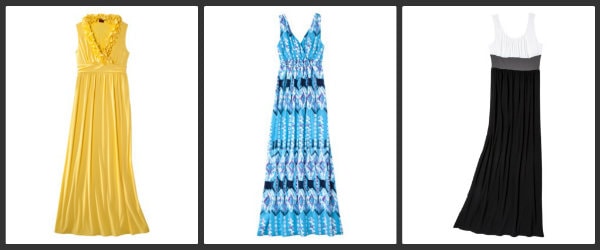 From Target (free shipping w/ $50 purchase):
Merona Ruffle Front Maxi Dress ($32.99)
Mossimo Challis Maxi Dress- blue print ($29.99)
Mossimo Juniors Maxi Dress ($18)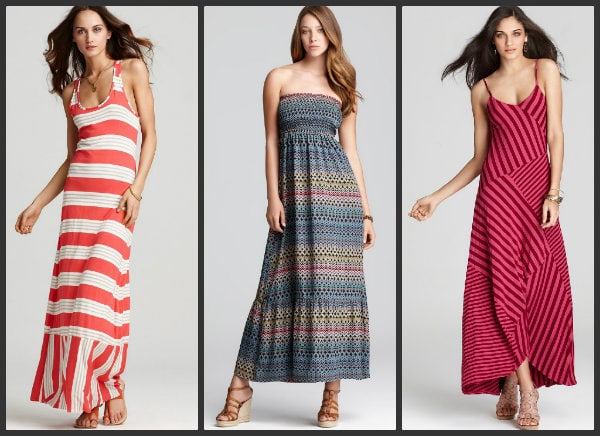 From Bloomingdales (free shipping w/ $150 purchase):
Splendid Dress Palm Stripe Maxi Dress ($158)
Element Dress Printed Strapless Maxi ($54.50)
Ella Moss Dress Waldo Striped Maxi ($198)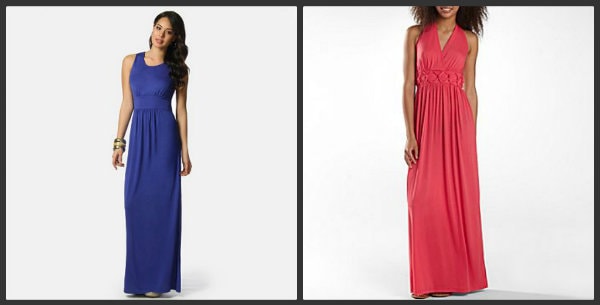 From Kohls (free shipping w/ $75 purchase): Daisy Fuentes Crochet Maxi Dress ($38.40)
From JC Penney (free shipping w/ $50 purchase):  Bailey Blue Halter Maxi Dress ($25)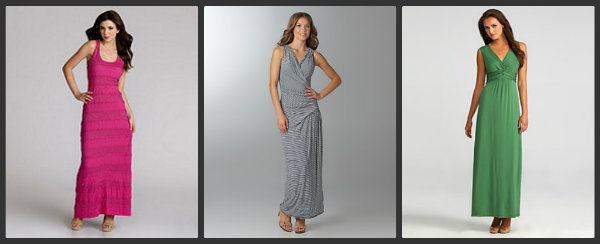 From Dillards:
Chelsea & Violet Lace Maxi Dress ($118)
M.S.S.P. Striped Faux Wrap Maxi Dress ($118)
Nuture Jersey Twist Front Maxi Dress ($119)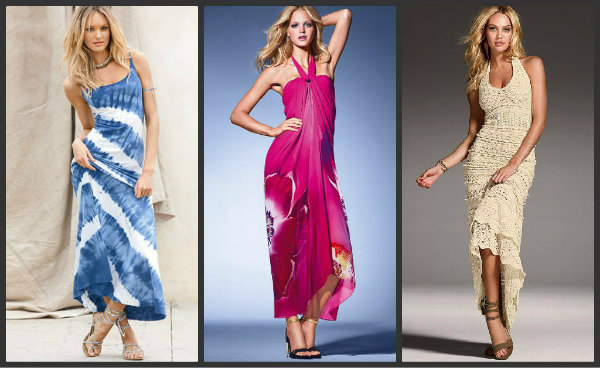 From Victoria's Secret (free shipping w/ $100 purchase):
Maxi Tank Dress ($69.50)
Floral Maxi Dress ($100)
Cotton Crochet Maxi Dress ($96)
5 rules about Maxi Dresses:
1.  Don't choose a Maxi Dress that is going to make you look pregnant… unless you're pregnant.
2.  High heels or tall wedge sandals with a Maxi dress will help make you look taller and thinner.
3.  You can dress up a maxi dress with jewelry and cute heels… maybe even a wrap or a light sweater.
4.  You can dress down a Maxi dress… with flip flops.
5.  If you don't have a super thin middle-area physique, choose a Maxi Dress that will minimize your flaws.  Don't choose any styles that are terribly clingy, and choosing a style with a high empire waist will probably be most flattering.
So will you be wearing a Maxi Dress this summer?  Give us the scoop.
by the way… no one paid me to write about Maxi dresses, but I do think that I deserve samples of each of the Maxi Dresses mentioned above, don't you? 🙂
22 Responses to "Summer Maxi Dresses: Will You Be Wearing Them?"
Leave a Comment