Here are 5 Things I'd Like to Share with You this week…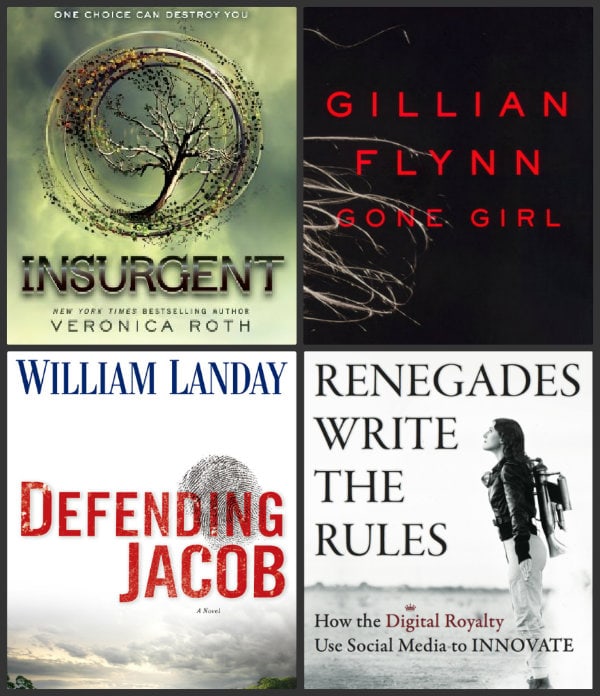 1.  What I'm reading:
I tried to read Mennonite in a Little Black Dress, but I just couldn't get into it.  Instead I picked up Insurgent– the second book in a series that began with Divergent by Veronica Roth…  These books are great for those who enjoyed Hunger Games (same kind of story… people are split up into different societies based on character/personality traits and chaos happens).  I enjoyed both, and I believe there is a third book in the works.  Then I finally read, Gone Girl by Gillian Flynn.  Great, compelling read.  You don't want to put it down.  I'm with everyone else though- I didn't care for the ending. And I just found out that Reece Witherspoon is playing the lead in the movie.  Not sure I pictured her as the main character.  Hmmm.   I'm almost finished with Defending Jacob by William Landay.  It's another one that is hard to put down- about a child who is accused of murder and figuring out the mystery of whether or not he is guilty… I find myself extending my elliptical workouts so I can read more!  I have no idea at this point how the book is going to end.  I like those kind of books.  And finally, I'm also reading Renegades Write the Rules by Amy Jo Martin.  This is a terrific book to read if you have a business or a blog and you're looking to expand your presence in social media and build a faithful following.  Terrific advice.  I need a recommendation for my next book though!  Give me your best book recs!

2.  The Kiddo:
My RecipeBoy Brooks is 11 1/2 now and is 5'7″.  It's hard to believe he's gotten so much older and more mature.  He's absolutely loving middle school (6th grade) and all of the independence that goes along with it.  The best part is that he really enjoys learning, and he's totally responsible- all by himself- for making sure his homework is complete and turned in on time.  That is truly a blessing as I know some kids struggle with that.  He's read 29 books since school began.  The tough part for me is that I have a tough time getting a book OUT of his hands!  He's constantly absorbed in a new book.  Since the Kindle is costing me a fortune, I have been visiting the library again in search of books that I think he will like.  Brooks will be doing another Best Books for Boys post on his blog sometime soon to share some of the new titles he has discovered.  Besides school, he's playing three sports- flag football, basketball and tennis.  He just took up playing tennis in August, is playing (and winning) tournaments, and loves it.  Our lives are so busy with kid activities that it's hard for me to imagine families that have multiple children and how they juggle it all!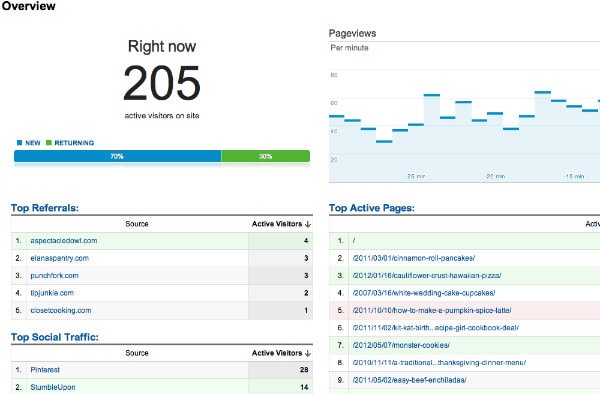 3.  Google Real Time:
If you have a blog and use Google Analytics to track your stats, you have access to Google Real Time.  Have you discovered it yet?  It's the coolest thing ever.  It shows you how many active visitors on our your site RIGHT NOW… and it shows you what recipes they are viewing, what websites are sending you traffic, and which social networks are most actively sending you traffic.  There's also a little world map that shows you where those readers are coming from.  It's fun to take a peek once in a while and see what's going on.  To access Google Real Time from your Google Analytics page, in the top left-hand column click HOME, then REAL TIME, then OVERVIEW.  That should get you there.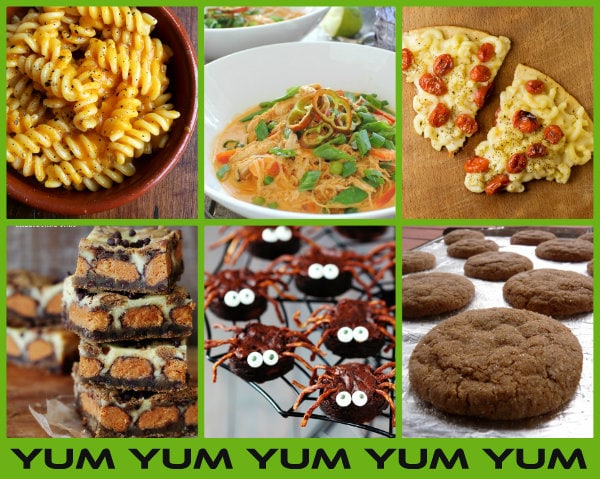 4.  Recipes I Must Try Soon!
Rotini with Butternut- Sage Sauce by Alexandra's Kitchen
Coconut Curry Chicken Soup by Bev Cooks
Macaroni and Cheese Pizza by Framed Cooks
Butterfinger Cookie Dough Cheesecake Bars by Baker's Royale
Spicy Soft and Chewy Gluten-Free Ginger Cookies by Flour Arrangements
Brownie Spiders (so cute for Halloween) by Gimme Some Oven
5.  You Tube Favorites: The cute teen you see singing in the homemade video above is Amy Johnson's (She Wears Many Hats) daughter. She's so talented… and she's going to do something with that talent someday (you heard it here first).
… and one last video that made me laugh hysterically. If you have kids and a busy life with those kids… this one is for you.
Bonus #6:   a few more links to interesting and exciting things happening on the web:
*The release of my good friend Jenny Flake's cookbook!!! > The Picky Palate Cookbook
*The Great Food Blogger Cookie Swap 2012 looks like loads of fun!
*The Power of One and a visit to Ethiopia by Alice from Savory Sweet Life
*First Marathon ReCap– an inspirational post from Dara of Cookin' Canuck.
Have a great weekend!
Disclosure:  Amazon affiliate links are included in the book titles at the top.  If you happen to purchase a book through one of those links, RecipeGirl.com earns a few pennies.  Thanks 🙂
15 Responses to "5 Things"
Leave a Comment