This recipe has been featured in a how-to post on The Recipe Girl blog: Amish Pumpkin Cinnamon Rolls.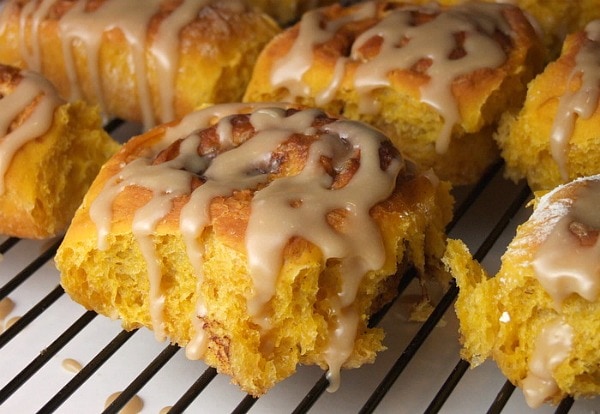 Amish Pumpkin Cinnamon Rolls w/ Caramel Icing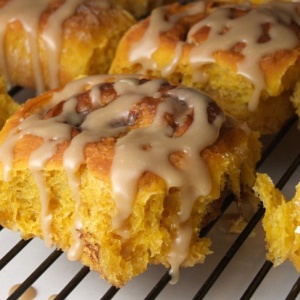 Ohhhh, these are goooood. The icing is perfect on top. Love that these have a really simple cinnamon/sugar filling w/ no nuts or raisins...
Yield:
12 rolls
Prep Time:2 hrs
Cook Time:20 min
Ingredients:
ROLLS:
1/3 cup milk
2 Tablespoons butter
1/2 cup unsweetened pumpkin puree
2 Tablespoons granulated white sugar
1/2 teaspoon salt
1 large egg, beaten
1 envelope active dry yeast
1 cup unbleached all-purpose flour
1 cup bread flour
FILLING:
1/3 cup brown sugar, packed
1 teaspoon ground cinnamon
2 Tablespoons butter, melted
FROSTING:
4 Tablespoons butter
1/2 cup brown sugar, packed
2 Tablespoons milk
1/4 teaspoon vanilla extract
1/8 teaspoon salt
1/2 to 3/4 cup powdered sugar, sifted
Directions:
1. Prepare rolls: In a small saucepan, heat milk and 2 Tablespoons butter just until warm (120 - 130°) and butter is almost melted, stirring constantly.
2. In large mixer bowl, combine pumpkin, sugar and salt. Add milk mixture and beat with an electric mixer until well mixed. Beat in egg and yeast. In a separate mixing bowl, combine flours. Add half of flour mixture to pumpkin mixture. Beat mixture on low speed for 5 minutes, scraping sides of bowl frequently. Add remaining flour and mix thoroughly (dough will be very soft). Turn into lightly greased bowl, then grease surface of dough lightly. Cover and let rise in warm place until doubled, about 1 hour.
3. Punch dough down. Turn onto floured surface. Knead a few turns to form a smooth dough, sprinkling with enough additional flour to make dough easy to handle. On lightly floured surface, roll dough into 12x10-inch rectangle.
4. In a small bowl, combine brown sugar and cinnamon. Brush surface of dough with melted butter. Sprinkle with brown sugar mixture. Beginning with long side of dough, roll up jelly-roll style. Pinch seam to seal. With a sharp serrated knife, gently cut roll into twelve 1-inch slices. Place rolls cut-side-up in greased 9-inch-square baking pan.
5. Cover and let rise until nearly doubled, 30 to 45 minutes.
6. Preheat oven to 350°F. Bake rolls about 20 minutes, or until golden. Remove from pan to waxed paper-lined wire rack. Cool 10 to 15 minutes.
7. While rolls are cooling, prepare icing: In small saucepan, heat butter until melted. Stir in brown sugar and milk. Stir in brown sugar and milk. Cool over medium-low heat for 1 minute. Transfer to a small mixing bowl and cool mixture slightly. Stir in vanilla, salt and powdered sugar. Beat with an electric mixer until well blended. If necessary, add more powdered sugar for desired consistency.
8. Drizzle icing over warm rolls.
Tips:
*If you'd like to begin preparing these the night before... Follow directions through step four, cover and refrigerate overnight. Take out in the morning and continue with step 5.
*If you're lacking a warm place for rising, use your oven. Turn on the oven light. Then set your oven to 400 degrees for one minute. Turn it OFF and then place your pan inside the warmed oven. Make sure you have turned off your oven!