This Cheese Souffle with Corn and Jalapeños is great for brunch, but it's also a good side dish to fajitas and other Mexican food too!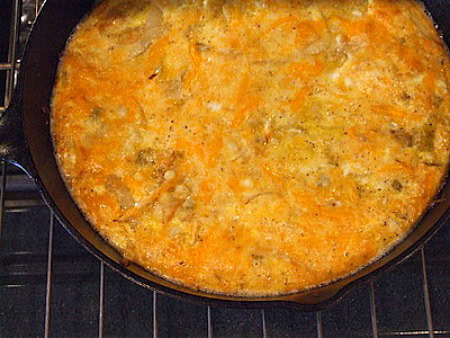 Cheese Souffle with Corn and Jalapeños
Yield:
serves 6 to 8
Prep Time: 25 minutes
Cook Time: 25 minutes
Ingredients:

2 medium onions, sliced
2 tablespoons unsalted butter
2 fresh jalapeño chiles, cut into halves lengthwise, seeded and cut into strips
2 cloves garlic, minced
1 1/2 cups fresh corn kernels (cut off the cob)
salt and freshly ground black pepper to taste
2 tablespoons unsalted butter
1 1/4 cups (5 ounces) shredded Monterey Jack cheese
2/3 cup shredded sharp Cheddar cheese
6 extra-large eggs, lightly beaten
1/2 cup milk

Instructions:

Preheat oven to 350°F.
Cook onions in 2 tablespoons butter in an ovenproof skillet over low heat until tender but not brown. Stir in jalapeños and garlic. Cook for 2 minutes, stirring constantly. Add the corn, salt, and pepper and mix well. Cook for 1 minute, stirring frequently.
Spoon 2/3 of the corn mixture into a bowl. Stir 2 tablespoons butter into the remaining corn mixture. Toss the Monterey Jack cheese and Cheddar cheese in a bowl. Sprinkle 1/3 of the cheese mixture over the corn mixture in the skillet and spread with 1/2 of the remaining corn mixture in the bowl. Sprinkle with 1/2 of the remaining cheese mixture and top with the remaining corn mixture in the bowl.
Whisk the eggs, milk, salt and pepper in a bowl until blended and pour over the prepared layers. Sprinkle with the remaining cheese mixture. Bake for 25 minutes or until puffed and brown. Serve hot or at room temperature.

Tips:

To save time, use a couple of Tablespoons of canned chopped chiles instead of fresh jalapeño.