Chocolate- Dipped Worm Pretzels
This recipe has been featured in a post on The Recipe Girl blog: Kid Friendly Halloween Recipes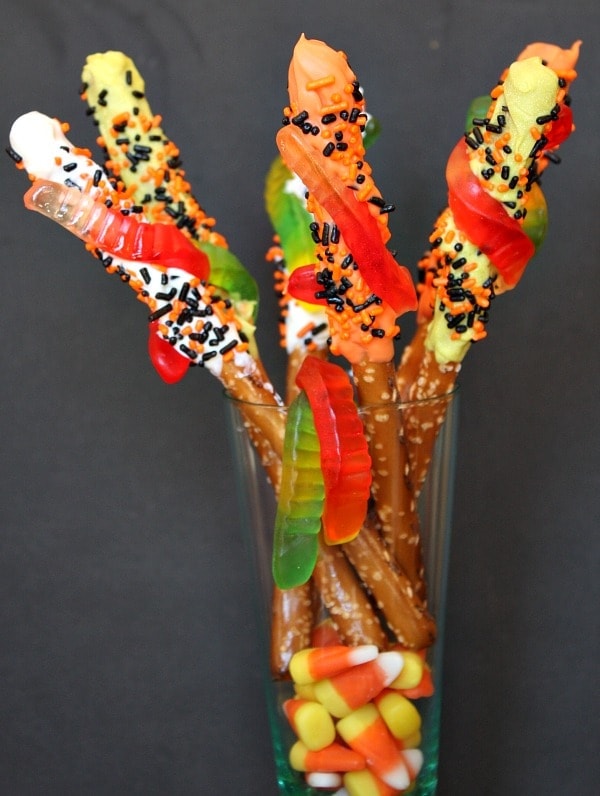 Yield: As many as you'd like!
Prep Time: 30 min
Cook Time: 5 min
Chocolate- Dipped Worm Pretzels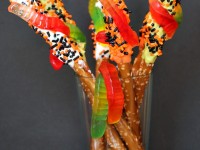 Ingredients:
rod pretzels
different colors of chocolate disks (found at craft or baking stores) or chocolate chips
shortening
sprinkles
gummy worms
waxed paper
Directions:
1. Melt 1 cup of chocolate with 1 teaspoon of shortening in a microwave-safe bowl. Melt in 30 second bursts, stirring each time, until completely melted and smooth.
2. Working over the bowl of melted chocolate, spoon chocolate onto half of the pretzel, turning as you spoon and letting the excess chocolate fall back into the bowl.
3. Move pretzel to work over another bowl, spooning sprinkles over the chocolate, letting the excess sprinkles fall into the bowl (recycle the sprinkles).
4. Gently wrap a gummy worm around the pretzel, pressing into the chocolate. Place on waxed paper to set, making sure gummy worm is tucked on the bottom of the pretzel and adhered to the top. Let dry completely (about an hour) before removing from the waxed paper.
Tips:
*When pretzels are set, store them in an airtight container until ready to serve. They should be okay for a couple of days or so.
4 Responses to "Chocolate- Dipped Worm Pretzels"
Leave a Comment