The kitchen is definitely my Happy Place.  It's where I can be creative and develop the recipes I love so much, it's where I enjoy peace as I'm measuring and mixing, and it's where I put together meals that we can enjoy as a family.  I've always, always enjoyed being in the kitchen with my family.  They're usually hanging out at the counter or lounging on the couch nearby watching TV while I'm banging around pots and pans and asking them to taste this and that.  And I enjoy my job even more now that I can share it with my son, Brooks.  Brooks has been eager to learn how to cook (begged me to write his own blog!), has all kinds of new and (sometimes) crazy ideas, and he loves being a part of it all.  And so it goes that I have an exciting announcement to make…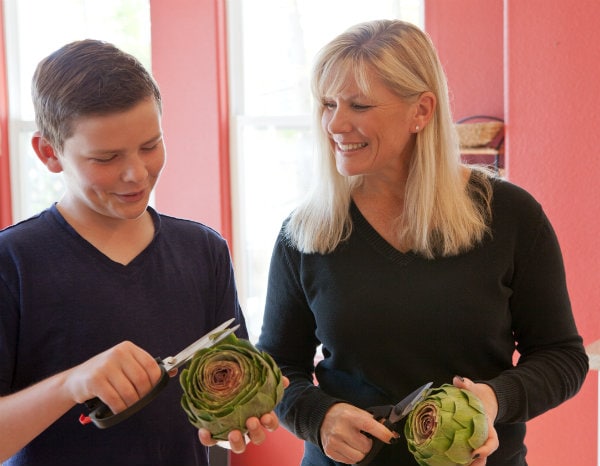 …McCormick® spices has asked my son and me to be the spokespersons for a new project they are launching called, "Generation Fresh,"  inspiring people to make more healthful meals at home with the help of flavorful herbs and spices.  It's not about creating all new recipes, but rather taking your everyday go-to meals and freshening them up to make them healthier.  Our task is to show you how we're doing that in our own kitchen, along with creating a few recipes together using McCormick spices and fresh ingredients to lend flavor and excitement to the meal and reduce the use of salt, sugar and fat.
How this came to be is really a rather fun story.  Back in June, Brooks attended the BlogHer Food conference with me in Seattle.  He was quite the participant at the conference, raising his hand to ask many questions and share stories, sharing conversation with BlogHer founders and top food bloggers, and standing up to address the keynote speakers and PR reps at the closing breakfast.  Well, my outgoing, mature 11-year-old caught the attention of a representative from McCormick, who thought RecipeBoy and RecipeGirl might make a good team to represent their upcoming Generation Fresh movement.  When we discussed whether or not to take on the project, Brooks looked at me and said, "Mom– our spice cupboard is packed FULL of those little red containers of McCormick spices, so why WOULDN'T we do this?"  He's right.  It's definitely a product that we use each and every day, and I'm always looking for ways to make recipes more healthy too.  It was the perfect fit.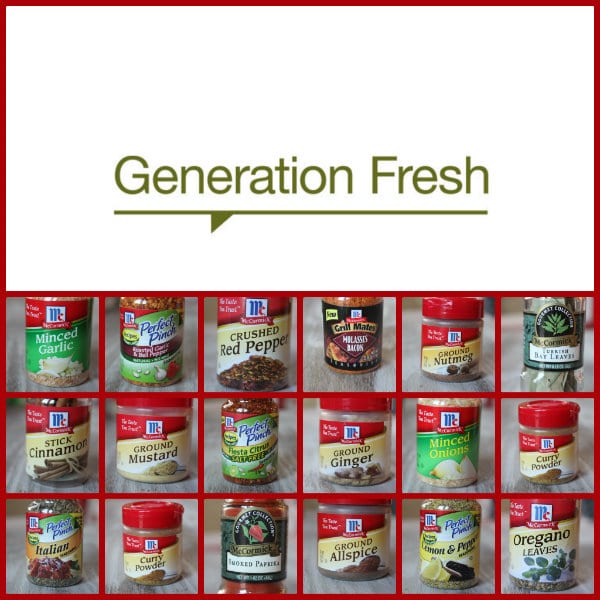 My son wasn't kidding when he said that our spice cupboard is filled with McCormick products.  These are just a few that I found in there!  As a recipe developer, I find that having all kinds of flavors at-hand makes the creative process that much easier.  I use a combination of fresh and dried herbs and spices to create the flavors I'm looking for.  My all time favorite spices:  Smoked Paprika, Cumin Powder, and Nutmeg (the whole kind, since I like to grate it fresh!)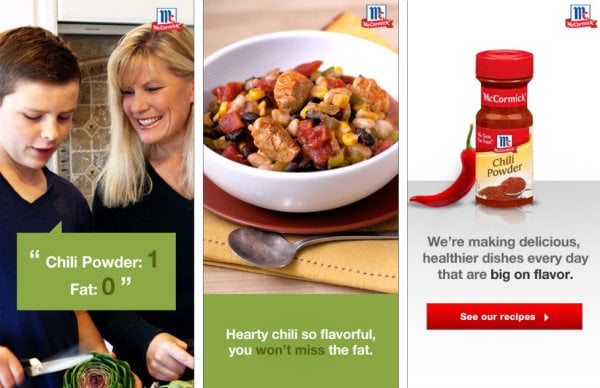 Brooks and I have already gotten started working on some healthy recipes in the kitchen, and we'll be sharing those very soon with you!  The "ad" you see above will be running on websites such as AllRecipes.com, Eatingwell.com, Finecooking.com, Huffingtonpost.com, Kitchendaily.com, and Weightwatchers.com.  Let us know if you spot one of them!
This weekend, we are both headed to Baltimore (birthplace and current home of the McCormick company) to shoot a couple of recipe videos together!  I'm not nervous at all.  Not one bit (!!!)  We'll be able to share those videos with you too.  I'm excited to be sharing this opportunity with my son- I think it will be a great experience for him.  And I'm thrilled that I can share some healthy meal ideas through Generation Fresh with my readers too.
Let me know what you think!
Disclosure:  I'm working with McCormick Sept/Oct. 2012 to create recipes and represent Generation Fresh. 
Comments