This post is the third & final post about my Gourmet Club's great Greek Dinner Party menu. Appetizers and Drinks can be viewed here, and Main Dishes/Sides can be viewed here.
Continuing on with this fabulous menu… I'll be adding on the desserts today. Recipes can be found by clicking on the recipe titles.
Greek Dinner Party:
Cocktail:
Greek Mojitos
Appetizers:
Marinated Eggplant with Capers & Mint
Goat Cheese w/ Olives, Lemon & Thyme
w/ Crisp Rosemary Flatbread
Dried Fig Souvlaki
Starter:
Chopped Vegetable Salad with Feta & Olives
Main Course & Sides:
Leg of Lamb Roast with Garlic & Rosemary
Spinach, Feta & Pine Nut Phyllo Tart
Roasted Garbanzo Beans & Garlic with Swiss Chard
Greek Potatoes with Lemon Vinaigrette
Desserts:
Chocolate Baklava
Greek Butter Cookies
Spiced Fresh Orange & Honey Sorbet
I decided to serve a 'trio' sampling of Greek desserts, mostly because I just couldn't decide upon a single one.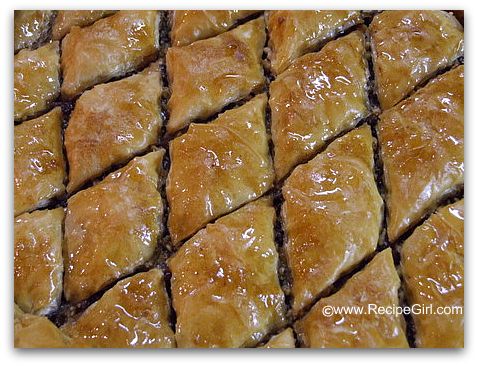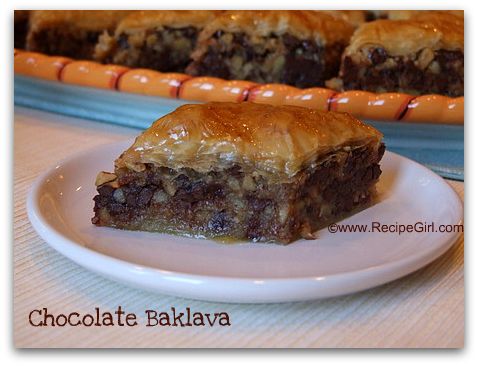 Baklava of some sort was an obvious choice. I had never made baklava before, but I was definitely up for the challenge. I have worked with phyllo so I didn't think it would be all that difficult. It wasn't. I melted butter and brushed each phyllo layer with butter… which made the whole thing really, really buttery. It was very good and very rich. My friend who made the phyllo tart ended up using butter spray for the phyllo layers in her recipe. Good idea! Next time I might try that.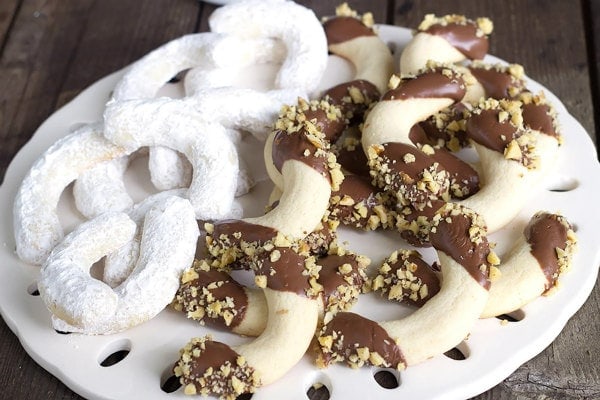 One of our group members brought these Greek butter cookies. She dipped some in chocolate and edged them in chopped walnuts, and she left some plain and rolled them in powdered sugar. They were a good, basic butter cookie- a nice addition to our dessert plate.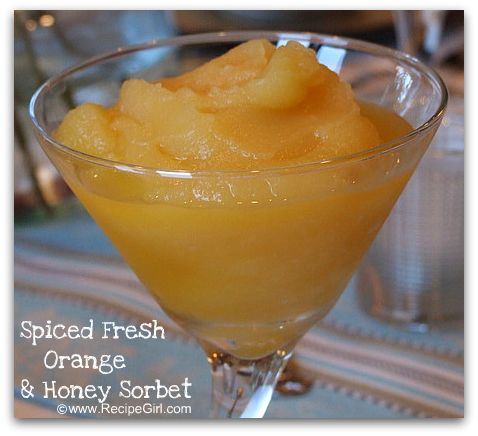 The final winner of the dinner party was this unique sorbet recipe. Sugar, honey & water is reduced to a syrup with cloves, orange zest, bay leaf, star of anise and ginger. The syrup is then strained and added to fresh orange & lemon juice and processed in an ice cream machine. LOVED THIS! It's different than any sorbet I've had, and it was a perfect way to end the dinner.
In the entire Greek menu above, it's tough to pick the favorite- every single recipe on the menu is one that I wouldn't hesitate to repeat. If I had to choose two absolute faves, I'd choose the Dried Fig Souvlaki and the Spiced Honey & Orange Sorbet.
So there you have it. We were quite stuffed after eating all of that food. Our next Gourmet dinner party is in a couple of weeks, and we will be traveling to Spain for some good grub. I've done my duty in hosting for the year, so I'll get to be a bit more relaxed at this next one 🙂
*All recipes above can be found by clicking the recipe titles within the menu*
Other posts written about this dinner party menu can be found here:
Greek Dinner Party- Drinks and Appetizers
Greek Dinner Party- Main Dishes and Side Dishes