You've probably had it before, and more than likely it's typical Thanksgiving fare in your house. You know… the cranberry sauce that you pry open with a can opener and then attempt to nudge it out carefully so it slithers into the serving bowl in one large, cylindrical, gelatinous blob. I grew up with the stuff, and admittedly I loved it. Mom bought the jellied kind- the kind you can slice up and slide in easily next to the turkey and mashed potatoes. Our family went through at least a couple of cans of it during dinner. The next day, another can was always popped open to slice up and include on leftover turkey sandwiches.
When I left home for college, I continued to buy and eat the canned cranberry sauce creation. And when I got married and had a family to cook for, of course I included the canned stuff in my own Thanksgiving menu. It wasn't until years later, when I became more interested in cooking, that I would attempt a homemade version. If you try homemade- and it's one with flavors that really appeal to you- you're going to have a tough time going back to the canned version. In fact, the canned version may very well begin to taste more like the can than cranberry sauce. This version that I made for our pre-Thanksgiving dinner impressed me and wooed my family: Maple- Tangerine Cranberry Sauce.
Here's the How-To (very easy):
You'll need 2 cups of tangerine juice (squeeze it yourself for the freshest flavor- get a bag of tangerines at Costco!). I actually used 1 cup of tangerine and 1 cup of orange juice. You'll also need a bag of cranberries, brown sugar, maple syrup (the real stuff), a cinnamon stick & a sprinkle of kosher salt.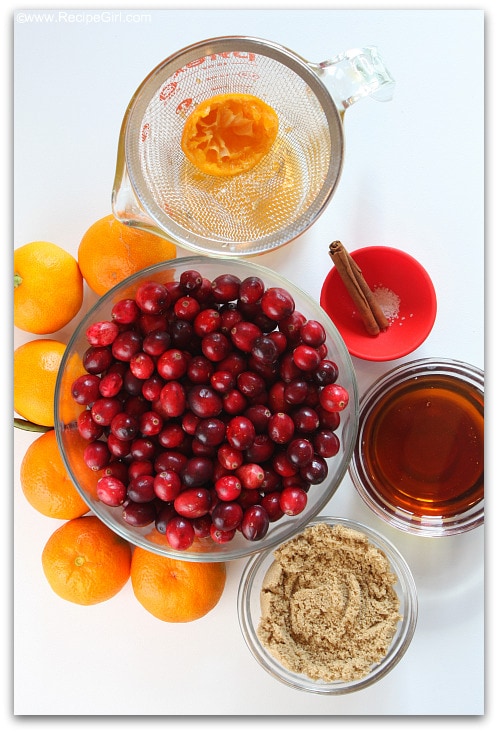 All ingredients are mixed in a skillet…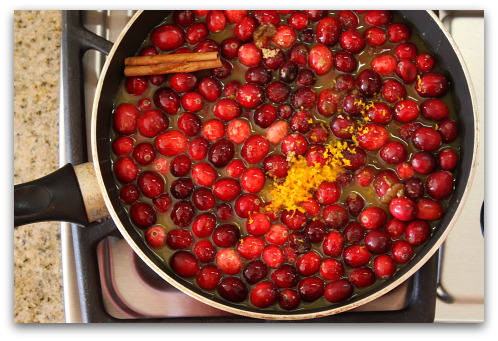 …brought to a bubble, and then reduced to simmer.  I put a lid on my pan (loosely, not tightly covered) because I was being hit by exploding cranberries.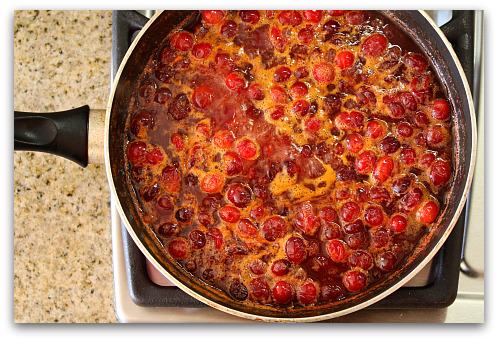 It's done when the liquid begins to get a bit syrupy. The heat is turned off, and the mixture is left to cool. As it cools, the syrupy liquid will begin to thicken.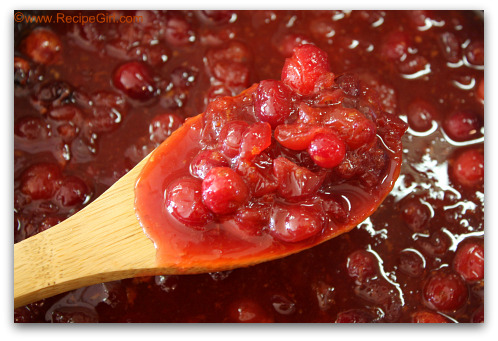 Once it's cooled, your cranberry sauce is done!  Scoop it into a bowl, cover it and refrigerate it until you're ready to serve.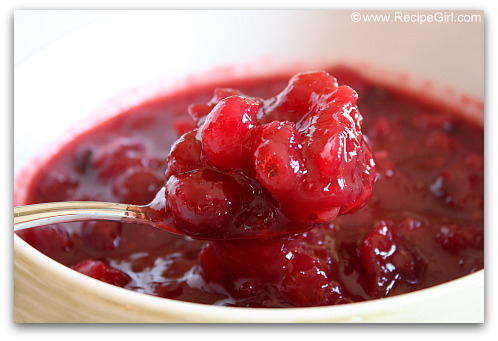 You can make this up a couple of days before Thanksgiving and it will be a-okay to serve fresh-as-can-be for your Thanksgiving dinner.  And won't your guests be impressed that you made it homemade?
I don't blog about recipes that I don't like, so it's safe to say that I liked this one.  I can go further than that though and tell you that my family was crazy about this cranberry sauce.  It was the stand-out recipe of our dinner!  So tell me… will you be making some homemade cranberry sauce this Thanksgiving?
This recipe can be found here:  Maple Tangerine Cranberry Sauce
———————————————————————————————-
Other delicious-sounding cranberry sauce recipes from the blogs:
Fresh Cranberry Sauce w/ Rosemary & Persimmon by What We're Eating
Blackberry Cranberry Sauce by Baking Bites
Cranberry Sauce w/ Pears & Ginger by A Mingling of Tastes
Crockpot Cranberry Sauce by A Year of Slow Cooking
Cranberry Sauce w/ Pinot Noir by Closet Cooking